News
Revised Carpinteria Oil Proposal Unveiled
Venoco Submits New Plans for Controversial Project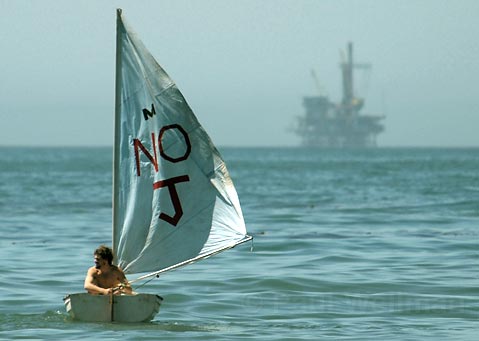 Officials with Venoco Inc. unveiled a slightly modified version of a proposed onshore oil development that Carpinteria voters overwhelmingly rejected three years ago by a margin of 70 to 30 percent.
This past Monday, Venoco's Steve Greig met with Carpinteria city manager Dave Durflinger and chief planner Jackie Campbell to deliver a three-ring binder detailing revised plans for a new slant drilling operation at the company's existing plant located right behind Carpinteria's City Hall. Venoco is proposing to build a 175-foot-high drilling rig at the site, which company officials say would be removed after it had completed drilling the proposed 22 offshore wells, located about one mile off the coast and dipping one-mile beneath the ocean.
Because Venoco is now proposing to drill 13 fewer wells than before, spokesperson Lisa Rivas estimated that the drilling could be completed within three years as opposed to the six years projected for the previous plans. In addition, Rivas said Venoco is not proposing to disguise the oil drilling rig as a lighthouse, as it had in the project's prior incarnation, known as Paredon.
That lighthouse — designed to soften the project's decidedly industrial impact on the surrounding neighborhood — became the subject of much ridicule by the environmental opposition. And ironically, it had the practical effect of compounding the project's visual impacts. With a faux lighthouse built around the rig, the edifice — deemed a class one negative environmental impact in the parlance of environmental review — became permanent. By not seeking to camouflage the rig, Venoco avoids some of the challenges associated with its proposal's visual blight, which according to the last EIR constituted grounds for rejection.
Monday's visit came as a surprise to city manager Durflinger, who said City Hall now has 30 days to determine if the application is complete. At that point, he said, a new environmental impact report would be ordered.
Although Venoco paid to have a draft environmental report prepared in 2008, the company withdrew it— and the project application itself — from consideration before a vote could be held to ratify or reject it. Reading the political tea leaves at City Hall, Venoco recognized it had little chance of success with the existing city council.
Instead, the company opted to take the project directly to Carpinteria voters in 2010, thus by-passing the city's entire environmental review process. The Venoco sponsored ballot initiative — known as Measure J— proposed to re-write Carpinteria's general plan and local coastal plans to allow an expanded industrial facility located only a few feet of the city's famed seal haul out site. Under the city's existing zoning and land use designations, the facility cannot be approved. To sweeten the pot, Venoco included language in Measure J that would have required the company to donate $5 million to the Carpinteria Education Foundation and give 22-acres of land to City Hall.
Venoco's timing, however, could not have been worse. Just a few weeks prior to the election, an offshore oil operation operated by BP in the Gulf of Mexico virtually exploded, quickly securing the dubious distinction of America's worst environmental disaster. In addition, many Carpinterians— exceedingly protective of their small town character — were offended by Venoco's efforts to avoid the customary scrutiny afforded projects large and small.
In the campaign leading up to the election, Venoco— with headquarters in Carpinteria —outspent the opposition by at least 6-to-1. The results went the other way and today, Measure J still remains a key dividing line in the political mythology that defines and sustains the slow-growth environmental majority dominating Carpinteria for the past 20 years.
For the past three years, Venoco has licked its wounds and has explored other coastal sites from which its extended reach drilling technology could dip into the oil rich waters off the city's coast. The company had serious conversations with a few property owners, said Rivas, but no deals were struck, no dotted lines signed. To build brand new infrastructure — pipelines, holding tanks, and a processing plant — at a new location outside Carpinteria city limits would have proven exceptionally expensive, not to mention political dicey.
While the City of Carpinteria allowed Venoco to suspend its permit application indefinitely, the California State Lands Commission— which holds ultimate jurisdiction over offshore oil development in state waters up to the three-mile federal limit — requires that offshore leaseholders take affirmative steps to develop their holdings. "With the State Lands Commission, the clock is always ticking," said Venoco's Rivas. "We have to show we are trying to develop this lease. If we appear not to be doing anything, that's when the problem starts."
Should Venoco's permit application with the State Lands Commission lapse, it could always re-apply. But it would also forfeit a major political advantage.
When Venoco's current lease was established and its permit application submitted, California state law required that the state share the oil royalties generated from offshore oil development be shared with the local governments, in this case the City of Carpinteria and the County of Santa Barbara. Venoco has sought to win local support for its efforts over the years by citing this revenue sharing clause that entitle local governments to a cut. (Exactly how binding that requirement is has been the subject of heated debate between Paredon proponents and opponents, as has the discussion over Carpinteria's claim to any royalties.) Should the State Lands Commission conclude Venoco has run out the clock, this revenue sharing provision would disappear, as would one of Venoco's strongest arguments in favor of the project.
Rivas acknowledged that Venoco faces daunting challenges given how lopsided the Measure J vote was. She noted that some opponents of Measure J were not so much upset about the prospect of more oil development as they were by Venoco's effort to by-pass traditional environmental review. "So this time, we're going to do the traditional process," she said.
In its revised application, Venoco is not proposing to donate $5 million to the Carpinteria Education Foundation, as it did in Measure J. "But that's not off the table," said Rivas. "That's something we would expect would come up in talks."
Although much of the previous environmental document will remain useful, Carpinteria city officials have insisted that a new study will be needed. "It's just cleaner that way," explained city manager Durflinger.
And planner Campbell noted that new issues have come to the fore since the first document was prepared. The methodology for calculating greenhouse gas emissions in the wake of concern — and legislation — to limit global warming has become more established and accepted, she noted. Likewise, she said, with the growing popular concern about "fracking," the extraction of oil and natural gas by injecting the ground with hot water strategically laced with various chemical compounds.
Venoco, insisted Rivas, is not proposing any fracking for the Paredon project. "We're not doing any hydraulic fracturing here. It's not needed," she said. "Our leadership has said we will not be doing any hydraulic fracturing."