Briefs
UCSB Corpse Plant Ready to Bloom
Rare Titan Arum With Even Rarer Flower Making History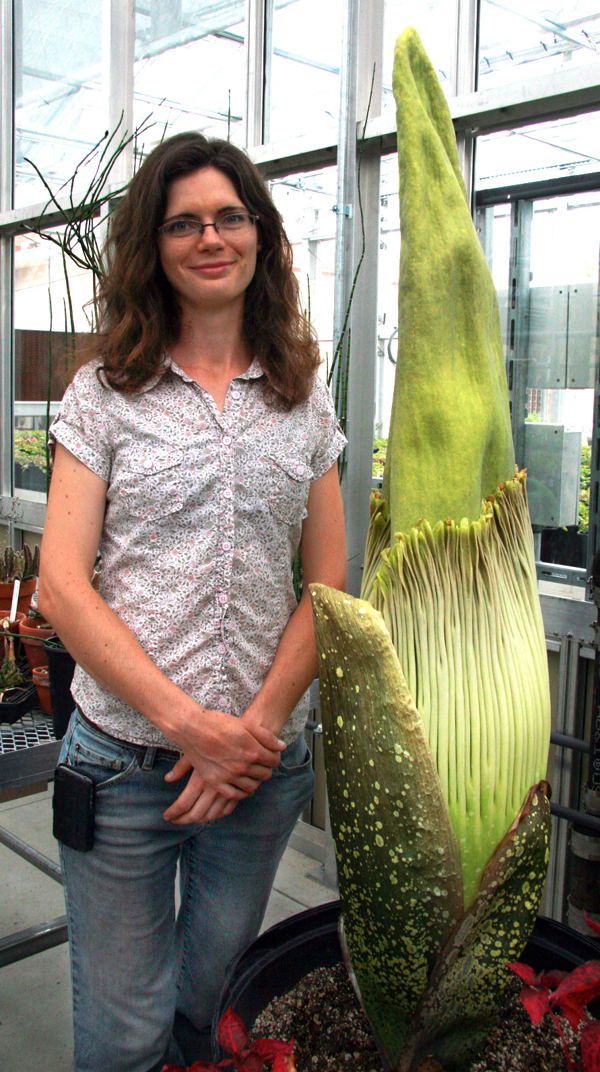 Curious what a rotting corpse smells like? Want to find out and brave the stank to see one of the most bizarro wonders of the natural world?
If yes, then head to UCSB sometime in the next few days when a 4.5-foot-tall Little Shop of Horrors-like plant named Chanel will bloom and waft smelly sulfur fumes during a unique reproductive display that attracts pollinating flesh flies and carrion beetles.
The perennial herb, called the Titan Arum and native to the rain forests of Indonesia, are rare in the wild and even harder to find in greenhouses. They can grow to 10 feet tall, have the largest inflorescence — a floral structure made of many smaller individual flowers — in the world, and take seven to 10 years to bloom, which lasts only 24-48 hours before the flower collapses. There have been around 175 blooms in cultivated species worldwide since 1889. Thousands of people packed the U.S. Botanic Garden Conservatory in Washington D.C. on Monday when its Titan flowered after five years on display.
"It's a really rare thing to have a Titum Arum bloom," said Chanel's tender, UCSB biology greenhouse manager Danica Taber, "and it's amazing that it's happening right here in our greenhouse … It's kind of our royal birth." Chanel — one of three Titans living at UCSB — arrived on campus about five years ago. The other three "corpse flowers" are younger and still in their vegetative phases.
Taber and her student assistants thought their botanic giant may be close to flowering when they noticed signs of a petal peeking through its single leaf on July 11. Since then, the malodorous plant in its 30-gallon pot has grown more than two feet. Taber said it's hard to say when Chanel will bloom, but predicted sometime in the next 1-3 days. UCSB has set up a live photo feed that takes a picture of Chanel every five minutes. See it here.
When the bloom opens up, the plant's spadix — the tall, hollow structure at its center — will heat up to body temperature to further spread the rotting smell and attract pollinators. "There's a lot of competition for flies in the rain forest, so if you want to get attention you have to be big and stinky," said Taber, referencing other funky plants like the skunk cabbage that use the insects to pollinate each other.
In its greenhouse environment, Chanel can only be fertilized by hand with pollen from another Titan Arum specimen. Taber has had a hard time tracking down pollen from other Titan growers, but it won't be the end of the world if she can't, as Chanel's pollen will then be cultivated and saved for the next bloom in captivity.
As Taber and others wait for Chanel to make a move, she mused about how school's prized plant got its name. "Chanel produces a remarkable scent," she said with a chuckle.
411
When Chanel is about to bloom, viewing hours will be posted on Facebook. Admission is free. Titan Arun signs will direct visitors to Lot 18, where parking costs $5 for two hours. From there, Titan Arum signs will guide visitors from Lot 18 to the greenhouse.