Sports
Basketball Stars Come to S.B.
Nunnally, Stone, Johnson, and Bryant Come to S.B. for Camps and Games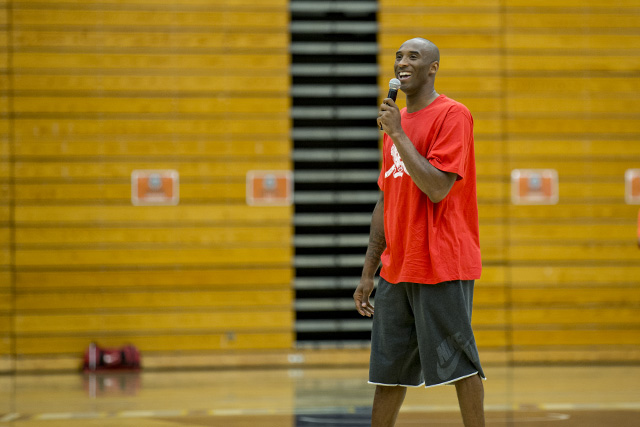 James Nunnally made quite a last impression in the 2013 NBA Summer League at Las Vegas. Playing for the Miami Heat against the Phoenix Suns on Sunday night, Nunnally poured in 21 second-half points and nearly brought the Heat all the way back from a 20-point deficit. Phoenix held on to win, 91-89.
"I wish we kept going," Nunnally said. He finished Miami's final summer game with 24 points and achieved the team's highest individual scoring average (13.0) in seven July appearances. He made 58 percent of his field-goal attempts, including 63 percent (17 for 27) from behind the NBA's distant three-point arc. "Things started flowing," the 6'7" guard said. "It was fun."
It was not fun dragging himself out of bed Monday morning, but Nunnally had to catch an early flight out of Las Vegas. He arrived in Santa Barbara around noon and hustled to the Bishop Diego High gym, where he greeted some 60 youngsters at the Shooting Star Basketball Camp.
Nunnally is one of the camp's three inspirational instructors — players who have elevated themselves to a professional level from Santa Barbara hardwoods. Julyan Stone, a former Dos Pueblos High standout, made the Denver Nuggets' roster out of Texas-El Paso and was recently picked up by the Toronto Raptors. Orlando Johnson, Nunnally's former UCSB teammate, is heading into his second year with the Indiana Pacers. Johnson averaged 14.6 points and 3.4 rebounds for Indiana's entry in NBA Summer League at Orlando, Florida.
The Bakersfield Jam of the NBA D-League was Nunnally's team last season. He hopes his summer showing will help him make a leap to the real NBA. "Everybody knows James can play," offered Stone. "It's all a matter of the right place and the right time. General managers are trying to piece their rosters together and avoid the luxury tax [that is imposed on teams with excessive payrolls]."
Nunnally, who turned 23 this month, has youth and affordability on his side. Miami recently released a veteran three-point specialist, Mike Miller, to save some salary. Nunnally does not have his heart set on the defending NBA champions, though. He'll listen to whoever is interested. "I'm waiting," he said Monday, clutching his cell phone. He added, "I can bring a team more than just three-point shooting."
SHOOTOUT AT SAN MARCOS: There will be plenty of dunking and fast-breaking at the San Marcos High gym on Friday night, July 26, when an NBA All-Star basketball team — including Johnson, Nunnally, and Stone — takes on the Santa Barbara Breakers in a benefit for the Boys & Girls Clubs and an S.B.-area basketball scholarship fund. Curt Pickering, founder and owner of the Breakers, is assembling a roster that includes the semipro club's all-time leading scorer Tim Taylor, UCLA grad Billy Knight, and a tall trio of Isaac Jones (6'9"), Austin Okosun (6'10"), and Brad Kanis (7'2"). Others committed to the NBA All-Stars include James Ennis (Miami), a recent draft pick out of Long Beach State; Travis Leslie (L.A. Clippers), Zach Andrews (L.A. Lakers), and Quincy Miller (Denver). Tipoff is set for 7 p.m. Tickets ($5, children 14 and younger free) will be sold at the door.
KOBE HOLDS COURT: When word got out that Kobe Bryant would be holding a press conference at the opening of his basketball camp at UCSB two weeks ago, sports reporters and bloggers from L.A. to San Luis Obispo swarmed to the scene. They set up a battery of cameras and microphones in a conference room at the Thunderdome and waited almost an hour for the NBA star's tardy appearance.
Bryant is one of the most compelling and confounding figures in L.A. sports. He is entering his 18th season with the Lakers. Displaying a sublime array of skills, he has won scoring titles, MVP awards, and five rings. Yet he has been recurrently regarded as a selfish player and has been involved in high-profile spats, most famously with Shaquille O'Neal, and was once deemed "uncoachable" by Phil Jackson, his mentor in all five championship seasons. Now he has reached a threshold of uncertainty, trying to recover from a ruptured Achilles tendon and facing the prospect of a long season with a depleted team. All of which made his meeting with some hoop-crazy pundits akin to the arrival of the royal baby in England.
"He's here to talk about his camp," a publicist said hopefully, and the assembled reporters blithely ignored her. Kobe did not dodge their questions. The urgent topic was the departure of All-Star center Dwight Howard from the Lakers to the Houston Rockets. Kobe made it obvious he had no interest in forging a workable partnership with Howard. When asked if he knew why the big man left, Kobe produced the quote of the day: "I don't know. You think once a guy decides to go someplace else I'm going to waste my time trying to figure out why that happened?"
Bryant described his own situation as "the challenge of being down and now having to bounce back. We all encounter that a little bit throughout our lives. For me, it's been a lot of emotional things you've got to bounce back from, but never something this serious from a physical standpoint."
It's been 10 years since Kobe blundered into his most serious plight. He was arrested for sexual assault in Colorado in July 2003. Perhaps not coincidentally, he was also dealing with an injury (he was in Colorado for knee surgery), and he had just seen Nike consummate a $90 million endorsement deal with a high schooler named LeBron James who had not even played an NBA game. Surely that sent Kobe's ego into overdrive. The charges were later dropped, but the tawdry episode triggered a sense of disenchantment with Kobe that lingers to this day, although the Lakers' NBA titles in 2009 and 2010 won back a legion of fans.
Kobe's self-image is as big as the reported $30.5 million he will earn in 2013-14, the last year of his current contract with the Lakers. "That's more than the entire payroll of the Milwaukee Bucks," Julyan Stone pointed out. Whether Bryant, who turns 35 in August, will take a pay cut to help the Lakers harvest the rich free-agent market next year remains to be seen. As for the coming season, Bryant responded with sarcasm when it was suggested he and the Lakers might mail it in: "Fold the tent. White-flag it. We have no shot. … Come on, guys. Jeez."
ON THE BEACH: The sand and surf of Southern California are the playgrounds of some great Santa Barbara athletes this week. Beach volleyball gold medalist Todd Rogers is competing in the FIVB Long Beach Grand Slam. His partnership with 7-footer Ryan Doherty is a work in progress. "Ryan's a project," Rogers said. "I was hoping to do better. It's taking time." Their best finishes in FIVB European tournaments have been 17th place on five occasions. They'll be playing later this summer in the AVP domestic tour, which comes to Santa Barbara September 28-29 — a day before Rogers turns 40. … At the U.S. Open of Surfing in Huntington Beach, Santa Barbara's 18-year-old phenom Lakey Peterson is the defending women's champion, and Conner Coffin, 20, is vying for his second pro junior title.
GONE: Ema Boateng, who displayed some brilliance on the soccer pitch as a freshman at UCSB last year, will not continue his college career. He has signed a multiyear deal with a Swedish first division club.