Bottles & Barrels
Spotlight on the Sta. Rita Hills and Lompoc Wine Ghetto
The People, Places, and Practices of the Central Coast's Southwestern Corner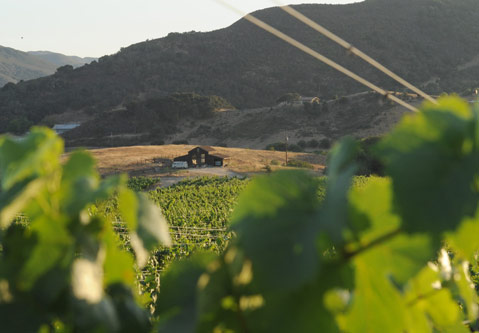 When historians look back on the emergence of Santa Barbara wine country, there'll be special chapters for both the Sta. Rita Hills, which escalated the region's reputation for world-class pinot noir and chardonnay, and the Lompoc Wine Ghetto, where many of those wines, as well as others from around the region, are made in a collaborative, think-tank-like setting. Here's a look at the people, places, and practices making the region so exciting to watch.
• Sashi Moorman's Enology Empire: Changing Santa Barbara Winemaking, One Project at a Time
• My Year in the Vineyard: Learning How to Grow Wine Grapes at Ampelos Vineyard
• Bryan Babcock's Farming Revolution: The 20-Year Veteran of Sta. Rita Hills Introduces New Vineyard Techniques and Homegrown Clone
More Wine News
CELEBRATE WITH FIDDLEHEAD: Since the Santa Rosa Road mile marker for Fiddlestix Vineyard is 7.28, Kathy Joseph's Fiddlehead Cellars invites "fiddle fans" from near and far to drink her signature "Seven Twenty Eight Pinot Noir" in celebration of July 28 every year. The "virtual toast" coincides with a real-life party in the Lompoc Wine Ghetto this coming Sunday. Show off your own party by posting photos at facebook.com/fiddlefans or sending them via email to 728@fiddleheadcellars.com. See fiddleheadcellars.com.
LOMPOC WINE WEBSITE RELAUNCH: The Lompoc Wine Ghetto is growing beyond its industrial-park boundaries in an effort to attract more visitors to everything west of Buellton. To help do so, the vintners involved have relaunched their home website as lompoctrail.com.
ANNUAL STA. RITA HILLS WINE & FIRE: Pinot-philes and chardonnay sippers converge every year on the Sta. Rita Hills to partake in the educationally epicurean wine-meets-grilling celebration known as Wine & Fire. This year's event kicks off on Friday, August 16, 5:30-8:30 p.m., with the Sanford & Benedict Barn Party, featuring wines, flatbreads by Bello Forno, and music from Lompoc natives Saint Anne's Place ($45). Saturday's seminars are at Hilliard Bruce Vineyards, 10 a.m. - 12:30 p.m., and feature moderator Josh Raynolds guiding guests through a taste of 12 wineries via panels on where more chardonnay should be planted and why Clone 115 rules the pinot noir roost; a Hitching Post–prepared lunch follows ($150). That afternoon is the grand tasting on the historic grounds of La Purísima Mission, 5-8 p.m., featuring more than two dozen Sta. Rita Hills producers ($100). See staritahills.com.