News
Backyard Chickens Get Dumped
City Dwellers Give Hens the Heave Ho
Hundreds of chickens are being abandoned each year at animal shelters across the nation when city dwellers discover that keeping chickens isn't all that it's cracked up to be. The growing trend of raising backyard chickens can backfire when inexperienced and uninformed people decide to raise a few birds. Case in point: The Farm Sanctuary based in Watkins Glen, New York, recently took in 250 backyard birds that are now looking for new homes. It's the same scenario at the Chicken Run Rescue in Minneapolis, Minnesota, where owner Mary Britton Clouse has tracked a steady climb in surrendered birds from fewer than 50 in 2001 to nearly 500 in 2012.
According to Paul Shapiro, spokesman for the Humane Society of the United States, "Many areas with legalized hen-keeping are experiencing more and more of these birds coming in when they're no longer wanted. You get some chicks and they're very cute, but it's not as though you can throw them out in the yard and not care for them." In addition, some people discover that hens lay eggs for only two years, but can live for a good decade longer. And raising birds can be labor-intensive and expensive.
Urban farmers have also complained that their chickens are attracting pests such as rats and also predators, including fox, raccoons, hawks, and coyotes. Coupled with the fact that chickens are hard to sex, some backyard farmers wind up with roosters, which are often killed because they can be aggressive, noisy, and they don't lay eggs; it's a wonder why any city dweller would take on this challenge.
On the flipside, Rob Ludlow, author of Raising Chickens for Dummies states that hundreds of thousands of people are realizing the wonderful benefits of raising a small flock of backyard chickens, "the pets that make you breakfast." He notes that cities nationwide have agreed, and are passing ordinances making it legal to keep small flocks of urban chickens.
Chicken owner and enthusiast, Jonathan Delong told me that keeping chickens has been a very rewarding experience. After acquiring some chickens from a friend, Delong stated: "I don't think I fully realized that we were getting 'pets'. As the months have passed, and our attachment has grown, I came to realize that they are indeed pets and part of the family. As with any pet, they come with responsibility, and potential chicken owners need to plan for that and do their research before acquiring chickens. Just like someone must feed and walk their dog multiple times a day, or care for their cat, or clean out their fish tank weekly, chickens, too, have a required regiment that takes time and commitment. Before anyone takes on the responsibility for the life of any animal, they must assess the impact on their personal life, and make a decision accordingly." Delong suggested first following a "Chicken Oriented Social Network" for a couple of months to get an idea of the experience. He also recommends reading Chickens for Dummies or an equivalent book.
There are many things to consider before getting chickens.
Ÿ You must check your local ordinances. Many cities are starting to allow hens, but most won't allow roosters as they are perceived as noisy and would fall under noise ordinances.
Ÿ You will need enough room for a chicken coop. A good rule of thumb is four square feet inside the coop per chicken and 10 square feet of outdoor space.
Ÿ You will also need nest boxes where the chickens can lay their eggs and bird netting to protect your outdoor run from hawks.
Ÿ If predators are an issue in your area, you will need to open and close the "hen house" at dusk and dawn.
Ÿ Chickens are susceptible to diseases, so make sure you know of an avian veterinarian.
Ÿ Make sure you are ready to feed and water the chickens at least once a day, as well as collect eggs once a day. You will need to secure a pet sitter to assist while you are on vacation, even if it's just for one day.
Ÿ Make sure you are prepared to handle illness and be willing to isolate a sick chicken in a separate area.
Ÿ If your main reason for getting chickens is for their eggs, realize that most chickens only have a productive life (one egg every 1.5 days) for 2-3 years. They may still produce when they get older, just not as often.
Ÿ If you are hatching your own chicks, plan on half of them being roosters. Since most cities won't allow roosters, you'll have to find homes for them.
Ÿ Most importantly, tell your neighbors what you're doing. You can try to bribe them with free eggs since most chicken owners end up with more eggs than they know what to do with.
Given the appropriate situation, chickens can be a great species to raise and can live a suitable life in the city. As long as there is some thought and planning ahead, as well as a lifetime commitment, you can have a wonderful flock of backyard chickens, as well wholesome, fresh eggs for your breakfast table daily.
Announcements
Two for the Price of One Kitten Adoptions
Santa Barbara County Animal Services has hundreds of kittens waiting to be adopted at its three county shelters. The shelter is no place for kittens to grow up and in an effort to help them find their forever homes Animal Services is offering a special adoption rate of two for the price of one for all kittens up to six months old.
Adopters have until August 31, 2013 to get two feline companions and a lifetime of love for only $75.
Most of the kittens have been hand raised in loving foster homes and are well socialized. All of the kittens are spayed or neutered and up to date on their vaccinations. Adopters may also microchip their new fur-ever friends for an additional $30 each.
There are many health benefits for owners of cats and kittens such as lower blood pressure and heart rates, better mood, and reduced stress. All of these health perks, that are a result of owning a cat, can reduce your risk of heart attack.
Kittens are very curious and playful so there are many benefits to adopting them in pairs. A single kitten will get bored and may find entertainment in climbing the drapes or chewing on plants. Two kittens will play together until they tire out resulting in less mischief.
Adoption hours at the shelters are Monday through Friday from 10 a.m. to 4:30 p.m. and on Saturday from 10 a.m. until 3:30 p.m. You can view our adoptable animals by visiting www.petharbor.com or www.asapcats.org.
Ÿ Santa Maria Animal Center, 548 W. Foster Rd., Santa Maria
Ÿ LaPAWS, 1501 W. Central Ave., Lompoc
Ÿ ASAP Cats at Santa Barbara Shelter, 5473 Overpass Rd., Goleta
ReTail Adoption Center
La Cumbre Plaza Shopping Center. Open Sunday, 11 a.m.-2 p.m., starting July 28, 2013.
Volunteers from area animal shelters and rescue groups are trying something new to help shelter dogs find forever homes! La Cumbre Plaza has generously given store space to showcase adoptable dogs in Santa Barbara. "Give a Dog a Home—ReTail Adoption Center" is an opportunity for the public to spend time with the dogs away from the shelter on a weekly basis.
The ReTail Adoption Center is not only looking for forever homes for dogs, it will also provide training demonstrations, education, and resources for dog-loving members of our community. Give a Dog a Home volunteers will explain how dogs end up in shelters and teach the public how they can help make positive changes.
Adoptable Pet of the Week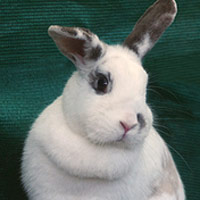 Lovely Lenore lost her home when her people moved to another country. She is approximately 2.5 years old and is a very friendly and trusting rabbit. She obviously was showered with love and attention in her previous home. Her "helicopter ears" are quite entertaining when she runs and plays. Every rabbit sheltered at B.U.N.S. is spayed or neutered prior to adoption.
Bunnies Urgently Needing Shelter (B.U.N.S.) is a volunteer organization that cares for abandoned rabbits. B.U.N.S is located at the Santa Barbara County Animal Shelter, 5473 Overpass Rd. B.U.N.S. works to find bunnies permanent homes, and educates the public on caring for a companion rabbit. You can call the County Shelter at 805-681-5285 or call BUNS at 805-683-0521 and leave a message for someone to call you back. For more information, visit www.bunssb.org
Lisa Acho Remorenko is executive director of Animal Adoption Solutions, animaladoptionsolutions.com