Briefs
Crackdown on Fiesta Cruiser Run
Police Warn of Increased Enforcement at Annual Bike Ride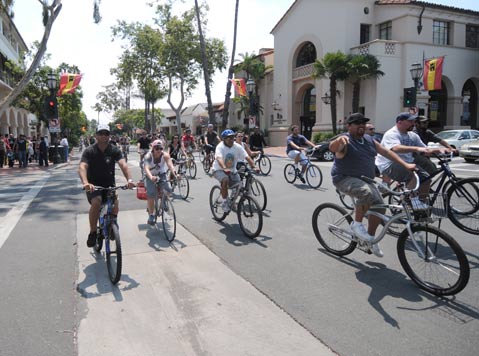 The Santa Barbara Police Department sent out a press release warning of increased enforcement during the Fiesta Cruiser Run, an annual bike ride that leaves from Stearns Wharf at noon on the last day of Fiesta, Sunday. The ride – which tends to ignore traffic signage and holds up downtown traffic – heads up State Street before taking the bike path from Modoc Road to Goleta Beach and Isla Vista, then returns to Santa Barbara. Although an unpermitted event, it is now in its 34th year. Attendance increased exponentially the last few years as invitations to the ride made their way onto social media. Originally composed of Santa Barbara residents, the Run is now attended by tourists and cruiser clubs throughout Southern California. Several people travel from other states specifically for the event.
"During past events," wrote police spokesperson Sgt. Riley Harwood in a release, "the Police Department has received complaints from the public about disorderly and hazardous conduct by the bicyclists participating in the ride." He also listed the three most common bicycle infractions and their associated fines: failure to ride as close as practicable to the right-hand curb, $194.00; failure to obey stop sign, $194.00; and failure to obey red signal light, $480.00.
According to Police Chief Cam Sanchez at his presentation to City Council last August, between 10 and 15 officers are usually assigned to the ride. "We will have more officers present than last year," Harwood told the The Santa Barbara Independent. "However," he added, "I don't think that divulging specifics about our response plan prior to the event would serve us well."
At last year's post-Fiesta City Council meeting, councilmember Dale Francisco said it was only a matter of time before there was a serious injury or death. "We as a city can't allow this mass law-breaking to go forward," he said.