Food & Drink
Breaking Down S.B.'s Bread Revolution
A Batch of New Bakers Are Crafting Artisan Breads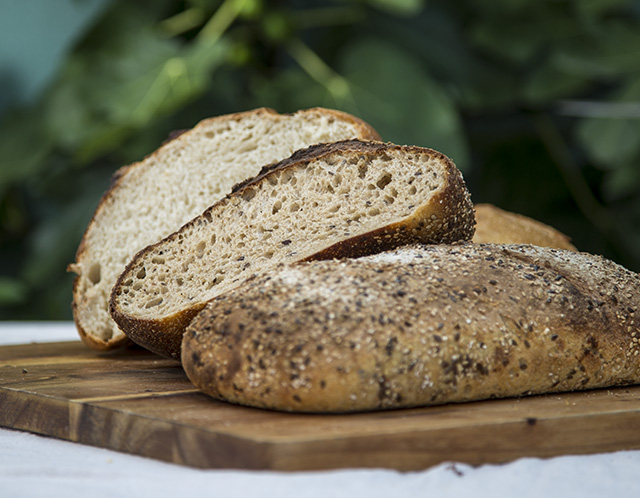 Flour. Water. Salt.
Since Neolithic times, no three ingredients have changed the landscape of culture more. Baking bread was integral to the rise of civilized states, enabling humans to leave nomadic lifestyles for socialized, agricultural societies. Then, with the Industrial Revolution, came industrial bread making, utilizing inferior grains, commercial yeast, and chemical additives to create quick bread — that soft, gooey bread we all loved as kids. But now, a new batch of bakers is calling us back to the yeasty, fermented world of artisan bread. (As Julia Child said, "How can a nation be great if its bread tastes like Kleenex?")
And the craft has taken off in S.B. Here's your guide to our new, local bread makers, all doing it the old-fashioned way.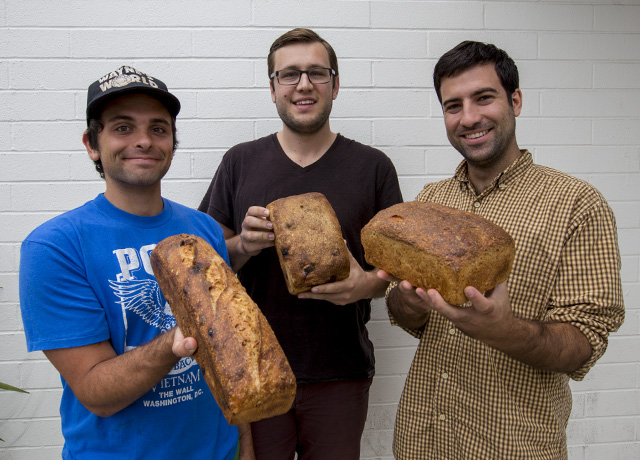 Genuine Bread — Bread Worth Breaking
The company was started by Westmont alums Andrew Elia and Jeff Appareti and Carpinteria native Geoff Jensen, also a Westmont grad. Inspired by the creations of Tartine Bakery and time spent baking in San Francisco, the self-proclaimed baking geeks wanted to embrace a new bread-making philosophy — one full of complexity and soul. "We hope to usher in a new wave of consciousness, both in flavor and in quality," said Elia.
The trio is currently baking at Westside Neighborhood Center, with hopes to open a storefront in the near future to deliver a full sensory eating experience that will make their bread the focus rather than an afterthought. "It's about coming together and breaking bread; it's a community, a fellowship around the table," said Jensen.
Varietals: French Country Sourdough, Multi-Seed, Cranberry Walnut, and a special weekly surprise. Future endeavors include using local beer in breads.
Most Popular: Cranberry Walnut.
Where to Purchase: Order online at genuinebreadco.com for pickup Tuesday and Saturday at French Press, both locations, (8am-7pm), C'est Cheese (Tue.: 10am-6pm; Sat.: 8am-6pm), Goodland Kitchen (8am-2:30pm), and Tuesdays at Carpinteria's Lucky Llama (8am-4:30pm).
Favorite Recipe: French Country Sourdough, pan-fried in butter with cinnamon and sugar. "Simple, perfect, and awesome," said Elia.
Crazy Good Bread — Bliss, Disguised as Bread
A former accountant, Rossell Studer hopes to create a "breaducation" for Santa Barbarians. Inspired by flavor, Studer has embarked on a passion-fueled taste quest, a journey into bread making that involves combining some very unique ingredients.
"I'm interested not only in using high-quality products but also having fun and playing with flavor," said Studer. "Food became this bliss for me, this incredible passion. Crazy Good Bread is selling that bliss to consumers … bliss disguised as bread."
Using bread as a canvas, the seasons inspire her flavors, from the popular Pumpkin Spice Pecan in fall to the Lemon Country loaf in the summer. And her website includes great recipes and accompaniments for bread that is, well, crazy good.
Varietals: Lavender Country Loaf, Lemon Country Loaf, Walnut Country Loaf, Original Country Loaf, Fig Masala, Curry Almond Raisin, Chocolate Black Pepper, Lavender Walnut, Orange Chocolate, Pumpkin Spice Pecan, Rosemary Olive.
Most Popular: Fig Masala
Where to Purchase: Santa Barbara Public Market, opening in September, and CGB will open a storefront this month at 2191 Carpinteria Ave., #12, in Carpinteria. Bread can also be purchased online, via mail order, or at this year's Fermentation Festival, happening August 24 at Fairview Gardens. See crazygoodbread.com for details.
Favorite Recipe: Brie with Pumpkin Spice Pecan loaf. "Tastes just like pumpkin pie!" proclaimed Studer.
Bob's Well Bread — Bread with an Old Soul, Made the Old-Fashioned Way
A former entertainment industry executive, Bob Oswaks centers his bread career on the wood-burning oven — from the one he built his wife for their anniversary to the one that launched him at Full of Life Flatbread. With a chance opportunity to bake for Prince William at that much-celebrated charity polo match and at countless other events, Oswaks has turned a therapeutic hobby into a successful midlife career change.
"It was always our dream to have the wine-country lifestyle, matching a business with the authenticity that goes on in the Los Alamos community," said Oswaks. "Bread making is incredibly rewarding … a very Zen kind of experience. It's intoxicating."
Bob's Well Bread storefront is set to open in Los Alamos later this year. The new half-acre café will feature everything from bread pudding to a full, locally sourced menu. Using only products it grows, the company hopes to become a self-sustaining bread venture.
Varietals: Country Levain, Olive Walnut, Olive Bread, Walnut Bread, Garlic-Rosemary, Chocolate-Cherry, Cinnamon-Raisin, Bagels, Pretzels, Croutons, English Muffins.
Most Popular: Country Levain
Where to Purchase: Global Gardens in Los Alamos and online at bobswellbread.com. His bread is also on the menus at Full of Life Flatbread and Café Quackenbush in Los Alamos and Mattei's Tavern in Los Olivos.
Favorite Recipe: Olive bread with Humboldt Fog goat cheese.
Santa Barbara Sourdough — Sourdough in the Goodland
Since high school home economics, Stephen Meyer has enjoyed baking. His current day job as a high-end security system manager introduced him to the Goodland Kitchen, where a routine job consultation turned into a culinary trip into the world of wood-fired sourdough bread.
Today, Meyer bakes outside of Goodland Kitchen and from home. In addition to being the main bread supplier for Goodland's Sunday Supper dinner series, Meyer loves answering requests and has worked countless area events including the Lucidity Festival, the Mud Run challenge, and the Edible Institute Gala. Hoping to work with grains from Tom Shepherd Farms in Carpinteria, Meyer has become a familiar face in the area food community, enjoying collaborations with various restaurants and artisans.
"Making bread is challenging, but I like seeing something play out from start to finish," said Meyer. "It's awesome to see the whole process and work with this great pillowy substance."
Varietals: Sourdough, Spicy Garlic Bread, Walnut/Kalamata Olive, Rosemary, Banana Bread, Zucchini Bread, Biscuits, Sourdough English muffins (available upon request).
Most Popular: Spicy Garlic Bread, made with the pigtail of the garlic, making it spicier and more earthy.
Where to Purchase: Contact Stephen at steve@accutech.com or (805) 680-7669 to place an order.
Favorite Recipe: Grilled sourdough on the BBQ, with Meyer's homemade BBQ sauce (available upon request).
Another Bread Company — Crusts That Don't Quit
Former musician and current winemaker (Dragonette Cellars) James Sparks grew up in his mom's bakeshop in Idaho, creating treats for friends and family. Cultivating a unique synergy between bread and wine, the winemaker plans to use pinot and chardonnay grapes in his next sourdough starter. Envisioning a bicoastal baking venture with his brother in New York, Sparks is currently working on a signature loaf using herbs grown on his own deck that can be made across the coasts. And, baking bagels in an electric oven, Sparks is on to something totally new for bagel lovers.
"It's all about watching and observing — how much do I play with it, how much do I let it go? It's very similar to winemaking … I want to capture the essence of what the bread wants to do, keeping it somewhat simple but complex on the flavor," said Sparks. "And I want my bread to be crunchy on the outside. I don't want it to be soft on the inside, soft on the outside … that's Wonder Bread!"
Varietals: Artisan Craft Loaf, Kalamata Olive (seasoned with rosemary, thyme, oregano, and lemon), chocolate chip scones, and those bagels.
Most Popular: New York–inspired bagels — utilizing sourdough starter and local honey for a hint of sweetness.
Where to Purchase: Pickup or delivery available. Email orders@anotherbreadcompany.com or call (877) 327-2656.
Favorite Recipe: Rich, creamy St. André cheese on Artisan Craft Loaf, with Dragonette chardonnay or sauvignon blanc.