Film & TV
Review: Turbo
The voices of Ryan Reynolds, Paul Giamatti, and Samuel L. Jackson star in an animated film written by Darren Lemke, Robert D. Siegel, and David Soren and directed by Soren.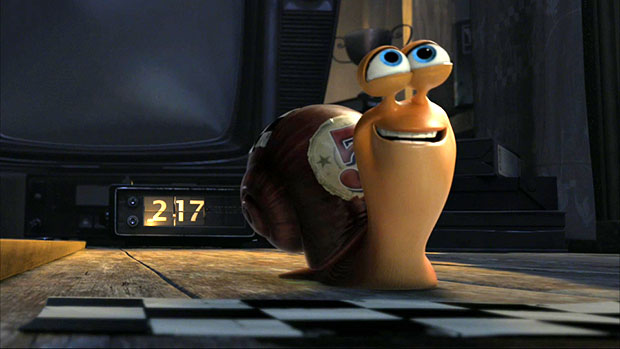 When Ratatouille first opened, it was hard to describe because there wasn't much to compare with to. If you said, "A rat opens a gourmet restaurant in Paris," your friends would roll their eyes at a premise too ridiculous even for cartons. Of course, they were wrong and the crazy idea became a jewel in the Pixar crown of nutso ideas turned into great, original, and rewarding fun. Now comes a story about a snail who wants to race in the Indianapolis 500, and, even though imitation is the sincerest form of flattery, it's also wrong to indulge in it so obviously.
There are scads of little clues sprinkled throughout the movie that let us know we are in a heavily-indebted film. Whereas the mouse in Ratatouille was called "Little Chef," the snail in this film gets called "Little Amigo"; both creatures have a chubby, skeptical sidekick who later comes onboard and, for some strange reason, Turbo's arch foe is gratuitously French. On the other hand, Turbo is multicultural, sometimes funny, and even a little inventive. The opening segment, set in a suburban home seen from a snail's-eye-view is thrillingly rendered, and a series of jokes about contemporary radio are boisterously fine.
But the fact remains that Turbo bears a heavy weight of unoriginality on its shell. When Pixar pulled off ridiculous premises, they end up seeming like small miracles; this school-of-Ratatouille rip-off is ultimately just garden variety cartoon.