Living
Justinian Caire
Owner of Santa Cruz Island
Justinian Caire was born in Briançon in the French Alps in 1827. As a young man he spent some time in Genoa, Italy, learning the mercantile trade and he saved enough money to come to California to start his own business.
Caire arrived in San Francisco in March 1851. He did not come expecting to strike it rich in the gold fields; instead he saw the golden opportunity offered to an enterprising merchant in a city with booming population growth. With his brother, Adrien, he opened a store that specialized in hardware and miners' supplies, as well as offering European luxuries and wine-making equipment. A fire in May 1851 destroyed the store, but the Caires quickly re-built. This time they equipped the store with a deep subterranean storage area, covered with heavy sheet metal. When fire again swept through the neighborhood, the Caires' stock was saved.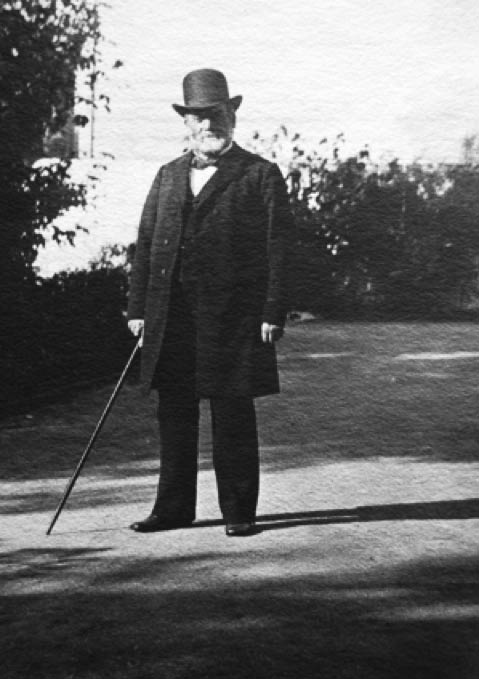 Caire was involved in additional ventures in San Francisco, including a French hospital and a French bank. Ten stockholders in the latter got together in February 1869, to buy Santa Cruz Island and one month later incorporated the Santa Cruz Island Company. By 1880, a number of the stockholders had dropped out. Caire continued to buy up shares in the company until he became the majority stockholder and held a controlling interest. He then decided it was time to take a look at his investment.
Up to that point, the Santa Cruz Island Company had utilized the island as previous owners had–as a sheep and cattle ranch. Caire determined to diversify operations. He expanded the island's main ranch located in the central valley, adding a carpenter's shop, a blacksmith facility, a saddle shop, and a brick-making plant. He established nine additional ranches and facilities, including a major ranch at the western end of the central valley and an enlarged port facility at Prisoners' Harbor on the north shore. He then ran a narrow gauge track from the end of the wharf there to the large brick warehouse he had constructed.
Within a few years the island was yielding a wide variety of vegetable and fruit crops. Horses and hogs were added to the stock-breeding program. The company had its own sailing ship to ferry supplies from the mainland. From 1893 to 1905 the island even boasted its own U.S. post office. Under Caire's expansive program the island's labor force increased to some 60 men.
Caire also launched a wine industry on the island. He planted the first grapes around 1884 and eventually the winery produced a great variety of wines. The vast majority of workers in the winery and vineyards were Italian immigrants. Caire had married an Italian and he was friends with Andrea Sbarboro who started the Italian Swiss Colony winery in Sonoma County. Many a South Coast Italian family got their start in the U.S. by working in Justinian Caire's fields on Santa Cruz Island. Wine continued to be produced on the island until the onset of Prohibition in 1919.
Caire suffered a stroke in the spring of 1896 from which he never fully recovered and he died in March 1897. He left behind an indelible South Coast legacy.