Scruffy is a three-year-old neutered male Schnauzer mix. This fun little guy has such a natural confidence about him. You can't help but be charmed by his happy go lucky attitude. He is cute, friendly, and really likes to be around people. He would probably do best in a male household, with someone that works from home or can bring him along on errands. Scruffy has cool bushy eye brows, big brown eyes, and an attractive sterling, gray, black-and-tan colored coat that will need to be groomed every couple months. He is potty trained. Scruffy will probably be very nice with well-behaved kids, but would prefer to be the only dog in the house. Come in to meet him soon!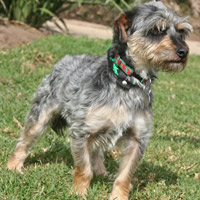 To inquire about adopting a dog, visit DAWG in Santa Barbara. DAWG (Dog Adoption and Welfare Group) is a no-kill not for profit dog rescue/adoption organization. You can view more adoptable dogs at www.sbdawg.org. All of the dogs have been spayed/neutered, micro-chipped, are current on their shots, and have flea/tick/mosquito protection. We ask for a minimum adoption donation of $250 for young dogs (under three years), $150 for adult dogs, and $125 for seniors (dogs 8 years old and over).
For more information on our available dogs, call (805) 681-0561; email: adopt@sbdawg.org; or come by DAWG, 5480 Overpass Road in Goleta, during open adoption hours, Thursday-Monday, 12-5 p.m.