Confession. I' m an ethics junkie.
Morning, noon, and night, I think about ethical issues, whether it's for this column, my work as a lawyer, or as an expert witness on legal ethics. However, it has become clear that those closest to me are tired of hearing me talk about ethics.
My partner has banned me from analyzing every story on the 7 a.m. news for its ethical implications. I can do 20 minutes of PBS. My adult children routinely develop cell phone reception problems when I mention ethical dilemmas. Even my grandchildren roll their eyes when I mention ethics.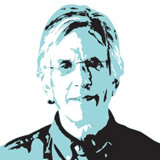 I decided there had to be a better way to talk, write, and teach about ethics and, maybe, make a little money to boot. I decided to abandon my Luddite trappings and develop a revolutionary new app that would provide answers to ethics questions. If you wanted an ethics opinion on any subject, you took out your smartphone and hit the App. No books, no lectures, just easy access to ethical information. I would charge 99 cents per answer. I'd be the iTunes of ethics.
Would anyone buy it? Would anyone pay attention to what it told them was the ethical alternative? I wondered if it would catch on in the places that needed it the most — like Washington, D.C. It would do little for those who lacked the will to do the right thing. There would never be an app for that.
But the real problem was, I barely know how to work the apps on my own phone. I needed help, and I knew just the guy, if I could contact him, which wasn't going to be easy.
I went to the local fortune teller/all-purpose-medium, Madame Tsuris to ask her to channel the late Steve Jobs. Her rate card was on the entryway wall — $50 a session to bring back anybody who had died in the last three years; $100 if the guy had been gone longer. I thought it would be bargain if she could really do it. I had my doubts.
Madame Tsuris was of an indefinable age, with pitch-black hair crowding her small, heavily made up face. She was dressed all in black, except for a blue L.A. Dodgers cap. She uttered a series of other-worldly sounds, lit a bunch of candles, and waved her hands in a large circle.
There was a puff of smoke, and Steve Jobs appeared in his Levis and T-shirt, right in front of me.
"Hey Steve, thanks for coming," I said.
"Well, given how the Obama people have snubbed me, I thought no one remembered that I'm the smartest guy around when it comes to brilliant new ideas."
"Steve, I need you to develop an Ethics App for me."
"A what kind of app?"
"You know an app for smartphones that answers ethics questions."
"You're kidding right?"
"No. Tthis would mean I could stop writing and talking about ethics. I'd have some time for other things, like watching sports on TV."
"How many people do you think give a damn about ethics? I mean, in my day, it wasn't our chief concern in the Silicon Valley."
"More than you think Steve, especially if all they have to do is use the app."
"Does Bill Gates know about this project?"
"No, never even tried to talk to him."
"Don't. The guy will steal it. Trust me on that. … How about Larry Ellison? Did you contact him?"
"Steve, you're my man."
"Well, okay. I'll do it for $10,000 and 70 percent of the gross, and, of course, the Chinese market. You know China will dominate world ethics in the next decade. And I'll even ask Siri if she'll do the voice"
"Ten thousand dollars? Geez Steve, give me a break here."
"Your kiddin' right. You want me to work for nothin'? After all, I'm letting you write the questions and answers. And … "
All of a sudden Steve started to evaporate, and any trace of him was gone from the room. Not even a pile of dust was left.
"Where'd he go?" I asked Madame Tsuris.
"You ran out of time. And he had another meeting. But, for you, I can get him back for $300, tomorrow, after peak channeling hours"
"I thought it was $50 a session."
"It was. But when I heard you talkin' about ethics, I figured it was worth at least $300 a shot."
She slammed the door as I huffed out. I didn't have that kind of money. I guess I would just have to back to writing and lecturing. My Ethics App would never see the face of a smartphone.
As I passed the Apple Store on my way down State Street, they were just putting a large display in the window.
STEVE JOBS' LAST GREAT CREATION
AN APP TO ANSWER ALL
YOUR ETHICS QUESTIONS.
AVAILABLE NOW FOR JUST $299.
ONLY THE ANSWERS YOU REALLY WANT.
Benjamin Bycel is an attorney and writer. He was the founding executive director of the Los Angeles Ethics Commission and of the newly reconstituted Connecticut Ethics office. He serves as an expert witness in cases dealing with political and legal ethics.