News
Algebra? There's an App for That
iPads Coming Soon to a Classroom Near You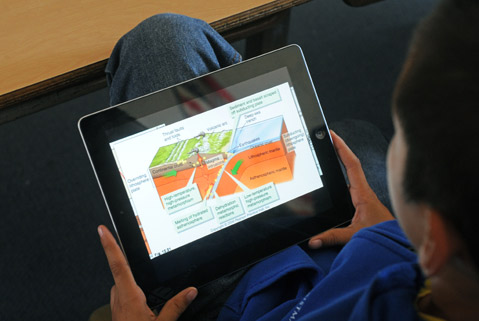 Over 1,000 Santa Barbara students may be unwrapping iPads this holiday season. Third through sixth graders at Adams, Franklin, and Washington elementary schools and 11th graders at La Cuesta High School were chosen to participate in the one-to-one iPad pilot program and are awaiting a massive Apple delivery, pending final logistics to be hashed out between administrators and parents. "We need your child tech savvy," Franklin Elementary School Principal Casie Killgore told parents in both English and Spanish at a crowded cafeteria meeting last week.
Families at the four chosen schools have three options: purchase an iPad 4 with Retina display, 16 GB of storage, and WiFi for about $20 a month on a three-year-plan; provide the same device with the same features themselves; or use a district-purchased tablet from the Common Core State Standards Implementation funds. The total cost includes an iPad case (identical for all students), AppleCare, and additional insurance to replace lost or stolen devices or fix cracked screens. "The difference is the money; there's no way around that," Killgore said at the meeting.
Over 95 percent of parents at Franklin and Adams said they want to sign up for the district's monthly plan, according to a recent survey. Washington and La Cuesta will conduct similar surveys within the next few weeks. Per one-to-one ideology, the district will provide an iPad for any student without one. There should be no difference between parent or district-purchased tablets, Technology Director Todd Ryckman said, and all students will bring the tablet home every night and over breaks.
Education apps including NASA, Google Earth, Whiteboard, Prezi, photo tracing, and thousands of others "have a real kid appeal," said Washington Elementary teacher Tammi White. She explained engaging interfaces provide great visuals and foster conceptual learning. Further, the svelte pads act as an all-in-one "reference shelf" and provide an alternative to hefty encyclopedias and dictionaries. Certain apps will be required for every student, but teachers will also have leeway in determining exactly which programs will be used in their classroom. White said she is especially excited about DreamBox Math, an "intelligently designed" online program, because it provides different ways to examine data and track individual students' progress.
"Technology is no longer a tool; it's not a fancy pen," Ryckman said at a school board meeting last month, explaining an understanding of technology is essential for student success on new computer-based standardized tests. "To me, the device is only as good as the teacher using it," he later added. The new tablets are not intended to make learning faster, Ryckman said, but to capitalize on ubiquitous knowledge outside of the classroom and to tailor to diverse student needs.
Though several Santa Barbara parents and teachers have expressed excitement about the pending delivery, something of a fiasco occurred in the Los Angeles Unified School District when the $1 billion iPad program began its rollout this school year. There has been no shortage of Los Angeles Times articles about the dozens of tablets that went missing ​— ​causing confusion about who is responsible for damages ​— ​and the hundreds of students able to breach blocks on Facebook and YouTube within hours, prompting some of the schools to take back the devices.
"Yeah, there's dangers, but we're going to have to teach kids how to be diligent … like with TV," White added. "It doesn't mean we shouldn't expose kids to stuff." Ryckman believes the rollout in L.A. happened "too big, too fast," explaining that the Santa Barbara district has taken incremental steps, trained teachers, and purchased some iPads prior to the one-to-one debut. "I have not gotten a single complaint yet," Ryckman said, although he anticipates issues will materialize "anytime you do something this big."
A self-described tech-illiterate parent at the Franklin meeting expressed concern about students driving up a bill by purchasing games and apps without parental approval. Killgore explained Mobile Device Management allows administrators and teachers to manage devices over-the-air while they're in the school's wireless network. Once the tablet connects to an off-campus WiFi, though, students will be able to purchase apps and access any site.
Killgore told parents Franklin students are competing against other area elementary schools well equipped with technology once they move on to Santa Barbara Junior High School. Several other proponents say the initiative seeks to "level the playing field" for students as well as teachers. Ten more schools are set to receive iPads by the 2015-2016 school year