Living
San Francisco Goes Batty
Seigel-Boettner Brothers Cover Batkid Day
You may have heard how the Make-A-Wish Foundation organized an event last Friday that transformed San Francisco into Gotham City and Miles Scott, a 5-year-old battling leukemia, into the hero now known around the world as Batkid.
But what you may not know is that two brothers raised in Santa Barbara were part of the digital camera crew that documented it.
Isaac and Jacob Seigel-Boettner are both documentary filmmakers who grew up here. They now live up in the Bay and run Pedal Born Pictures. They spoke with The Santa Barbara Independent Tuesday via three-way teleconference about their work and the day Batkid saved Gotham and won the heart of the Golden City.
Granted, the two have seen the city's fair share of celebration, particularly after the Giants won World Series pennants in 2010 and again last October. Then, about one million people thronged and partied hard along Market Street and throughout the city. But last Friday's crowd of 15,000 people, although a seemingly paltry number in comparison to the masses who reveled for the Orange and Black, possessed something more, something mere sports fandom cannot touch, even with a million people. "We've never seen San Francisco come together like that," Isaac said.
He described what actually happened, what he and his brother witnessed, as an almost transcendent experience. The more people who tweeted and texted and took pictures and videos, the more people showed up. All for one brave little boy.
From the start of the day, when Batkid rescued a damsel in distress from a mysterious green box adorned with question marks, the crowd was there, tweeting and taking pictures. More would come. Police escorts, planned in advance, came in handy.
"Police were doing an amazing job at keeping people back," said Jacob, who went on to say that in general the crowds were respectful save for the news crews.
Four groups had been authorized to cover the event — the Seigel-Boettner team for Make-A-Wish, a police photographer, Comcast Sports, and a local NBC affiliate. But then dozens of other people with cameras and microphones showed up. Many snuck under the tape and tried to get as close as they could to Batkid. Jacob described it as just short of a media feeding frenzy. "Some pretty vicious national news crews going right up into his face," he said.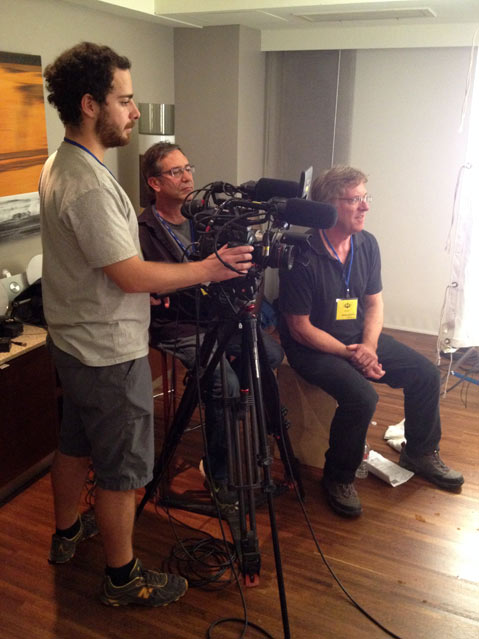 Other than that, the brothers prepared for everything that could be foreseen. All of the logistics were set prior to the event. The actors were cast, and their action blocked. Locations were selected, and props like the Batmobiles were acquired. Jacob and Isaac, working with Make-A-Wish commercial director John Crane, had a solid feel for what they needed to do. In fact, the only logistic that concerned them was weather. Forecasts predicted a 60 percent chance of rain. "That would have put a dampener on the whole day," said Isaac. But the rain never came. Even the city's signature white fog duvet stayed away.
With plenty of sunshine, Gotham was camera ready.
"In order to preserve the experience for Miles Scott, everything had to be shot in real time," said Crane, in a phone interview. That included capturing moments that involved some minor special effects and the need to negotiate and shoot around an unexpected number of bystanders. So, about a month ago, when Crane needed cameramen who could think on their feet, move quickly, and handle crowds for his crew, he called Isaac and Jacob.
Crane met the Seigel-Boettners a few years ago when they were making Singletrack High, their documentary about high school mountain biking teams that became an official selection at the 2011 Santa Barbara International Film Festival, among others. Their production company, Pedal Born Pictures, specializes in documentaries, with clients like World Bicycle Relief, and the National Interscholastic Cycling Association. Their work so far has focused on how two-wheeled pedal power can make life better for people, not just in the Third World, as seen in With My Own Two Wheels, but for young people growing up here in America, as Singletrack High showed.
Crane was impressed by the young duo's work, especially with how well they covered the sometimes frenzied world of off-road racing . Crane knew these guys were good. "They were ready to rock-n-roll," he said.
"Little did we know how big the crowds would be" said Jacob.
The Seigel-Boettners grew up on bicycles. In fact, after Jacob was born, he was brought home in a bike trailer. Their parents, both teachers here in town, would take students on all kinds of bike tours around the world during the summers. At an early age, Jacob and Issac started documenting them. "We made little movies, brief montages, and told stories for the parents," Jacob explained.
Later, as students at UC Berkeley, Jacob traveled to Rwanda and Bosnia-Herzegovina as part of the school's Peace and Conflict Studies program while Isaac studied film. While overseas, Jacob shot tons of footage. The brothers saw how owning a bike can make life better for young and old alike and decided to make that their "raison de filmer" and shoot documentaries for groups working to bring pedal power to the people.
Granted, the Batkid project had nothing to do with bicycles. But the Seigel-Boettners found the cause more than worthy of their time and accepted Crane's offer to join the team.
The brothers arrived early Friday morning at the Hyatt where the Scott family was staying. They prepped their gear as Jacob's roommate and crewmember Anand Varma, a National Geographic photographer, dressed two sleek, black Lamborghinis sharing the role of the Batmobile with Bat-decals. Both would be driven by their respective owners. The actor playing Batman would ride in one, and Batkid would travel in the other. "I think it was the first Lamborghini ever to have a booster seat," noted Jacob.
The two would be driven around to four locations. In the course of six hours, Batkid would save a damsel in distress from trolley tracks, foil a vault heist by the maniacal Riddler, liberate the Giant's mascot Lou Seal from the greedy, felt-gloved flippers of the Penguin, and finish up at City Hall where he'd receive a public commendation from Mayor Ed Lee and Police Chief Greg Suhr. And Isaac and Jacob would be at each location before the action started.
First was the damsel in distress, tied to a big, green boxy thing with tubes and covered in question marks. The crowd was already there, cheering, taking pics, and tweeting. "Cops had to shoo people out of the way. That was just the first location," said Jacob.
After a hug from the thankful woman, Batkid conferred with Batman, who wore a wrist projector that told the dynamic duo where they were needed next.
The Riddler was trying to break into a vault in the city's Financial District. To the Batmobiles!
Jacob and Isaac were at the next location — the Wingtip club on Montgomery Street, which used to be the old Bank of Italy and still had an accessible walk-in vault in its basement. Inside, the location was filled with Batkid's relatives. "A whole passenger bus full of people who got the VIP treatment lined the walls," said Isaac.
By the time Batkid thwarted his puzzle-loving foe and was coming back outside, Jacob said the streets were lined with onlookers for three blocks. The crowd roared. Then, another a wrist communique — "Time for lunch." "Because Batkid needs lunch, too," said Jacob. So it was off to The Burger Bar on the sixth floor above Macy's in Union Square for lunch.
The family relaxed for about an hour. Isaac said Batkid was getting a little tired, but that despite all the people, everything was right on schedule.
But then, from below, a commotion.
"Actually, there was a flash mob dance with about a hundred people, but you could've missed them because there were so many people," said Isaac.
Nonetheless, when Batkid dashed to the window, he saw a convertible Bentley amidst the Gothamites. And in it, with a purple top hat and a long cigarette holder clenched in his teeth, was Oswald Cobblepott, aka the Penguin. He snarled up at Batkid as he drove off with Lou Seal, the official mascot of the San Francisco Giants as captive.
No time to think, Batkid and Batman were back on the trail, this time to AT&T Park.
At this point, Isaac said, the four blocks from Union Square to Market and the mile-long route to the baseball field were lined at least three people deep on each side.
"We came in the players' entrance," said Jacob. "The Batmobiles entered from the south entrance. He had planned a beautiful shot with the ocean in the background for Batkid's arrival, but instead he had "a sea of people" back there.
Isaac was on top of the park's wall, following the action on the field as the Penguin taunted the young caped crusader as Batkid ran through an obstacle course of foam blocks and trampolines and crawl tunnels. Finally, Batkid and Batman slid down the 20-foot long, twisty-turny Coca-Cola Superslide in the park's Fan Lot, freed the team's mascot, and collared Cobblepott.
Jacob said then the Giants manager gave Batkid an autographed baseball, a hat, and jersey. And on the stadium Jumbotron, another message — "Giants Love Batkid." Then, a bit of improvised fun as Batkid got to run the bases and slide into home. "It was awesome," said Jacob, who added that he and his brother were huge Giants fans. "We got to shoot in the middle of AT&T Park!"
The day ended back at the hotel after Batkid went to City Hall where Mayor Lee awarded the boy the Key to Gotham City and declared it Batkid Day throughout the city and the FBI deputized Miles as a Junior Special Agent.
In the suite, after some more interviews, Jacob and Isaac helped rearrange the furniture, packed up their gear, and checked their cell phones, where they found dozens of texts and tweets. In fact, over 377,000 Twitter accounts shared 406,960 tweets on Friday alone, according to social media analysts Mashable, Inc. In addition, the firm counted 21,683 unique photos shared on Instagram and Twitter. Traffic to the Make-A-Wish website peaked at 1,000 hits per second and crashed their servers. Clever Girls Collective, the social media marketing firm that helped get the word out about Batkid, estimates that all total, 1.7 billion people either wrote, read, and or shared a tweet about the day.
But as it happened, the Seigel-Boettners had no idea about how much coverage the day they helped make happen generated. "Once you hit the ground, there's not a lot of communication," said Isaac. "We were a little taken aback."