News
Help Animals for the Holidays
This Black Friday, Purchase Products That Support Animals
This year let your holiday spending be a statement of compassion toward all creatures who share the planet. Here are some animal friendly gift-giving ideas that won't break the bank.
Adopt an Endangered Animal
The nonprofit group Defenders of Wildlife has more than 25 endangered animals you can choose from to adopt. You can show you care by supporting an organization that protects endangered animals and their habitats. Not only do you provide Defenders of Wildlife with funding for their worthwhile cause, but you also get an 8" tall plush animal, a personalized certificate of adoption, a 5×7 photo and a fact sheet. You can adopt a single animal for $15 or an entire family for $45. I personally have a wolf and a turtle that were given to me as gifts and I have since given them to my children and they love them! This is one of my favorite gifts to give, especially to children since they can learn about endangered animals while also receiving an adorable plush toy they can play with. Visit Defenders of Wildlife's website for more information secure.defenders.org
Give Cruelty-Free
Give a cruelty-free gift basket filled with products that have not been tested on animals and do not contain any fur products. For example, you can fill the basket with items from Avalon Organics, Burt's Bees, Jason, Kiss My Face, or other companies that don't test their products on animals. You will be providing gifts to your family and friends without harming an animal in the process. Here in Santa Barbara, Lazy Acres and Whole Foods have gift sets of many of these products starting at just $20, so all you'll need is a basket. You can visit PETA's website for more information on cruelty free products, http://features.peta.org/cruelty-free-company-search/index.aspx. And there's a free app you can download so you can search immediately while you are shopping. I use the app simply called "Cruelty'Free".
Don't Give Animals as Gifts
Animals given as gifts are often unwanted after the excitement of the holiday season has ended. Instead of giving a live animal as a gift, place a stuffed animal in a box filled with needed pet supplies–food, leashes, bowls, toys, etc., then you can suggest a trip to your local animal shelter to adopt a pet if your recipient is ready. By doing this, you will also ensure that the recipient bonds with the pet before they make a lifelong commitment.
Purchase Items That Give Back to Charities
The organization Puppies Behind Bars (PBB) trains prison inmates to raise service dogs for wounded war veterans and explosive detection canines for law enforcement. Every year they sell holiday cards and calendars that go directly to support their cause. For more information, visit puppiesbehindbars.com
The Humane Society of the United States (HSUS) has partnered with companies that give a portion of your purchase right back to the HSUS. For example, if you're looking to give a magazine subscription as a gift, purchase the subscription from this website http://www.magfundraising.com/GroupPage.aspx?e=1000020 and the HSUS will get a portion. There's also free-trade, certified organic coffee that benefits the HSUS when purchased groundsforchange.com
Give to Local Charities in Lieu of Gifts
Instead of giving physical gifts this holiday season, why not donate to a local charity in honor of your recipient. Most charities will mail your gift recipient a notification upon request. You can also avoid traffic and long lines as most of these charities allow for online donations. Here are some area charities to choose from:
ASAP: http://www.asapcats.org/
B.U.N.S: http://www.bunssb.org/
C.A.R.E.4Paws: www.care4paws.org
DAWG: http://www.sbdawg.net/
K9 PALS: http://www.k9pals.org/
RESQCATS: http://www.resqcats.org/
Santa Barbara Humane Society: http://www.sbhumanesociety.org/
By thinking of animals during this holiday shopping season, you will not only save lives, but you will share the gift of compassion with those you care about.
Announcement
RESQCATS Fundraiser
Saturday, November 30, 10 a.m.-6 p.m. Montecito Pet Shop
RESQCATS will be at the Montecito Pet Shop with a booth filled with the latest and cutest fleece blankets for your cats and dogs. And they are great gifts for your friends who have pets, too! A portion of every sale will be donated directly to RESQCATS. RESQCATS is an area nonprofit dedicated to the rescue, care, and adoption of abandoned cats and kittens.
Adoptable Pet of the Week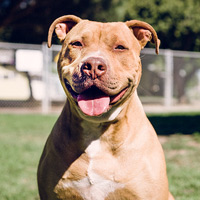 Nala is a three-year-old female American Staffordshire Terrier who is a total sweetheart and wants to say hi to everyone she meets. She would love to spend time outdoors with her new owner(s)! She would do best in a home without cats but enjoys the company of other dogs and even kids. One look into Nala's golden eyes and you will fall head over heels! Come in and visit her today!
For more information on adopting, visit the Santa Barbara Humane Society, 5399 Overpass Road, or call 805-964-4777. Shelter hours are Monday-Saturday, 10 a.m.-4:30 p.m. You can also visit www.sbhumanesociety.org.