News
What a Difference a Bike Makes
Got a Two-Wheeler Gathering Dust? People Need Them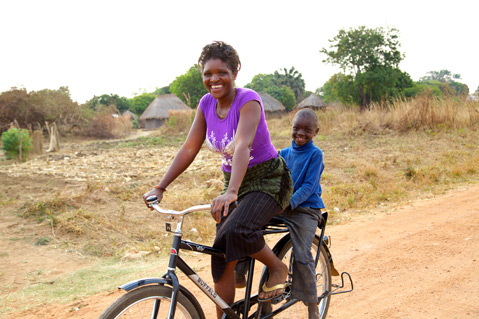 In the predawn quiet of a small village in Zambia, a 10-year-old girl scrambles to finish her morning chores. She's started early today. But the sun is rising quickly, and only half of her tasks are done. Even if she abandons her work and starts running now, there is little chance of covering the four miles to school before class begins. Despite her deep desire to be at school each day, she will be absent, again. The girl's shoulders slacken as she grabs a water bucket and walks slowly down the dirt path, watching the sky gather color and wishing for one thing: a bicycle.
Tools for Change
Bikes are often considered recreation equipment, entertainment for kids, and for immature adults, a fun alternative mode of transportation when the weather is nice. Very few Santa Barbarans would claim that their bicycle is necessary for their livelihood or their family's stability. However, a bike can be integral to the lives of people struggling to subsist. For a little girl in Zambia, a bike can mean the difference between just scraping by and achieving her dreams.
Several groups provide bicycles to people in need. One such organization, World Bicycle Relief, was formed in the aftermath of the 2004 Indian Ocean tsunami. In partnership with World Vision, the group distributed 24,000 bicycles to people struggling with transportation in the wake of the disaster. World Bicycle Relief closely measured the effects on recipients. The information gathered showed that bikes can be extremely effective tools for positive change in the lives of individuals, families, and communities.
Charles Coustan, World Bicycle Relief's executive director, says, "When we saw the data showing the big impact bicycles had in disaster relief, we realized the broad potential for durable bicycles in the developing world." The group has since branched out, expanding in geography and in its mission. Says Coustan, "We're active in 13 countries, and our bicycles are also now widely used to access education and economic opportunities."
The Value of a Good Bike
Bikes may seem an odd thing to ship to people struggling to survive. Surely food and medicine would be more valuable donations. How useful is a bike to someone with no access to clean water or to basic health care? As it turns out, a bicycle is an excellent way to help people meet basic needs and improve lives. Coustan says, "In much of the developing world, a well-designed bicycle is the simplest, most cost-effective way to dramatically improve access to food, medicine, books, and economic opportunities."
Keith Oberg, executive director of Bikes for the World, founded his organization in 2005. According to Oberg, bicycles are incredibly valuable donations because of the immediacy of their impact: "Bikes are directly and immediately productive — recipients use them to travel as much as four times faster than walking, making it possible to earn more money, attend school at a distance while still having time to study, help with chores, etc."
Compared with other modes of transportation, a bicycle is simple to operate, relatively cheap, and easy to maintain. The narrow, hard-packed dirt roads of much of developing Africa lend themselves to pedaling long distances on bikes. World Bicycle Relief believes its specially designed Buffalo Bike is perfectly suited to daily use on these rustic roads. The single-speed bike includes a sturdy rear-rack for hauling goods, and each bike comes with a small tool kit and pump. The bikes are assembled in-country, and the organization has provided education and tools to over 850 recipients as part of its Field Mechanics Training Program. This helps ensure that the bikes will have long, useful lives, while boosting the area's economy.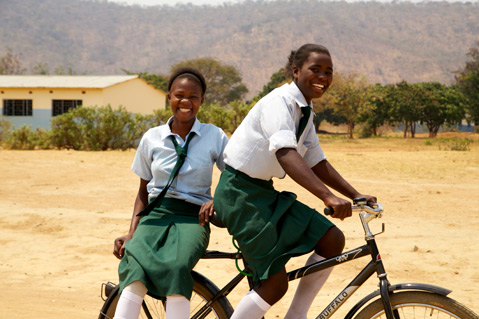 Geographic and Economic Mobility
With the help of a bicycle, a child who lives five miles from school can save three hours per day by pedaling rather than walking. This is time that she can spend studying, working, or helping her family. Data compiled by World Bicycle Relief is striking: "With a bike, school attendance increases up to 28 percent and grades improve up to 59 percent, allowing students to pursue their dream."
Bikes for the World's motto is "A bicycle can get someone someplace … like from poverty to self-sufficiency." Oberg relayed several inspirational stories about beneficiaries of his program. One Ugandan woman bought a discounted bike through a Bikes for the World partner in her community. Because the organizations strive to keep costs low and make the bikes affordable, Aisha was able to buy the bike for only $30. This investment has significantly enhanced her beekeeping business.
Aisha says, "Since I bought this bicycle, my monthly income has increased from Shs. 250,000 (US$93.75) to Shs. 380,000 (US$142.50) through supplying honey and candles." In just one month, the bike paid for itself. Aisha was able to dramatically increase her productivity while also increasing her number of deliveries.
Costa Rican snack vendor Marco Vinicio made weekly payments for a month to buy his bicycle. Before obtaining the bike, he spent long hours walking and carrying a cooler from one construction site to the next. The bicycle saves him valuable time and allows him to carry more goods and visit many more sites. The increase in income has directly benefited his seven children, and he is hoping to purchase a bike as a Christmas gift for his daughter.
Gathering Dust or Carrying Dreams
Bikes for the World collects used bikes in the U.S. then partners with nonprofits around the world for distribution. Any necessary repairs are made in the receiving countries. Oberg says used bikes offer some distinct advantages. "The fact that the bikes are used means that they can be reconditioned in receiving countries, where wage rates are lower relative to the United States. This generates more jobs." In addition to aiding area economies, used bikes are advantageous because they are readily available in the United States. "Every household seems to have one sitting unused and collecting dust in storage areas — and in our experience people are motivated to donate them."
However, the economics of collecting and shipping bikes can be tricky. Oberg says, "It doesn't pay to pick them up individually or bring small numbers from distant locations, and the warehouse space requirements are significant." For this reason, Bikes for the World frequently partners with community groups and regional retailers to help collect and store bikes. They welcome the opportunity to form new partnerships: "We are actively looking for individuals and organizations who want to join with us to collect and ship bicycles on a significant scale — 500 at a time—to reputable community organizations overseas who will deliver them to individuals in need of affordable transportation to work, attend school, or access health care."
Closer to Home
People in the developing world are not the only ones who can benefit from the blessing of a bicycle. Many low-income earners in the U.S. experience great difficulty in obtaining reliable transportation to work, to grocery stores, and to school. A bicycle can add productive hours to the day, while keeping people healthy and causing minimal environmental impact. Bikes for the World participates in programs within the U.S. that benefit both children and adults. It donates bikes benefiting adult employment organizations, Earn-a-Bike programs for teens, and as gifts for young children.
The Santa Barbara Bike Coalition's community bike shop, Bici Centro, gladly accepts donations of bikes, parts, gear, and trailers. Bici refurbishes the bicycles and sells them at discounted prices to area cyclists in need. Traveling around Goleta and Santa Barbara by bicycle can help low-wage workers avoid multiple bus transfers and the associated financial costs. They can move more efficiently, maximizing their time at work and with family.
Giving
A little girl in Zambia dreams of an education. A young man in downtown Santa Barbara longs to lift his family out of poverty. A bicycle can help carry them into a better future.
This holiday season, consider giving the gift of two wheels — because everyone deserves the chance to overcome their circumstances, and everyone deserves the opportunity to experience the freedom, independence, and joy of biking.