News
Toys and Treats for Critters
Animal Friendly Crafts to Do with Your Kids
Many years ago, I used to run a summer camp for kids. The activity that was the most popular with was making treats for dogs and toys for cats. Even the kids who didn't have pets at home loved it since they would take the creations to shelter animals. And the homeless pets really appreciated the gifts! Here are a few recipes of my favorites:
Parmesan Puppy Twists
Ingredients:
2 cups whole-wheat flour
¾ cup soy or almond milk
¼ cup cornmeal
1 egg
2 Tbs. jarred chicken baby food (make sure there's no added garlic or onion powder)
1 Tbs. dried parsley
½ cup grated Parmesan cheese
Directions:
Preheat the oven to 325 degrees; line a baking sheet with parchment paper
In a bowl, mix the flour, milk, cornmeal, egg, baby food, parsley, and half the cheese.
Using your hands, roll a few tablespoons of the dough into thin, 6-inch logs. Transfer the logs to the baking sheet. Twist each log a few times; sprinkle with the remaining cheese. Bake until crisp, about 40 minutes. Let cool.
Peanut Butter Puppy Biscuits
Ingredients:
1 cup whole-wheat flour
½ Tbs. baking powder
½ cup peanut butter
½ cup skim milk
Cookie cutters
Rolling pin
Directions:
Preheat the oven to 375 degrees. Combine flour and baking powder in one medium sized bowl. Combine the milk and peanut butter in another bowl. Mix until the dough is blended enough that there aren't a lot of lumps. Add the wet ingredients to the dry mixture and mix thoroughly. Spread a light layer of whole-wheat flour on a smooth clean work surface. Knead dough over top of your lightly floured surface.
Spread out to about 1/4 of an inch thick using your rolling pin. Using cookie cutters, cut your shapes out and place the biscuits on the greased cookie sheet/pizza pan. Place in oven and cook for approximately 20 minutes or until a light brown (most noticeable on the bottom of the biscuit. When done carefully remove from oven and place on cooling rack, or set on a plate to cool. When cool put them in a bag or airtight container.
Catnip Socks
Materials:
Baby socks (the kind with a cuff work best)
Pillow stuffing
Catnip
Directions:
1. Stuff the baby sock with catnip (no more then ¼ of the sock)
2. Add pillow stuffing
3. Tie a tight knot at the end.
Although this toy may be simple, cats love them! My 17-year-old cat had accumulated many toys over the years and this toy was by far his favorite.
Paper Cardboard Rolls for Cats
Materials:
Toilet paper or paper towel rolls
Crayons
Directions:
This is another easy-to-make toy. Take a toilet paper or paper towel roll and cut into smaller pieces (cylinders) and place them on the floor for your kitty to play with. They can roll them, toss them up, and bat at them. Your kids can even use crayons to color them and make them look like animals.
While it might be easier to run out to the pet store to purchase toys and treats for your pets or for shelter animals, making homemade treats and toys is a much more rewarding experience!
Adoptable Pet of the Week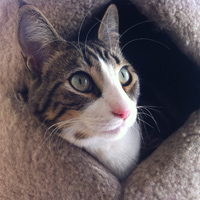 Cosmo is a spunky and playful two-year-old male neutered cat who will be sure to provide hours of entertainment for his new family. His bright green eyes and loving disposition will make him a great addition to any home. Cosmo is truly a special cat who is anxiously awaiting his forever home.
For more information on adopting, visit the Santa Barbara Humane Society at 5399 Overpass Road, or call 805-964-4777. Shelter hours are Monday-Saturday, 10 a.m.-4:30 p.m.. You can also visit www.sbhumanesociety.org to check out more adoptable pets.
Lisa Acho Remorenko is executive director of Animal Adoption Solutions, animaladoptionsolutions.com