News
Council Hears Tsunami of Criticism over Gang Injunction
Authorities Argue Action Needed to Combat Mexican Mafia
It was perhaps the shortest honeymoon in Santa Barbara's political history. For a few brief minutes, Mayor Helene Schneider and Councilmembers Gregg Hart, Frank Hotchkiss, and Bendy White were allowed the customary indulgence of some effusively warm rhetoric after being sworn into office this Tuesday, having won last November's council elections.
Hart ​— ​who first served on the council 10 years ago ​— ​described his election to a second stint as "the highlight of my life." White opted to lay out a blueprint for expanded infrastructure investments, all but calling for a tax increase to foot the bill. And Mayor Schneider, dressed in a dramatic red dress, described her "sense of renewed optimism," and exclaimed how Santa Barbara was special. "We're not just Any City, U.S.A.," she said. "We're Santa Barbara." Looking out at a room packed to at least twice its legal capacity, the mayor declared, "The level of civic engagement here is unparalleled. It makes us better. It makes us stronger."
If Schneider felt similarly two hours later, it could only have been in the same way things that don't kill you outright are said to make you stronger. Critics of the city's proposed gang injunction had assembled en masse before the meeting ​— ​after having marched down State Street chanting slogans against police brutality ​— ​and verbally teed off on the proposed injunction for more than two hours straight. No one spoke on its behalf. Although the issue wasn't on the council agenda, members of the public are allowed to comment on non-agendized issues during the public comment period scheduled at the beginning of each council meeting. Never before has any group seized upon public comment to wage so lengthy a critique of a city policy.
Fueling the outburst of renewed opposition ​— ​to an injunction first proposed three years ago ​— ​were several things. News leaked out just this week that City Hall had filed court papers back in December asking Judge Colleen Sterne to approve a preliminary injunction on January 27. That's just two months before the judge was slated to conduct a hearing on the merits of a permanent injunction limiting the right of assembly of 30 named individuals with gang histories. The activists, led by the group PODER, objected that attorneys representing those named were given only a month to respond to the city's 450-page legal brief.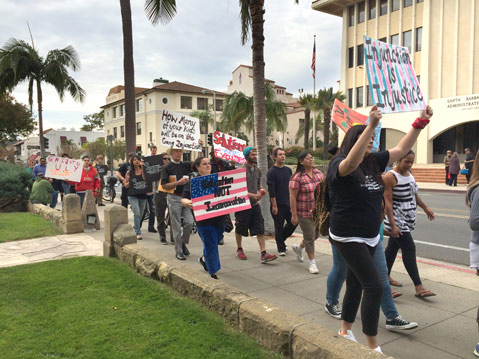 Lawyers for City Hall and the District Attorney's Office argued in their filing papers that the interim measure was necessary to combat the growing influence of the Mexican Mafia in the affairs of Santa Barbara's rival gangs. Although gang violence has not increased dramatically in the past three years ​— ​police say gangs were responsible for 53 violent Type I crimes in 2011, 50 in 2012, and 62 for the first 11 months of 2013 ​— ​they say that the Mexican Mafia's influence has grown.
They contend that local gang members, acting as agents for the Mexican Mafia, have been extorting taxes from drug dealers and that when dealers balk, they're either killed or seriously beaten. "In the past two years, Santa Barbara has seen a significant increase in the Mexican Mafia and Sureno prison gang influence on local street gangs," they argued, citing the increased incidence of graffiti of the Maya number 13, which signifies the 13th letter of the alphabet ​— ​the letter "M" ​— ​which stands for the Mexican Mafia.
Although attorneys representing those named in the injunction knew of City Hall's intention since last October, the filing took many following the issue by surprise. And many speakers strenuously objected to language in the filing describing Santa Barbara as a "war zone" between rival gang members. Brandon Morse ​— ​a City College activist affiliated with the Republican Party who has emerged in recent months as a prominent voice in the choir of critics ​— ​argued the gang injunction would effectively chase tourists away from Santa Barbara, shoppers off State Street, and depress real estate property values throughout most of Santa Barbara. "Why?" he asked during an 18-minute soliloquy. "Because you are declaring State Street the front line of a 'war zone.'"
Morse likened the proposed injunction ​— ​which would divide the city into three zones of gang activity ​— ​to the controversial Light Blue Line that Schneider had proposed when still a city councilmember to visually demonstrate the rise of sea level in response to climate change. Morse estimated City Hall had spent $1.5 million on the gang injunction thus far and predicted it would have to spend millions more on legal fees. "We do not feel afraid," he declared. "We don't feel our city is a war zone."
If approved by Judge Sterne, the gang injunction would limit the legal rights of the 30 named individuals ​— ​all adults ​— ​from associating in public with other gang members. (All but 12 are currently behind bars or have been deported. Of those 12, one activist contended, three were working, three were in school, and three were mothers.) It would also limit what kind of clothes they could wear in these designated safety zones. The theory is that by restricting the ability of known gang members to congregate in public spaces ​— ​near schools and in parks frequented by younger teens ​— ​their ability to recruit new members would be greatly reduced.
At Tuesday's meeting, critics objected to what they termed "guilt by association" and complained the injunction allows police to file charges against the enjoined for engaging in perfectly lawful behavior. They warned that other municipalities have enacted injunctions that have resulted in lawsuits that have cost taxpayers millions of dollars. City Hall's attorneys have insisted that they've crafted a measure that is uniquely surgical and that targets only "the baddest of the bad."
Fueling the opponents' ire is the fact that the council approved the injunction without ever having held any public hearings. Matters involving litigation are exempt from the state's open-government laws and allow closed-door government deliberations. Although the council did hold one after-the-fact hearing ​— ​another vent-fest ​— ​that did little to assuage critics. The only councilmember to go on record against the injunction thus far has been Cathy Murillo, but she was elected after the plan was hatched. During the recent election campaign, candidate Gregg Hart spoke out against the injunction. His election presumably gives Murillo at least one ally. While that's not enough for the council to rescind the injunction, it achieves the two-vote threshold needed for any councilmember to place an issue of public interest on the agenda.
Hart did not speak during Tuesday's discussion. No councilmember did. By law, if councilmembers were to engage with those who spoke during public comment, they'd be violating state open-government codes limiting such back-and-forth to agendized items. Perhaps loudest in his silence was Councilmember Dale Francisco, who made little effort to disguise the fact he was reading a book ​— ​on how to save the United States from economic collapse ​— ​during long stretches of the public commentary. Even when he was blistered by one speaker for doing so, Francisco did not look up, nor did he stop reading. A student advisor from Santa Barbara City College also took offense to Francisco's lack of attention, stating, "It's insulting," adding "I took time out of work to be here."
In sharp contrast, no one from the public had anything at all to say about City Hall's plans to officially declare the beginning of a drought this March, assuming predictions for a dryer-than-average winter hold true. With Lake Cachuma at only 42 percent capacity ​— ​and rainfall 65 percent below normal ​— ​the first stage of a drought declaration would trigger only voluntary reductions in water consumption. About half the city's water use is attributed to outdoor irrigation. If that doesn't yield results, a Stage II drought will be declared about six months later, meaning higher water rates will be charged for higher rates of water consumption.
Only with the declaration of a Stage III alert would City Hall impose water use restrictions as happened during the late 1980s. While the City of Santa Barbara has adequate water supplies to meet normal demand through the rest of the year, Councilmember White ​— ​who served on the Water Commission during the last drought ​— ​said he had "the hair-on-the back-of-the-neck sense that something's not right." He expressed alarm that the natural variations in Santa Barbara's weather patterns could be "accelerating" and asked city water planners to move with urgency to ensure the city's long-mothballed desalination plant still had the necessary permits needed to pass muster with the Coastal Commission.
Editor's Note: This story was corrected on January 10, 2014, to reflect that Brandon Morse is a member of no Tea Party organizations.