Food & Drink
Napoleon's Macarons
New Dessert Shop's French Cookie Delights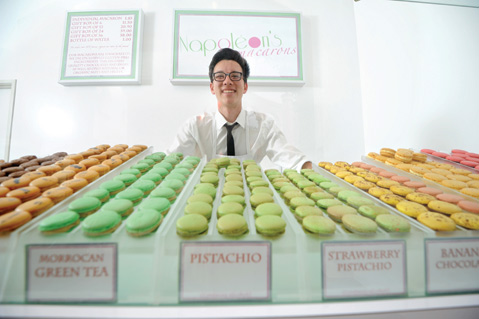 Located in the Paseo Nuevo mall, Napoleon's Macarons is the newest addition to the Santa Barbara sweets scene. The owner of Napoleon's, Razmig Tchoboian, has spent years perfecting his baking technique, creating a dessert that stands out among the rest. Not to be confused with the cake-like macaroon, a macaron is a meringue-based smooth-topped sandwich cookie with a jam, buttercream, or ganache filling.
"We put a lot of filling in our macarons," said Tchoboian, who was born and raised in Lyon, France. "Usually they [have just] enough filling to stick the two shells together. We like them to be very creamy because we think that it is the cream, the filling in the middle, that provides the flavor to the macarons."
Started in 2010 as an online-only store, Santa Barbara is now Napoleon's third location and the first store outside of the L.A. area. Upon walking into the store, my eyes were immediately drawn to the colorful macarons at the counter, the clear focal point of the space. "We worked a lot on it to emphasize the macarons. The retail area was much larger [when we first moved in]. We installed a wall to be as close as possible to the customers," Tchoboian said.
The company uses fresh ingredients that they process themselves at their bakery in Pasadena. Nothing is purchased preprocessed, which ensures that Napoleon's can oversee the creations from beginning to end. Many of the fruit-flavored macarons even contain bits of fresh fruit at their center, adding to the full sensory experience.
Here's a sample of the menu:
Strawberry Champagne: A white macaron with white filling and red bits of almonds on the outside, this macaron looks as delicate as a glass of champagne. The cookie's smooth texture, combined with the slightly rougher texture of the almond bits, is enjoyable without any overpowering almond flavor or abnormal consistency. The cookies themselves have a very subtle flavor, while the filling is a rich champagne cream with strawberry jam. The champagne and strawberry tastes complement each other nicely, and as you continue eating the macaron, the strawberry flavor becomes the dominant taste. "We like to come up with original combinations of flavors that wouldn't necessarily make sense, but once you try them inside the same pastry, they really come together and make sense to you," Tchoboian said. Overall, this macaron has a nice, light taste with a delightful hint of fruit that is all perfectly balanced.
Vanilla Crème Brûlée: A beige cookie with dark brown speckles and white filling, this macaron is extremely flavorful upon first bite. There is a slight increase in its density. "It's filled with vanilla ganache, and in the middle there is a piece of burnt sugar that once you bite it, it gives you that feeling of an actual crème brûlée," Tchoboian said. The vanilla ganache is intensely delicious; the amount of flavor Napoleon's fits into such a small dessert is truly amazing.
Raspberry Chocolate: A red cookie with chocolate filling, this macaron explodes with flavor upon first bite. A tangy raspberry mixes with rich chocolate to create a delicious surprise for the taste buds. The most impressive thing about this macaron is that neither flavor overpowers the other — they work perfectly in unison. According to Tchoboian, renowned French chocolatiers Valrhona endorse the high-quality chocolate that Napoleon's Macarons uses. Whether you enjoy fruit with your chocolate or are skeptical as to how these two flavors could go together so well, this macaron should be added to your "to try" list for sure.