Outdoors
SB Outdoors—Hi Tech Style
Goodies That Could Revolutionize Your Outdoor Experience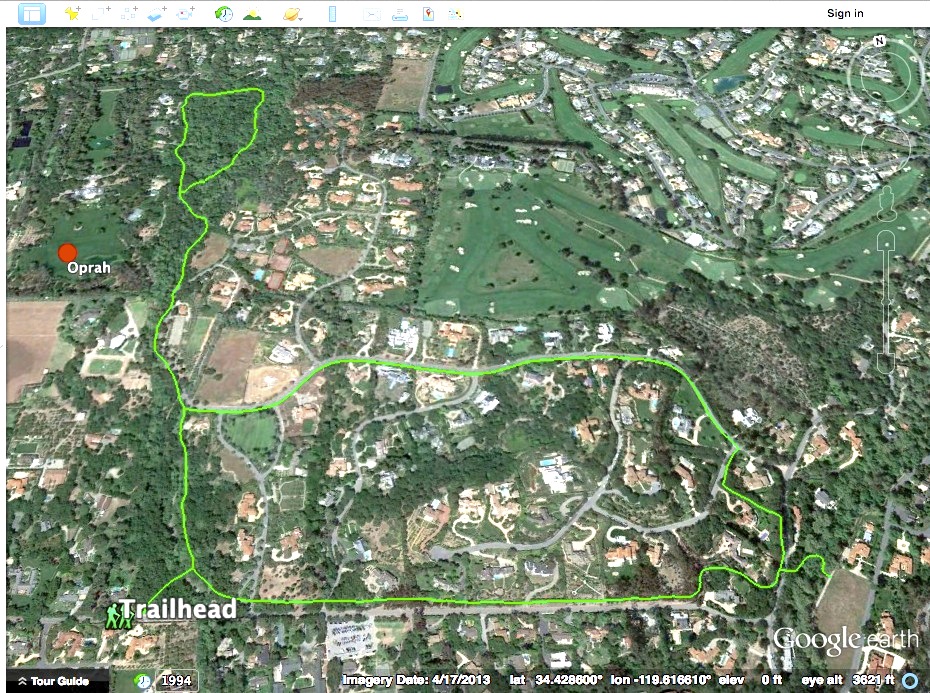 Recently I discovered a great way to use the tools available in Google Earth to trace out trails or other routes, add feature points, save the info as a file and then import it into your smart phone ahead of a trip. Imagine planning a local hike to an area you aren't familiar with but want to try out and having the route laid out for you right in your phone..
To the left is an example of a really nice place to visit in the Montecito area but one that isn't necessarily easy to find or to know where you're going. The Ennisbrook trail complex wanders through a series of oak forests, bounded on the west by Oprah's estate and the others by a series of mansions and wooded areas, creating a maze of ways to go that aren't exactly easy to figure out.
Google Earth (GE)
GE provides the tools to digitize routes that you might want to highlight, like the trails shown above. Currently I'm using Google Earth (GE) to put together a digital map of the entire county, trail by trail. The tools available in GE are relatively simple and pretty easy to use — but then putting together a map or a route you might want to follow only requires three basic things: points, lines and polygons. With GE the tools I'm using to create the map you should also be able to learn how as quickly as I did.
You might find it hard to trace out a hiking route here in our local area but it can be pretty easy to lay out a walking route or bike ride in a place like San Francisco and customize your smart phone so you can follow the routes when you get there. Recently we pre-planned a number of walking tours we wanted to do while we were in SF for the MLK holiday. By digitizing the routes and adding points to highlight the museums we wanted to visit I was able to put together three neat city walks and upload them to my iPhone to use on the trip.
KML Files
Google Earth saves the routes and feature points you create in the "KML" format, an acronym for an offshoot of the XML programming called the Keyhole Markup Language. All you really need to know is that once you've created your own route when you go to save it the file will end in .kml. Opening a KML file in GE is really easy to do. Double click on it and GE will open automatically and then zoom right in to the location where the route is located. Alert: GE can also save the files as a .kmz, which is a compressed version of the .kml files. Either one will open in GE just fine but I prefer .kml's because I can open them using any text editor.
If you'd like to download the file I created for the Ennisbrook trails, click here to download it on your home computer. Once you've done that, double click on the file and GE will take you right to Ennisbrook trails network. If you haven't tried the trails there, with its luxurious oak forests, historic stone bridges and quiet beauty both you and the kids will love it. Best of all you can email the Ennisbrook file to friends for them to enjoy.
Importation Blues
While it is easy to open a KML file in Google Earth on your desktop, it 's a bit klunky to get in onto your portable devices like an iPhone, Android phone or tablet. The quick and dirty way to do it is to attach the KML to an email you send to yourself, open the attachment in your phone's email program, and when prompted, open it in GE. While each phone's routine for opening GE might vary a bit you should be able to open it and view the trails without too much of a hassle. (note: you'll need to download the GE app onto your phone ahead of time if you don't already have it).
Web-Based KML's
Turns out there are actually a few other ways to get the Ennisbrook routes I've created onto your phone with almost no effort on your part. The most direct way is use your web browser to go to a link on the Web where someone else (like me above) has already uploaded it for you to use. Rather than using your home computer, the more direct way to load it into your phone is use your phone's web browser to go to the link (sb-outdoors.com/kml/ennisbrook.kml). Once you tap on the file to open it you'll be prompted to open it in GE without having to do anything else. If you have your own web host a nice way to share the files you create is to upload them to your site then email out the link to your friends.
QR Codes
But there is another way to share your KLM file that is way better: the QR Code. Quick Response or QR Codes were created about 20 years ago by Denso Wave, a Japanese subsidiary of Toyota as a more sophisticated means than use of bar codes to track automotive parts and processes. Being 2D rather than linear like the typical barcode most grocery store use can only hold a limited amount of information, Toyota needed something more robust. After a lot of experimentation the idea of creating a black-and-white pattern composed of a series of square marks was developed that would allow the code to be read both horizontally and vertically. Today you'll find those enigmatic square codes used everywhere.
Ironically it wasn't the value to the auto or other industries that popularized it here but the advent of smart phones and code-reading apps that allow you to scan a QR code embedded in a magazine, obtain a coupon while you're in the store or quickly read a web URL and go directly to that link (like the QR code above left that will link you directly to the Ennisbrook KML file).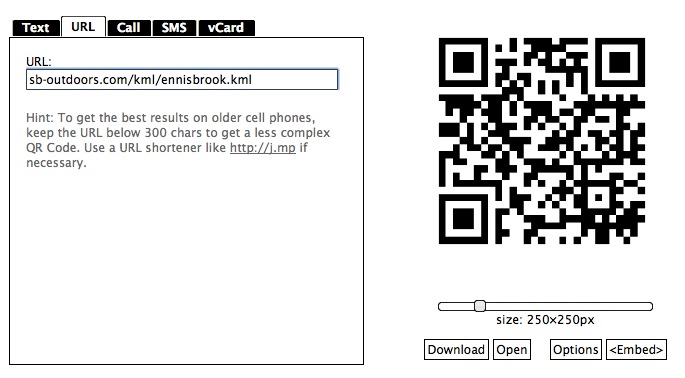 To create a QR code yourself there are dozens of on-line sites that will allow you to do this both for free or for a small fee to get a more sophisticated design. GOQR.ME is one good website that provides a free service for creating QR Codes by simply entering the URL of the link, clicking the size of the image you want and then downloading it to your computer. To check out other sites to find one you like, Google "QR Code Generator" and you'll find plenty of options.
Code Readers
Along with the ability to generate the code on the web for free, there are plenty of free readers that you'll find on the web that will allow you to open the codes. I use one called "Scan-QR Code and Barcode Reader" for my iPhone that I like a lot because you can read both types but it does cost $1.99. Google "QR Code Reader" to view links to other readers or search for them directly in iTunes or Google play.
With a little bit of effort you can begin building your own routes and sharing them with others.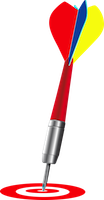 Author's Note. Starting next Monday you'll find a new series of hikes, bike rides, backpacking trips and other adventures in the Indy Outdoors section of the online edition. Look for the "Bullseye" every Monday, along with the KML files and QR Codes for each of the outings. Begin building your collection of outdoor routes next Monday.