Film & TV
SBIFF: Robert Redford Owns the Night
The Legendary Artist Receives the American Riviera Award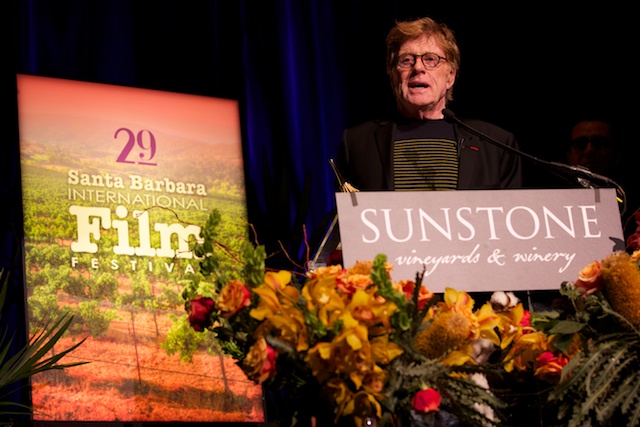 "That was magic," said a woman after attending the SBIFF's American Riviera Award tribute honoring Robert Redford. Hers was the unanimous sentiment of the two-hour question-and-answer event with the legendary actor, director, and producer.
Film critic and historian Leonard Maltin moderated the evening, beginning by asking Redford what it was like to see the montage of his filmic life onscreen before coming to the stage for the Q&A. "It's weird," Redford said sincerely. "It's strange. It's hard," he continued. "I don't look back. I never have. Therefore one day you wake up and you look in the car mirror and you realize there is history that you weren't thinking of before. You were just going forward and doing what had to be done…but you don't think about what came before until it's put before you—such as this–and then it gets weird."
Redford's thoughtful, humble, honest response set the tone for the evening, which was a feast of storytelling and humorous anecdotes. Maltin guided the actor through a chronological timeline of his career, starting with questions about his TV work in the 1950s when he was just starting out in New York City. Redford had a handful of guest starring roles on several popular series of the time including Perry Mason (his episode was titled "The Case of the Treacherous Toupee," he revealed with a chuckle) and on The Twilight Zone in which he played Death. (It is one of the most-watched episodes in the series' history, Redford noted with pride and amazement.)
Redford told of his humble beginnings and why he abandoned his initial desire to be a fine artist for acting. "Art was considered a trivial pursuit and I was not encouraged," he said. "I wanted out and about. I wanted to find my own way. I didn't quite understand that at the time…so when I was young I had an outlaw sensibility." This, he said, was the reason he was drawn to Butch Cassidy and the Sundance Kid–he could identify with the role. "I felt comfortable being slightly outside the box."
Other topics covered included his evolution to director, his political interests, his many collaborations with Sydney Pollack, and his long, close friendship with Paul Newman. Despite Redford's notorious shyness, which keeps him out of the public eye as much as possible he said, he was generous with the details of his life and kept the audience entranced with his warm, measured demeanor and witty observations.
Redford's conversation with Maltin was easy and inviting, like hearing wonderful stories around a campfire, and as such time flew out the window. But length of the show was being tracked and Maltin was told to wrap it up at just before 10:30 p.m. thus he had to skip over a lot of Redford's career and bring things to his most recent work, this year's All is Lost, which has earned Redford critical acclaim and numerous film award nominations. When Maltin asked why he took on the role–which had no other cast members and almost no dialogue—Redford replied simply, "It was a challenge I was really looking for."
Then SBIFF Executive Director Roger Durling came to the podium to give Redford his award. With a quavering voice, Durling told of his own life and the difficult journey he's endured, only getting through it by escaping to the movies. He was inspired, he said, by Redford's Sundance Kid, specifically the scene where he and Butch jump off the cliff—taking a leap of faith. "[He] taught me how to jump and I'm proud to say that I can finally swim because of you," Durling said crying.
Redford accepted the award saying coming to the festival was "a little bit like coming home," having spent a lot of time in town surfing and in the mountains. "This festival is honoring your community," he said, "and I take this award very seriously."