News
Help Reduce Pet Overbreeding
February is National Spay/Neuter Month
Humane societies and animal shelters do everything possible to find homes for each and every animal that comes through their doors. However, there simply aren't enough homes to go around. All over the United States, millions of healthy, loving companion animals are humanely euthanized each year due to lack of homes. And countless others are neglected, abused, or abandoned–all victims of a tremendous overpopulation problem.
Every single puppy and kitten born contributes to this tragedy. Even when pet owners have "found homes" for an entire litter, each of those animals deprives a dog or cat waiting patiently in a shelter from finding a loving home. Purebreds are no exception; studies have shown that close to 30 percent of animals in shelters are purebred dogs and cats.
Consider these staggering statistics: According to the Humane Society of the United States, a single unspayed female cat, her mate, and their offspring are capable of producing a total of 420,000 kittens in just seven years. In six years, one unspayed female dog and her offspring can produce 67,000 puppies.
If these facts and figures are difficult too comprehend, I have a personal anecdote to help illustrate the severity of the problem. I once helped rescue more than 300 cats from an 800-square-foot home in Detroit. The owner had one un-spayed female cat and had taken in a non-neutered male cat he found wandering around his home. A few years later, his house was completely over-run by hundreds of inbred cats. Most of these cats were wild and suffering from illnesses and had to be humanely euthanized. This situation was filmed and televised on Animal Planet in an episode of Animal Cops Detroit entitled "House of Cats." This situation may seem extreme, but had the pet owner spayed and neutered these two cats, this unfortunate situation would never have taken place.
I've heard people ask: "Won't we run out of pets if all animals are spayed and neutered?" And here's the answer: Each day in the U.S. 70,000 puppies and kittens are born–seven times the number of humans born annually. As long as these birth rates exist, there will never be enough homes for all the animals. Given the fact we can't spay and neuter all animals, there's no chance of running out of pets anytime soon!
Aside from spaying or neutering your pet to help with the overpopulation crisis, spaying and neutering has both medical and behavioral benefits for your dog and cat:
• Neutering male dogs and cats make them less likely to fight with other males or mark their territory and it virtually eliminates the risk of testicular tumors or prostate problems.
• Spaying female dogs and cats greatly reduces their chances of developing mammary, ovarian, or uterine cancers.
• Spayed and neutered pets are also less likely to try to get out of the yard to find mates. Each year, thousands of roaming animals in search of mates become lost or are hit by cars, resulting in needless suffering or death.
Spaying and neutering isn't just for dogs and cats. Rabbits reproduce faster than dogs or cats and often end up in shelters where they must be euthanized. Spaying or neutering rabbits can reduce hormone-driven behavior such as lunging, mounting, and spraying. Spaying female rabbits can also prevent ovarian, mammary, and uterine cancers, which can be common in mature females.
As tremendous as the problem of pet overpopulation is, it can be solved if each of us takes just one small step, starting with not allowing our animals to breed. Please have your pet spayed or neutered.
Specials for the Month of February
CatNips Program: Spay or neuter your cat for only $20 during February, for the first 275 cats signed up in the month of February. CatNips 2014 is available to Santa Barbara County residents only. Owners should call one of the following organizations to schedule an appointment:
North County
• Santa Maria Animal Center, 934-6968
• Santa Maria Valley Humane Society, 349-3435
• Santa Ynez Valley Humane Society, Buellton, 688-8224
• C.A.R.E.4Paws, DAWG, 968-2273
• V.I.V.A., Lompoc, 735-6741
South County
• Santa Barbara Humane Society, 964-4777
• C.A.R.E.4Paws, DAWG, 968-2273
CatNips 2014 will increase the number of cats that are spayed and neutered in the County and in turn help eliminate hundreds of unwanted kittens coming into our shelters each year. The problem is preventable and the solution is affordable. This special program is targeted to help caring families and individuals who are trying their best to be responsible pet owners by spaying and neutering their companion animals.
Santa Barbara County Animal Services, Santa Maria Valley Humane Society, Santa Ynez Valley Humane Society, Santa Barbara Humane Society, C.A.R.E.4Paws, DAWG, VIVA, and the Santa Barbara County Animal Care Foundation are part of the Responsible Pet Ownership (RPO) Alliance, a coalition of Santa Barbara County animal welfare agencies, shelters, and nonprofit organizations working collaboratively to promote responsible pet ownership and ensure that affordable spay/neuter services are available countywide.
Be part of the solution. Spread the word to family and friends about CatNips 2014. Make an appointment today to get your cats spayed and neutered.
Announcement
K9PALS Valentine's Adoption promotion
On Friday, February 14, anyone adopting a black dog or senior dog can qualify for a 10 percent rebate coupon from K-9 PALS. Senior citizens can qualify for 20 percent rebate coupon for adoption of a black dog or a senior dog. For more information, contact adoptme@k-9pals.org.
To visit adoptable dogs at K9PALS, stop by the Santa Barbara County Animal Shelter, 5473 Overpass Road, Goleta, and complete a no-obligation adoption application.
Do you love dogs, but can't have a pet? To donate or volunteer with K-9 PALS, the all-volunteer, non-profit organization that pays for all the non-routine medical expenses and prescription foods for the SB County shelter dogs, call 805-570-0415 or link to www.K-9PALS.org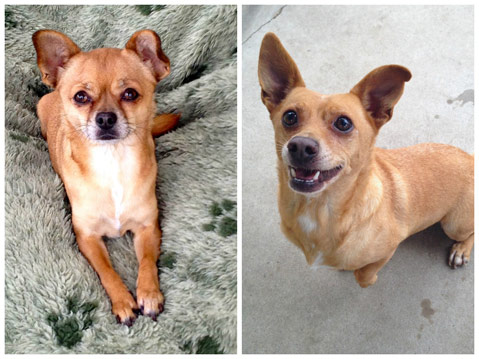 Adoptable Pet of the Week
Lily and Little Guy make the perfect pair. Lily is 3 and Little Guy is 5. They are both Chihuahuas. Lily can be a little shy when she first meets you so she will need patience and reassurance to get her out of her shell. Little Guy is very affectionate and outgoing. He loves everyone he meets! During the month of February, if you adopt one dog from a bonded pair you get the second one at half the adoption fee! What a great way to celebrate Valentine's Day!
For more information on adopting, please visit the Santa Barbara Humane Society at 5399 Overpass Road, or call 805-964-4777 for more information. Shelter hours are Monday – Saturday 10AM-4:30PM. You can also visit www.sbhumanesociety.org to check out more adoptable pets.