Voices
Bolivian Flood Disaster Relief Needed
Catastrophic Floods Threaten Tsimane Livelihoods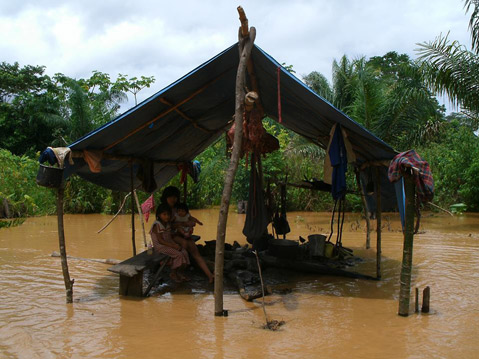 With the ongoing drought foremost in our minds, it's hard to conceive of the opposite extreme: nonstop torrential rains and pervasive flooding. Bolivia, one of the poorest nations in the Americas, is currently experiencing the worst rainy season in decades, with disastrous floods and mudslides destroying roads and communities in the humid lowlands of the Amazon basin. Some of the lives hardest hit are among the Tsimane (pronounced chi – mah – nay), indigenous forager-farmers with whom I have worked since 1999. The Tsimane live in remote villages on the outskirts of local towns. Their subsistence lifestyle has been decimated by the recent flooding.
I'm an anthropologist and UCSB professor who studies the lifeways of hunters, gatherers, fishers, and farmers — those who live in a world without electricity, running water, supermarkets, or life insurance. Mesmerized by the beauty and warmth of Tsimane culture, I learned their language, made friends, and have shared in many aspects of their lives. But in the 15 years I have worked there, I have never seen such devastation.
When the rains started in November, we assumed it would be another typical rainy season. We were wrong. To date, over 56 Tsimane villages are affected by the massive flooding, with at least 35 villages completely buried underwater. Even La Cruz, the most modernized of Tsimane villages, with its concrete schoolhouse being a source of Tsimane pride, was hit hard and is now destroyed. Hundreds of families have fled to high ground deep in the forest or to makeshift encampments in the nearest town, San Borja. Homes and possessions have been abandoned in the rush to escape the rising waters. And their crops — plantains, corn, rice, and manioc — are now waterlogged and ruined, making malnutrition and starvation a current and long-term concern. Four Tsimane deaths have been confirmed, but the final count will be higher. The Tsimane are strong and resourceful, but the magnitude of destruction from these floods is too great for them to manage on their own.
My students Lisa McAllister and Melanie Martin and I have set up the Tsimane Flood Relief Fund to raise money to purchase emergency medicine, food, shelter, and transportation for Tsimane families. We orchestrate these relief efforts through my research group (the Tsimane Health and Life History Project), which is uniquely equipped with dedicated bilingual Tsimane, Bolivian physicians, and American anthropologists on the ground to help make a difference. The mixture of research with aid has always been part of our mission, and over the years we have earned the trust and respect of the Tsimane.
My postdoctoral researcher, Benjamin Trumble, is currently in Bolivia helping to assess the damage and coordinate our relief efforts. Three temporary encampments in town now house over 1,200 refugee Tsimane children, women, and men. His emails are harrowing. In arriving at the village La Cruz, he describes the situation: "2/14/2014: The village was a ghost town — chest-high water flowing through the empty houses, the smell of death [from dead trapped chickens, dogs, pigs, and peccaries] was everywhere … we met up with people who begged us to help them escape and asked for medicines, food, plates, and pots. I will never forget the sad, defeated looks on their faces. Candido [the president of the Tsimane government who accompanied Ben on the rescue trip] was devastated when he saw the destruction."
Another letter the following day continues: "2/15/2014: There are few things I have experienced that were worse than the frantic call I got late Friday night … there were over 20 women and children trapped in the schoolhouse in the village of Alta Gracia, which was rapidly filling with water. There was nothing we could do to help until morning." He and Tsimane project members Alfredo, Arnulfo, and Maguin borrowed a motor and traversed waterways that were once roads to reach the village. When they arrived, they found "houses destroyed, dead bloated animals, huge old growth trees devoured by the raging waters." Fortunately, they were able to rescue the Tsimane stranded there in time, bringing them to one of the camps in San Borja.
Relief efforts have just started. As Ben describes, "We handed out care packages to 186 families, just in time for Valentine's Day. While they didn't contain chocolate, they did contain plates, spoons, toilet paper, and soap. When people fled the rising water, they brought nothing but the clothes on their backs, their arms filled with their young children. A young man told me that he had to swim across a section of what once was road three times to bring all of his children across to safety … he was so happy to receive the care package and to be able to wash the mud from his and his family's clothing … people were eating out of a discarded coke bottle that they had cut in half to make two bowls. The tops of sardine cans were jerry-rigged into spoons, and there are only a few per camp, so people were eating in shifts. They were elated to receive the bowls and spoons."
We will continue the relief efforts to the best of our ability. The worst may be yet to come. Respiratory infections, diarrhea, and dengue fever are likely to spread through the packed camps, and more food will be needed to help replace the massive crop loss.
To learn more, and to please donate, visit tsimanefloodrelief.org.
The Tsimane Health and Life History project, funded by the National Institutes of Health, began in 2002 to study health and aging in a small-scale society. It also provides medical aid to over 6,000 Tsimane annually. Flood relief efforts include helping evacuate Tsimane families, providing medical support, food, and supplies.