Wedding
Wedding Favors
Couples Say Thanks with Olive Oil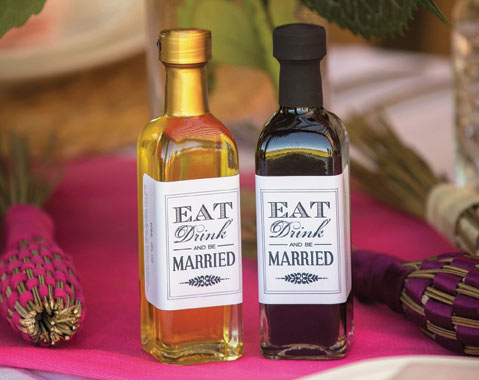 Wedding guest gifts have come a long way from the once-standard sugar-coated almonds. Now attendees may receive anything from succulents to monogrammed ChapStick as tokens of appreciation. Santa Barbarans can add olive oil to that list of ideas, as the Santa Ynez Valley–based Olive Oil Source has begun offering personalized bottles of their products. Founded in 1998, the Source is currently owned by Stanford graduates Shawn and Antoinette Addison and was the first olive presser in the area.
There are three ways to go about getting your olive oil favors: create your own, ready-to-order, or collaborate with the company's wedding pro. "Probably the most popular way is to create your own," said Caroline Beck, spokesperson for the Olive Oil Source. The DIY option is a five-step, easy-to-follow system for getting what you want ​— ​from selecting the kind of olive oil (e.g., extra virgin, flavored, etc.) or balsamic vinegar to choosing the color of caps and bottle sizes to selecting from 11 different styles of labels. "[The site] walks you through it, and it literally takes five minutes," Beck said. "The ready-to-order orders can be shipped out the same day. The create-your-own orders are shipped out within a week. And the completely created-from-scratch ones, working with our expert, can go out in a week, as well."
While the turnaround is quick, Beck recommends planning ahead for any glitches. To get started, visit partyfavors.oliveoilsource.com and click the Create Your Own button. For more information, call 688-1014.