Briefs
UCSB Police Release Sketch of Rape Suspects
Chancellor Vows to Hire Five More Officers in Wake of Sexual Assaults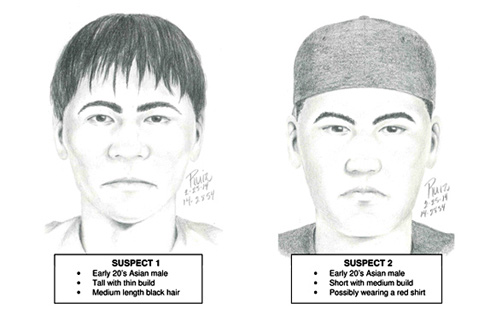 UC Santa Barbara will be hiring five new police officers in the wake of a violent rape that occurred on or near the campus last weekend. In a mass email to staff and students Wednesday, Chancellor Henry Yang said that he is strengthening campus security measures by also adding lights and cameras and boosting the number of Community Service Officers (CSOs). Currently, UCSB has 29 police officers and 70 CSOs.
A 19-year-old female UCSB student was allegedly beaten and raped by a group of suspects between 11 p.m. and 4 a.m. late Saturday night-Sunday morning somewhere in the vicinity of the campus. Authorities have not disclosed the exact location. After the attack, Sheriff's spokesperson Kelly Hoover said, the victim returned to her Isla Vista residence and notified police. She then took an ambulance to the hospital for treatment and an examination. The UCSB Police Department on Thursday released a sketch of two Asian male suspects in their early twenties; one is described as tall and thin and the other as short with a medium build.
Hoover said the victim was last seen walking alone between midnight and 12:30 a.m. near Embarcadero del Mar and Segovia Road in Isla Vista. Sheriff's Search and Rescue volunteers joined investigation efforts Tuesday afternoon to comb nearby areas for evidence. Recent media reports have stated that the incident likely occurred on campus — not in Isla Vista — after officials found items on school grounds that may have belonged to the victim and the suspects. The case has been turned over to the UCSB Police Department, which did not respond to several requests for comment on Thursday.
UCSB representatives said there were four reported forcible rapes on campus in 2010, one in 2011, and four in 2012. According to the UCSB communications office, the university does not have numbers yet for 2013 or 2014. In Isla Vista, there were 15 reported rapes and seven sexual batteries in 2012, and 17 reported rapes and six sexual batteries in 2013, according to records from the Sheriff's Office.
"Numbers only tell part of the story," said Jill Dunlap from UCSB's CARE (Campus Advocacy, Resources & Education) program. Dunlap explained heavy media coverage of tragic cases often propels others to come forward to share their experiences, and her department has had an uptick of responses in the past week. Across the nation, more women have reported sexual assaults in recent years, she explained, but that does not necessarily mean more rapes are occurring. "A lot of students are feeling empowered with what their rights are, and that leads to more reporting," she said.
Last weekend's rape was one of two reported sexual assaults in the university area at the time. UCSB officials sent an email on Saturday to notify the campus community of an alleged sexual assault that occurred around 1:00 a.m. Saturday morning on the 6500 block of Del Playa Drive. According to the email, the suspect — described as a thin, 5'6'' male with brown eyes and dark hair — took the female behind a vehicle and assaulted her after he had met her outside of a party. The investigation is still ongoing.
On January 18, UCSB notified students that a woman was sexually assaulted around 1:30 a.m. by three black males on the 6500 block of Sabado Tarde Road. The suspects — an unidentified 15-year-old, 22-year old Casey Avila, and 18-year-old Charles Dunbar — were arrested. Avila and Dunbar are scheduled to appear in court on March 30.
The UCSB alert system — via text messages and emails — warns students and faculty of emergency matters in a timely manner. The system has existed since 2007, when such protocols were mandated at universities across the country after the Virginia Tech massacre. In 1990, all colleges and universities were required to keep and disclose information about crime on and near their campuses due to the Clery Act, named after a 19-year-old women who was raped and murdered in the dorms at Lehigh University in 1986.
Santa Barbara Sheriff's deputies and UCSB police are still investigating last weekend's incidents. The Sheriff's Office asks anyone with information about either case to call 681-4171 or visit sbsheriff.org.