Travel
Our First Family Junket
Exploring San Diego County for a Week with Young Kids
I used to travel abroad quite a bit, usually under the guise of journalism, often to far-off, bizarre places where adventures were by-the-minute and the smell of danger was just as pungent as the burning heaps of trash. That all stopped with the arrival of my kids a few years ago, and now even a drive to grandma's house seems a more daunting proposition than sleeping in spider-infested refugee camps surrounded by rebel-ravaged war zones.
But with our son, Mason, hitting an inquisitive 4 years old, and our 18-month-old daughter, Madeline, quite stable on her feet, my wife, Joanna, and I decided this past January to dive right into a weeklong, car-powered family vacation. Our chosen destination: San Diego County, short enough to drive there without pulling out collective hair yet far enough away with enough varied attractions — Legoland! Good restaurants! Craft beer! Brother's house with mom visiting! — to keep all ages entertained.
Legoland: When Legoland was developed in Carlsbad back in 1999, years before even marriage was on my mind, I couldn't fathom how a theme park could be built around colorful toy bricks. But once we had kids — and they will invariably enjoy said bricks, trust me — we haven't stopped hearing how much toddlers love the place, even, say some with a gasp, more than Disneyland.
The fun starts at the Legoland Hotel, where every room is decorated into a theme — ours was about pyramids, scorpions, a creepy monkey, adventure indeed! — and comes with a treasure map to free the prizes from your in-room chest. Throw in nightly Lego-building contests, a lobby castle surrounded by brick pits and bar with draft beer, oversized bricks floating in the pool, characters milling the grounds, and elevators that play "YMCA" with disco balls swirling, and even we adults wish we had stayed longer.
Then there's the park itself, where Mason drove his first car solo and rode his first big-boy roller coaster amid us all exploring the expert incarnations of Legos as safari animals, Star Wars scenes, and most else imaginable. While the stoke factor would have decreased drastically if we'd had to wait too long in lines, as does happen in the high season, we were there on a Monday in January, and never waited more than a couple of minutes, sometimes staying on-board for a second and third ride. See california.legoland.com.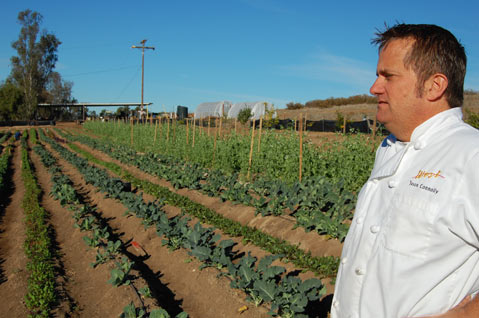 Carlsbad: Though not physically connected to Legoland, the West Inn & Suites in Carlsbad was minutes away but worlds away in style: classically appointed, king beds in the regular rooms, service with a salutation and a smile ("Are we in Canada?," I thought), and two exquisite on-site restaurants bringing a whole new meaning to farm-to-table, since the hotel actually owns and operates its own four-acre farm a few miles inland.
At the Bistro West — which, while buzzingly hip, is astonishingly kid-friendly, like the rest of the property — we started with ahi atop won-ton chips with chili sauce, mango wasabi, and seaweed salad, a good foil for my jalapeño-pineapple margatini. The half-priced-bottle Monday deal aimed at the Hitching Post Generation Red wine they had, a versatile fit for Joanna's halibut with Israeli couscous and my braised short rib. The desserts of crème brûlée (both vanilla and white chocolate), buttermilk panna cotta with strawberry, and the chocolate trio took me over the top, so much that my plan to try an appetizer at the fancier West Steak & Seafood across the parking lot (uni tagliatelle, perhaps, or the pepper-corned tenderloin) wound up just being post-dinner drinks of a Moscow mule and negroni.
The next morning, Chef Jason Connolly took me to the farm, where they recently hired a full-time farmer after initial attempts to do it themselves proved unpredictable, with bounties in one season, famines the next. "We're chefs not farmers," he laughed, but it's nearly dialed in, with greenhouse propagating heirloom greens and soil beds playing home to fig and kumquat trees. "Restaurants say they have a farm, but it's usually a garden in their backyard," said Connolly, explaining that other San Diego chefs are starting to notice what they're doing. "The word's spreading. We make everything from scratch. There's not a can in the kitchen." See westinnandsuites.com.
Next up was the National Association of Music Merchants' Museum of Making Music, a fascinating collection of exhibits and instruments you can play from the past 100 or so years of popular music. Without kids, I would have spent hours inside; with kids, I played goalie in between stints on the banjo, keytar, and Moogs. See namm.org.
Lunch meant tackling slices, beer, and Big Buck Hunter at the original Pizza Port on Carlsbad's main drag (see pizzaport.com), and then, as Madeline freaked out due to the need for a nap, we filled water bottles at the site of the town's mineral springs, which gave the town its name (an ode to a German spa town) and remains a hot spot to fill your home jugs on the cheap. See carlsbadmineralspa.com.
Del Mar: The coastal ride south from Carlsbad is classic California, with sandy SoCal-like beaches giving way to the Carmel-ness of tree-lined Del Mar. We stayed at the recently redone Hotel Indigo Del Mar, whose lobby, bar, and patio ooze with horse-racing/old-Hollywood-inspired style, a theme carried into the artsy horse-on-beach photo wall of our poolside room. See ihg.com.
Dinner was at the Del Mar Rendezvous, which wins constant awards for both best Chinese and vegetarian food. Despite the Sino-swank setting, the servers treated our kids like their own, and we found that they should be winning awards for their meat dishes, too, particularly the pork dumplings and imperial shrimp. See delmarrendezvous.com.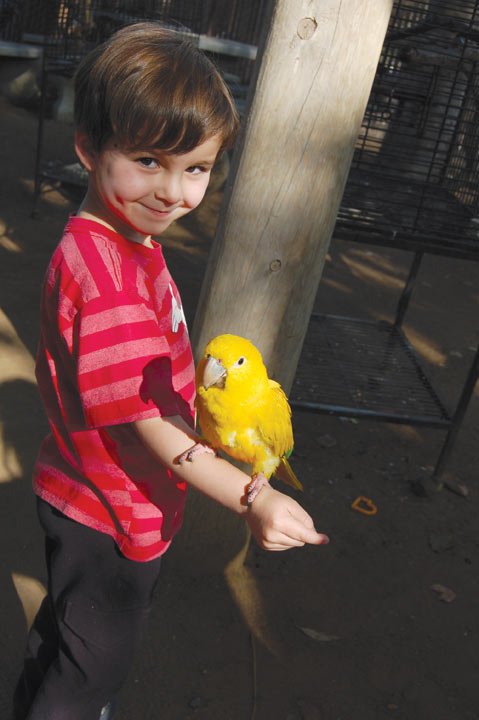 The next day, we headed toward the Del Mar Fairgrounds and Racetrack (which runs July-September and, for the first time in 2014, during November, too) to stop at Free Flight, a sanctuary dedicated to tropical birds. For a small donation, you can see macaws, parrots, and other exotic species up close and personal, and even hold some of the more docile ones. For a smidgen more, you can feed them, too, but beware — they can bite. See freeflightbirds.org.
San Diego: Like getting nipped at by psychedelically colored cockatoos, there are lots of firsts when traveling with young kids, and that list now includes my first circumnavigation of an island on a kayak with my son. We did so just outside of our bungalow at Paradise Point, a properly named resort in the middle of Mission Bay, where fire pits, tiki torches, waddling ducks, and a welcoming Polynesian vibe match well with the steady stream of rowing teams, sailboats, and stand-up paddle boarders flowing by the islet.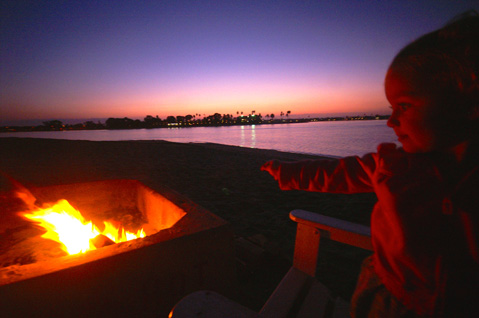 Amid ample water and sand time, we ate at every single spot: The Barefoot Bar & Grill had solid beach food, great drinks (try the Hawaiian mule, a pineapple-and-strawberry take on the Moscow version), and the chance for Mason to shoot water guns at intruding green herons; Caveman Pizza Company toasted up inventive pies that we scarfed during our bonfire; and I enjoyed Temecula-grown wines, venison carpaccio, and scallops at the bar of Baleen with Chef Amy DiBiase, who is now in the midst of reinventing the fine-dining restaurant's whole concept. See paradisepoint.com.
At SeaWorld, we skipped the orca show (too many Blackfish scoldings sent my way pre-trip), instead opting for the sea-lion silliness and a good amount of time watching a polar bear dive unsuccessfully for fish in his, yes, seemingly too-small tank. See seaworld.com.
Soon enough we were in downtown San Diego, again agape at animals inside the San Diego Zoo, a truly amazing place set deep in the canyons of Balboa Park where we enjoyed quite a few firsts, including the kids' first koalas, my first panda, and Mason's first taste of cotton candy. See sandiegozoo.org.
We ended our trip at the Château Kettmann, my brother's pad in South Park, where we ate tacos, watched planes float in, checked out the Little Italy Mercato, and let my mom and sister-in-law watch the kids for a while. There's no website for that experience, but there's one thing to learn: As great as traveling with kids can be, letting someone else chase them for a while can be the sweetest escape of all.