Food & Drink
Santa Barbara's Finest Chefs' Favorite Recipes
Santa Barbara Culinary Arts Releases New Cookbook Featuring 62 Dishes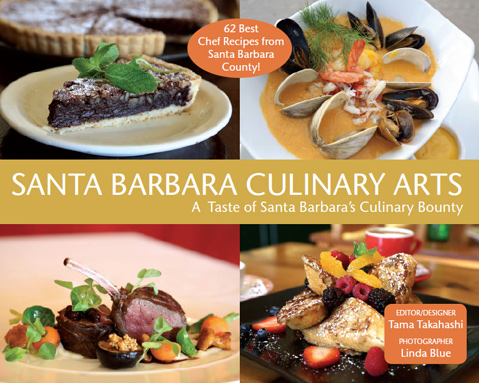 While enjoying the last few years of her life as a resident of Casa Dorinda in Montecito, Julia Child joined Santa Barbara Culinary Arts (SBCA), a nonprofit dedicated to developing and supporting a community of passionate food makers and lovers. When she died in 2004, SBCA named a scholarship in her honor, specifically earmarked for students of Santa Barbara City College's School of Culinary Arts and Hotel Management. This week, with SBCA publishing a cookbook featuring 62 recipes from the region's most beloved chefs, Mrs. Child is certainly applauding from her kitchen in heaven, as the 144-page, $25 book — whose sales will fund this scholarship's growth — perfectly blends her dual focus on foodie education and enthusiasm.
The book's editor and designer is Tama Takahashi, a former Hollywood camera assistant who entered the SBCC program after hurting her back and needing a midlife career change. She is now food editor at Touring & Tasting magazine, cofounder of the popular tasting group Inside Wine S.B., and a member of the SBCA board. "Why I spent so much time working on this book was in gratitude to the education I received there and the doors that it opened for me," said Takahashi, who's been putting it together for a year-and-a-half. "It was really like a godsend for me to find the school. The faculty there are all people at the very top of their profession, and they're giving 200 percent of themselves."
Nearly two-thirds of the 62 recipes — which are beautifully photographed by Linda Blue — focus on seafood, but there is an overarching motif, as well. "The theme that runs through the recipes is the use of really fresh things," said Takahashi. "The undercurrent is sustainable produce and seafood and conscientiously raised beef." The recipes, which are organized alphabetically and easy to follow, include such delicacies as lobster terrine (by the school's own Stephanie Rapp) and sous-vide loin of venison (by Bacara's Johan Denizot) to more rustic fare like David Cecchini's bolognese sauce and Brophy Bros.' garlic baked clams to sweets such as Sage & Onion's sticky toffee and Renaud's raspberry tart. The cumulative effect is rabidly mouth-watering and should go a long way in alerting more Santa Barbarans to the magic coming out of SBCC's program.
"It's really a cultural asset for the city and a bit unrecognized," said Takahashi. "Hopefully this book will bring some awareness to the school and to our little nonprofit."
4•1•1
The first 1,000 Santa Barbara Culinary Arts cookbooks are now available at independent bookstores all over town and will be celebrated with a special release party this Saturday, May 3, 1-3 p.m., at SBCC's gourmet dining room, with culinary program teachers and students preparing food to go along with wines from Refugio Ranch and Westerly. Ten of the featured chefs will also be on hand to sign copies. See santabarbaraculinaryarts.com.
TASTE TICKER
• Speaking of books, there's a new resource for touring the region's many wineries: publisher Tom Silberkleit's The California Directory of Fine Wineries recently released its Central Coast e-book, written by K. Reka Badger, Cheryl Crabtree, and Marty Olmstead, with photography by Robert Holmes. The up-to-date, information-laden collection displays beautifully on your tablet devices, but also works well on your smart phones, too. See CaliforniaFineWineries.com.
• Certified Cicerone Zachary Rosen is hosting an innovative beer-music pairing event called Spring Storm on Sunday, May 4, 5-8 p.m., in the Bourbon Room (4444 Hollister Ave.; [805] 265-3788). Two 45-minute sets will be played by Jim Connolly on banjo and then the three-piece acoustic band Waters Rising, and there will be a beer and flatbread-pizza break in between. There are six beers total, and tickets are $60.
• The Santa Barbara Independent's fifth annual Sizzling Summer BBQ Contest is now taking submissions. See independent.com/bbq for info on how to enter!
• Elizabeth Reed's Food & Wine Safari embarks again on May 7 at the Biltmore with a showdown between Larry Schaffer's Tercero Wines from the Santa Ynez Valley and Kevin Riley's Proulx Wines from Paso Robles, all paired with expertly crafted food. See foodandwinesafari.com.