News
Fellow Residents Recall Elliot Rodger
Demonstrated Unusual Behaviors; Little Interaction with Neighbors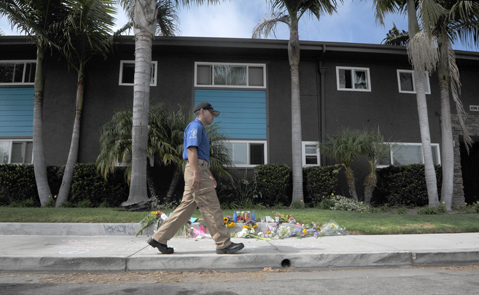 The 22-year-old man who stabbed to death three people in his Isla Vista apartment before his reckless and random shooting spree killed three others interacted very little with his neighbors in the complex where he lived. Residents recalled that Elliot Rodger was an unusual character, never had friends over, became infuriated when he passed couples in the courtyard, and spent quite a bit of time alone sitting in his parked car.
Located on the 6500 block of Seville Road in the heart of downtown Isla Vista, the Capri apartments are dorm-style, and residents can lease a single or double room. In some cases, property managers place residents together based on a personality questionnaire, a procedure also used for university housing. Rodger landed in a single room and his housemates and first tragic victims, Cheng Yuan "James" Hong and George Chen, shared a room. Weihan "David" Wang, who was not a resident, was also killed in the apartment. Rumors have circulated that Hong had requested to move out of the apartment after complaining about Rodger.
"He wasn't someone you could approach," said Jon, a neighbor who only wanted to be identified by his first name. It appeared Rodger appeared to be searching for attention, but the residents who tried to befriend him had no success. "He had a thing with couples," said Jon, who recalled that Rodger would become infuriated when walking by a pair of people who appeared to be romantically involved.
On Friday night of the shooting spree, Jon saw Rodger sitting in his black BMW in the gated lot around 8:30 p.m., just an hour before the horrific scene unfolded. Rodger was parked in a space directly outside of his apartment, though it was not his assigned spot. Rodger had his computer propped on his lap, and Jon speculated he had parked in the spot to connect to his WiFi in private, which he had done a number times before. Rodger tilted his screen away from Jon's viewpoint and had appeared to be acting in a "defensive" manner.
In hindsight, Jon speculated Rodger was in the process of mailing his "manifesto" that reportedly arrived in a number of inboxes just before the incident. Jon also guessed Rodger had already stabbed his first three victims by this point, but exactly when he killed his housemates and their apparent friend is pending the ongoing investigation and autopsy results. In his 141-page manifesto, Rodger writes about "silently killing" as many people as possible, starting with his two roommates to secure the entire apartment for himself "as his personal killing chamber."
Though residents said they previously had little interaction with Elliot Rodger, they did take note when law enforcement showed up to the apartment twice this school year. In January, sheriff's deputies arrived after Rodger made a citizen's arrest on Hong for allegedly stealing three candles that cost $22. Michael, another resident, recalled he heard that Rodger had stolen an item from Hong, so Hong stole the candles to retaliate. Once deputies arrived, Hong chose not to press charges. But Rodger did. Hong was subsequently booked and released from county jail. Hong pleaded no contest to a petty left charge.