News
Measure M's Pros and Cons
Lanny Ebenstein and Mike Brown Debate the Merits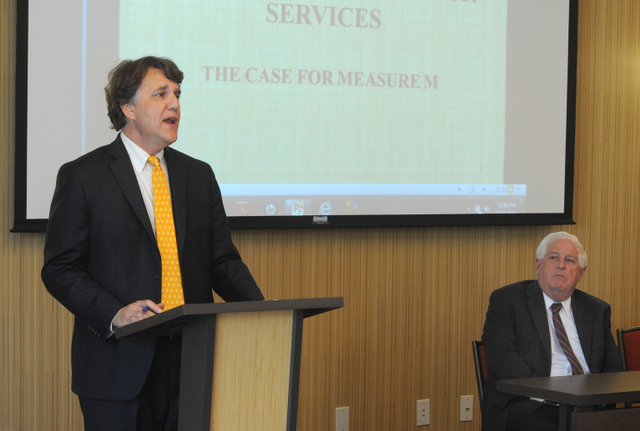 "Vague generalities" battled "an awful lot of hype" May 22 when a small group of county bigwigs gathered to hear former school board president Lanny Ebenstein and former county CEO Mike Brown argue the respective cons and pros of Measure M.
Twelve days ahead of the primary election on June 3 — when Measure M's fate will be determined — about 20 people attended the Goleta Valley Chamber of Commerce-hosted discussion. Key players who turned out but remained silent throughout included Sheriff Bill Brown (a vocal Measure M opponent), Solvang Mayor Jim Richardson (who helped author ballot language supporting M), and staff members from the offices of supervisors Doreen Farr and Steve Lavagnino (who each have forked over $5,000 of their money to defeat it). (Congressional hopeful Justin Fareed, who has accumulated more campaign cash than any of his fellow Republican challengers, also showed up.) Fourth District Supervisor Adam, who created the ordinance, wasn't present.
Ebenstein kicked things off, sharing a story about his first impression of the measure as one that sounded, on the surface, "reasonable." But then, he said, he quickly changed his tune. "The primary problem is the zero-to-60 [miles per hour] in one year that Measure M proposes," Ebenstein said. "It's a blank obligation. I just think that's a recipe for disaster."
Bolstered by County Counsel's legal analysis (which suggests the measure may not be enforceable) and Auditor-Controller Bob Geis's fiscal analysis (which states the measure may not be feasible), opponents have had many fighting words against Measure M. The $18 million-$44 million that would be required for the maintenance of county-owned roads, parks, and buildings would mean big trouble for the funding of the county's public safety and social services departments, they say. That wide-ranging estimate comes from the industry standard of considering 2-4 percent of facilities' overall worth as their annual maintenance requirement.
Ebenstein continued in that vein, listing off the "unanticipated consequences" of the measure's implementation. The county might have to abandon little-used roads to avoid paying for their upkeep, he said. The county might have to flush some of its buildings, he said, cautioning how the school board struggled after it sold buildings to save money, only to need them later on. And what if there's another economic downturn, Ebenstein asked, noting the nearly $60 million already slashed and the 580 positions already cut at the county. Setting up the transition to Mike Brown's presentation, Ebenstein took a jab at the former county boss. During Brown's 14 years at the helm, Ebenstein said, the county never spent more than about $2.8 million on road maintenance — less money than the current board has approved.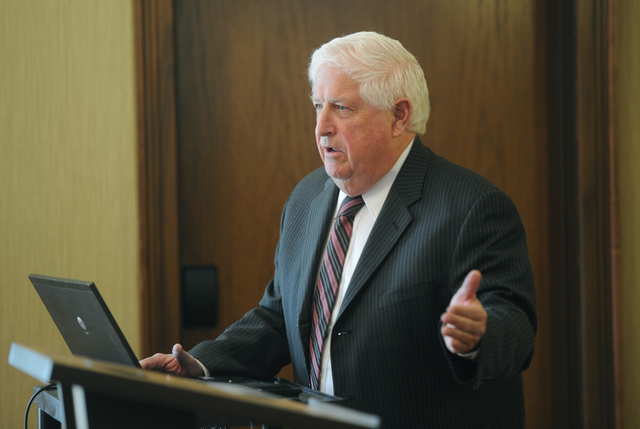 Brown, now the goverenment affairs director of the Coalition of Labor, Agriculture, and Business (COLAB) for Santa Barbara and San Luis Obispo counties, told a different story — one in which Measure M is not only what the county needs but is something achievable through six steps. His ideas included cutting back departments that are "consistently underrun," preventing new programs from being added to the budget when budget discussions end, removing all county workers' desk phones, and boosting revenues. Another of Brown's suggestions fell in line with what Supervisor Salud Carbajal championed at Tuesday's board meeting — directing a significant chunk of new revenues to maintenance, but doing so gradually over time.
Ebenstein responded by calling Brown's steps "vague generalities," which prompted Brown to decry "an awful lot of hype" surrounding Measure M instead of the new union contract approved by the board in February. "No one was wringing their hands at that time and saying the world's going to end," Brown said.
During a question-and-answer period following the remarks, Auditor-Controller Geis challenged Brown over what would happen if Measure M passes but the supervisors vote against abiding by it; Brown said the County Taxpayers Association could file a lawsuit. Geis continued, saying that he wasn't sure if Measure M was even constitutional, to which Brown replied, "Frankly, I hadn't thought about whether it was constitutional." Brown continued, "I just think the board could use some help from the public on this."