News
Teeing Off on Tranquillon Ridge
Jackson Floats Bill to Ban Offshore Drilling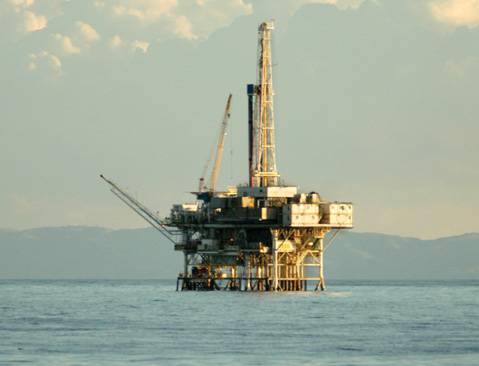 A bill to ban offshore oil drilling in Tranquillon Ridge state waters was announced last week by State Senator Hannah-Beth Jackson. Senate Bill 1096 was prompted by an assessment released last month from the Air Force Civil Engineer Center that reopened the possibility of drilling at Vandenberg Air Force Base ​— ​an idea that seemed just about dead for years. If it passes, the measure would mark another chapter in a controversial tale steeped with environmentalism, politics, and money.
Tranquillon Ridge, or T-Ridge, is a deep-sea oil field beneath state and federal waters. Two decades ago, the California Coastal Sanctuary Act banned new offshore oil and gas leases three miles out (in state waters), but an exception exists when petroleum from state reserves is being drained by federal operations. Now, Jackson argues this "loophole" needs to be closed to protect an ecosystem so sensitive it was designated as a marine protected area in 2007. "The state can't on the one hand say this warrants the top protection, but put this area at risk [on the other]," said Linda Krop, chief counsel for the Environmental Defense Center (EDC), which sponsored the bill.
Bob Nunn, president of the most prominent player from the oil industry, Sunset Exploration, argued the exception is deliberately being mischaracterized as a backdoor "loophole" even though it was intentionally written into the law "so California could protect itself." Nunn argued the state, not the feds, should be reaping the economic benefits of a project Sunset formally proposed in 2007 that was estimated to recover between 90 and 200 million barrels of oil. Though royalty rates are negotiated ​— ​one-sixth is standard ​— ​Nunn estimated the state would receive $3 billion-$4 billion dollars in taxes, and Santa Barbara County would receive $300 million-$400 million over the project's 20- to 30-year lifespan. According to Kevin Drude, deputy director of the county's Energy Division, the application was unable to be processed because the county requires a signature from the landowners ​— ​military officials ​— ​who were unwilling to do so at that time.
Nunn is quick to point out that prior to her term as senator, Jackson was a paid consultant for EDC, when the environmental firm came extremely close to negotiating an unprecedented settlement agreement with Plains Exploration & Production, or PXP. The deal would have allowed PXP to tap the same reserves in T-Ridge in exchange for an "end date" on existing oil and gas operations and the donation of thousands of acres of land. "It wasn't a loophole when they were strong supporters of a proliferation of offshore drilling from PXP's [Platform] Irene," Nunn asserted.
In response, Krop nixed rumors that Jackson had been "working for PXP" and said EDC hired Jackson on behalf of two of its clients, Get Oil Out! and Citizens Planning Association of Santa Barbara. Jackson maintained the key distinction is that the previous agreement included a termination date. "It's like talking apples and oranges" because Sunset did not offer an end date or greenhouse-gas offsets, Jackson said. "They just want to drill." Almost all Santa Barbara enviros and elected officials were on board at the time. But in a move that caught nearly everyone off guard, the California State Lands Commission narrowly denied the agreement. In any case, the feds may have mandated that platforms in federal waters would have to be drilled as long as they were economically viable.
About a decade ago, Sunset, along with ExxonMobil, proposed to drill at Vandenberg using a technique called extended-reach drilling, which is based on land and reaches horizontally beneath the sea floor. Nunn contends slant drilling safeguards the underwater habitat. "For me, it's a nonstarter," said Nunn. "I wouldn't be supporting this if there was interaction with the ocean." A number of years ago, the county completed an environmental impact report and found onshore alternatives ​— ​similar, but not identical to the project outlined in Sunset's application ​— ​had comparable impacts and risks to offshore drilling; neither was better than the other.
On the federal level, the House of Representatives will hear a Republican bill this week that would expand offshore drilling nationwide and mandate oil and gas lease sales off the coast of Santa Barbara and Ventura. Similar legislation has been proposed in the House each year since 2011 but has gone nowhere in the Senate. Opposing the measure, Congressmember Lois Capps offered three amendments, one of which made it to the House floor and would require the secretary of the interior to notify all regulatory agencies and publicly disclose any new offshore oil and gas permits. The vote is scheduled to take place Thursday.