Living
The Rochin Adobe
The Home Dates to 1856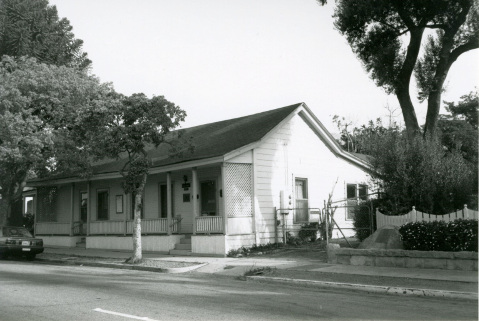 This modest adobe, sheathed in clapboard of pinkish hue and located at 820 Santa Barbara Street, is among the oldest in the city. The families that have lived here have lineages that stretch back to the earliest days of Santa Barbara.
The adobe got its name from José María Rochin, who purchased a plot of land located in the former parade grounds of the Royal Presidio from the city in 1856. Rochin's wife, Lorenza, was a descendant of the first presidio comandante; the couple had moved to Santa Barbara in 1848. Rochin paid $30 for his land and used adobe bricks from ruins of the old presidio to build a three-room house.
The Rochins did have children, but raised as one of their own a niece, Soledad Ordaz. In a 1954 interview, Soledad reminisced about her childhood, spent not only in Santa Barbara but on a number of ranches where her father raised saddle horses. The family lived for a time at Mission La Purísima near Lompoc, much of which was in ruins and had been abandoned. The Rochins willed their Santa Barbara adobe to Soledad.
In 1890, Soledad married Francisco Leon Birabent. Birabent's father had emigrated from France in 1860 and had worked as a ranch hand in Santa Barbara County. The Birabents also raised cattle for a time in the Los Alamos area until moving to Santa Barbara in the 1895. It was right around this time that the adobe was covered in clapboard to preserve the house. This was a fairly common practice and had an aesthetic component; many in the growing Yankee population preferred the look of wood to adobe. The Birabents eventually turned the adobe into a rental unit, while they lived above their grocery store at 523 State Street.
The Birabents' daughter, Leontine, inherited the adobe from her parents. Born in 1892, she became an accomplished pianist and organist. She also conducted an orchestra for a time at the palatial Potter Hotel off West Beach. She became a film editor for Flying A studios in 1913 and, two years later, married Robert Phelan, who was a cameraman there. The couple moved to Los Angeles in 1916, then returned eight years later to set up permanent housekeeping in the adobe.
They turned their home into a museum of sorts. Here was housed Robert's collection of Chumash artifacts, containing hundreds of items. Two trunks reportedly had been used by the Ortegas to safeguard possessions when privateer Hipolyte Bouchard sacked the family's Refugio ranch in 1818. Memorabilia of the couple's days in the early movie industry also graced the house, as did works by artists John Sykes and Ed Borein, the latter a good friend of Robert's. The couple was involved in any number of community activities, especially the Old Spanish Days Fiesta, for many years. Robert was also a charter member of the fraternal riding organization, Rancheros Visitadores.
After Robert's death in 1966, Leontine continued to live in the adobe, periodically opening up her home to allow schoolchildren to view its treasures. Her mother had lived to be 96; Leontine demonstrated even more remarkable longevity, passing away just five months short of her 102nd birthday in 1994. Robert's Flying A movie camera is now displayed at the Santa Barbara Historical Museum.
This column is reprinted from July 20, 2006.
Michael Redmon, director of research at the Santa Barbara Historical Museum, will answer your questions about Santa Barbara's history. Write him c/o The Santa Barbara Independent, 122 West Figueroa Street, Santa Barbara, CA 93101.