Opinion
Soggy Dollars
Where's the Recycled Water for Parks?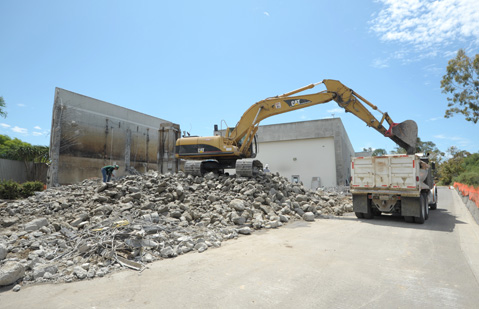 IN PIECES: I wish I could report that Santa Barbara's water recycling plant was cranking out H₂O instead of sitting in pieces at its waterfront site.
As it is, the brand-new treatment plant isn't due on line until next summer. Therefore, drinking water ​— ​so precious during the drought ​— ​is being piped to golf courses and parks instead.
Not that treated wastewater ​— ​call it sewage if you like ​— ​alone could be conquering the drought. Not by a long shot. For the drought, there are only two solutions on the horizon: Either Cachuma spills by spring, or the city goes for desal. Not both.
If by April or so we haven't had something akin to the 1991 "March Miracle" deluge that broke the last drought, the City Council will have to give the green light to desal, according to city officials I've spoken with.
Because preliminary work is already going on, the plant would then be ready in 2016, according to Rebecca Bjork, city public works director. The city figures it can get by until then.
But if Cachuma spills next winter, desal could and should be delayed, Bjork told me. It's frightfully expensive, perhaps a $30 million investment, and you really don't want to spend that kind of money until you need to. The new recycling plant is costing an estimated $15 million, according to Water Commission member Russell Ruiz.
The cost of water from Cachuma and Gibraltar reservoirs and other allied city sources runs $300 to $400 per acre-foot, about as cheap as water gets in these parts. Recycled water will run about $1,100 per acre-foot, said Ruiz. Bjork figures $1,200. "It's the next cheapest supply," she said.
She estimates desal at about $1,500 per acre-foot. State water is also expensive, and right now we're paying through the nose but not getting any, due to the statewide drought. Years ago, during the 1980s-1990s drought, so-called "water buffalos" talked local agencies and panicked voters into ordering huge quantities of the stuff, despite Cassandra-like warnings from wiser heads that the water wouldn't be here when the need was great.
The Cassandras were right, and now most of the water buffalos have gone, leaving huge bills for the public to pay for nonexistent water. Much was promised, millions have been spent, but the spigot is shut.
As for why the recycling plant isn't on line yet, easing the drought, several conflicting points of view came to light. Basically, the plant output needed more and more blending with "good" potable water, defeating its purpose.
Was the problem plant just allowed to decline through a sort of benign neglect because Cachuma was spilling and money was needed for other projects, as some contend?
Absolutely not, insists Bjork. When the plant opened in 1989, it was one of the first in California, was well designed, and was running as ordered, she said.
But then the state imposed new requirements on the city's sanitation plant, which feeds water to be recycled, she said. The recycling plant then had to shift to a different "mode," and that caused a quality problem, according to Bjork.
Ruiz says that when he joined the Water Commission in 2007, the plant was already being blended on a 50 percent basis and got 10 percent poorer quality each year after that. He pushed for improved recycling. But facing other needs, such as spending $20 million at the Cater Water Treatment Plant and $11 million for a treatment system for groundwater, and with Cachuma spilling, the staff decided to "let the recycling system run down" and stop maintaining it, Ruiz says. Bjork denies this.
Says City Councilmember Bendy White: "In hindsight, we wish the plant had been rebuilt three years ago, but I understand what was going through the staff's minds," a sense that with Cachuma spilling, let's focus on other expensive water facilities and keep rates from going up too fast.
"Who'd have predicted that we'd have three of the driest years on record after Cachuma spilled?"
Now, says Ruiz, the new recycling plant has been budgeted for and is "not going to have a significant impact on rates."
"I'm really excited about our new plant," Bjork told me. "It will be very reliable, with a high level of treatment."
FRENCH WAVE: Congratulations to Roger Durling and the Santa Barbara International Film Festival (SBIFF) for staging last weekend's The Wave Film Festival, featuring French movies. My favorite at the Riviera Theatre was We Love You, You Bastard, about a famed photographer and his daughters. Directed by Claude Lelouch, the film won the Audience Award for popularity. SBIFF will sponsor another Wave festival next spring, featuring Latin American and Spanish movies, and another French festival next July.