Opinion
Who Could Afford Jackson's Ranch?
An Internet Mogul?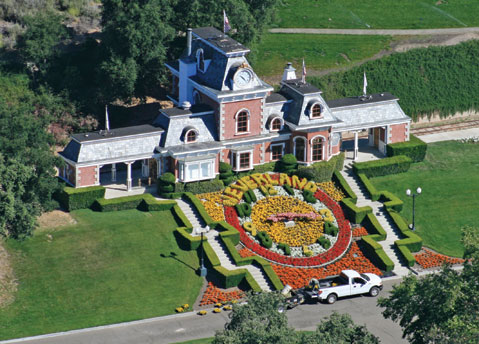 AN INTERNET MOGUL? With Michael Jackson's former ranch going on the market, who's likely to want ​— ​or be able ​— ​to pay an estimated $100 million for it?
Best guess, according to one local real estate expert I spoke to: "One of the Internet guys." That's where the ultra-big money is these days, Silicon Valley, not Hollywood or Wall Street, said my source, who asked not to be identified.
Still, you can't rule out an entertainment celeb or trust-fund chieftain.
He cited the example of Google chair Eric Schmidt, worth an estimated $8.3 billion and owner of a reported $38 million Montecito getaway of his own.
So who'd be willing to shell out those kind of shekels for 2,700 acres up on remote Figueroa Mountain Road, far from the bright lights and posh eateries on Coast Village Road? For the same reason Jackson did, my source said: "a hideout." A new Neverland.
Part-time Montecito billionaire Tom Barrack hasn't listed the property yet and presumably would offer it privately through his many contacts. Figures of $50 million and $60 million have been thrown out. But my source thinks the ranch is worth more like $100 million, based on its beauty and its large home, when compared with prices being asked on other large Santa Ynez Valley ranches.
Besides, Neverland has a certain Jacksonian cachet that no other valley ranch can match.
Jackson bought the spread from Bill Bone in 1988, created his private amusement park, and invited children on outings. But after being acquitted of child molestation in 2005, he packed up and left, never to return. All the animals and circus amusements are gone. Previously, Jackson paid $15 million to settle another molestation accusation. Recently, James Safechuck, 36, sued the entertainer's estate, claiming molestation beginning when he was 10.
Jackson reportedly wanted to be buried at the ranch, raising the possibility of fans swarming to the gates, as at Elvis's shrine, Graceland. That prospect horrified peace-loving Santa Ynez Valley residents but never came to pass. (After his 2009 death, Jackson was laid to rest at Forest Lawn.) Barrack's Colony Capital took over the $23 million debt in 2007.
The ranch is zoned for agriculture, and rezoning for other uses or cutting it up into smaller parcels would face great opposition.
LIZ WAS WED THERE: One fine day in October 1991, Sue and I were driving up to the Jackson Ranch to track down some crazed but amusing National Enquirer husband-wife operatives who were part of the media circus at Elizabeth Taylor's wedding to construction worker Larry Fortensky. The tabloid folks were masters of deceit, and over drinks at Mattei's Tavern the night before, they regaled us with almost-believable stories of their adventures among the rich, famous, and trashy. The husband claimed that he'd snuck into the rehearsal the night before, pretending to be part of the band before being kicked out. Liz and Larry, you'll recall, met romantically while in rehab at the Betty Ford Center. It was her eighth marriage.
Passing the Santa Ynez Airport, Sue and I spotted a guy in a jumpsuit, wearing a helmet being fitted with a video camera. Ever curious, we stopped and learned that he was planning to parachute into the wedding ceremony while videoing the wedding. On the way down, his helmet gizmo would transmit scenes to friends out on the road to be sold for big bucks.
This we had to see. By the time we got to the ranch, a fleet of paparazzi helicopters was buzzing overhead. This daredevil was risking being chopped up by choppers on the way down to a $2 million bash being attended by celebs of the day, including Nancy Reagan, Liza Minnelli, Eddie Murphy, Pia Zadora, George Hamilton, Merv Griffin, and Macaulay Culkin. Brooke Shields was MJ's date.
Ah, but the best-laid plans of mice, men, and media hounds often go astray. He leaped, avoided the spinning blades, and was promptly arrested upon landing. And the helmet plan fizzed. The technology didn't work, and he landed in jail.
It was one of those weird days, like a B movie come to life.
OKLAHOMA! Back in 1943, Broadway hosted a musical set in an unlikely location: Oklahoma. It was a major hit. So was the movie that followed. Now a stage version has arrived at Solvang's Festival Theater through August 24, thanks to PCPA. The magic of the Rodgers and Hammerstein musical mesmerized me once again last weekend.