Voices
Don't Reward the Wayward College
The Excellent School Has Poor Student Control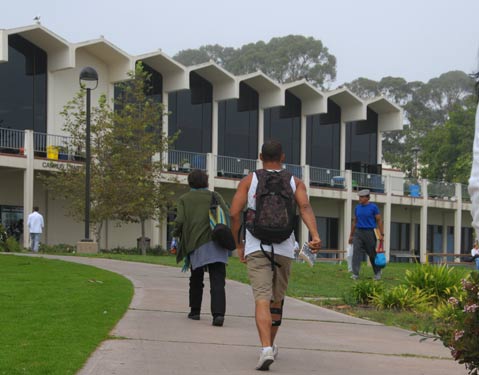 Santa Barbara City College wants city taxpayers to fund a $288 million behemoth it has not proven it needs and certainly does not deserve.
There is no denying that SBCC has provided excellent education opportunities for area students, but they are the minority at 43 percent of the school's population. The majority of students come from out of town, out of the county, out of the region, and out of state. I don't have to research the student roster; none of the dozens of students living in my neighborhood, immediately adjacent to SBCC, are from Santa Barbara. This housing has become unavailable to many young professionals and middle-income families from Santa Barbara who try to make a living here but find they are better off moving away.
These nonlocal SBCC students, along with dozens more just like them living in apartments and houses many blocks around and beyond SBCC, do not care about Santa Barbarians. They hang their sneakers on the wires, gangster-style, and they throw their trash on our streets and sidewalks. Since SBCC banned smoking on campus, students set up smoking lounges outside our homes, leaving their cigarette butts and fast-food wrappers on the curb. The students party, scream, howl, play very loud music, skateboard up and down the streets, and set off fireworks and cherry bombs nearly every Thursday, Friday, and Saturday night until 3 a.m. Our neighborhood makes early morning calls to the police at least once every single weekend, some times more.
Our neighborhood has endured this kind of bad behavior for years, but the piles of junk furniture–cum–smoking lounges, and then a stabbing at a late-night party, were more than we could take. Our neighborhood approached the leaders of SBCC over a year ago and demanded they foster an appropriate sense of civility in their nonlocal students, who are guests in our town. The leaders of SBCC told us they had no jurisdiction once the students left the SBCC campus, and they also insisted that we not deny the students their "full college experience."
Relenting in what has proven to be nothing more than a "show" of good faith, SBCC agreed to form a Community Relations Committee of neighbors, police, community leaders, and SBCC leaders to collaborate and develop sound and reasonable solutions to the student/resident issues. It is now a year later, a new academic year has begun, the students are out of control, and SBCC has never convened the Community Relations Committee despite our neighborhood's regular reminders.
SBCC created a code of conduct document that every student is required to sign, promising they will conduct themselves respectfully in our community. This effort seems merely an attempt to mollify the adjacent neighborhoods — violation of the code of conduct has no penalty, so the students simply ignore it, as they know SBCC does not track their residences.
SBCC has made no attempt to create good community relations, and the real shame is that there is a perfectly good model the college could emulate, just down the road, where the University of California at Santa Barbara knows exactly where its students are living and enforces a parent notification program when UCSB students are failing as students and citizens. UCSB's program is so rigorous that it knows, better than SBCC, how many SBCC students live in Isla Vista. According to UCSB's records, the number of SBCC students living in I.V. is up to three times more than SBCC reports, and it is SBCC students creating the majority of the problems there.
SBCC chooses to ignore Santa Barbara until the college wants more funding. As a number-one ranked city college in the nation, how can SBCC need so much now? When will SBCC put resources into giving back to Santa Barbara, which has given so much to SBCC? Currently, SBCC still holds millions of dollars from the last bond funded by Santa Barbara taxpayers, and now SBCC is back to take another massive pull at the well, without taking any responsibility for the damage and havoc its current student relations policies have created in this community.
SBCC is acting like a spoiled and rebellious child, whose parents give him a regular allowance and no discipline even while he wrecks the car, spends his allowance on beer, and then begs for more. Voting in favor of Measure S would give the big, bratty child a reward for very bad behavior. Join the neighbors of SBCC, and vote "no" to Measure S, until SBCC can live up to its own code of conduct.