News
Shooting Fish in a Barrel
Feds Sued over Dead Steelhead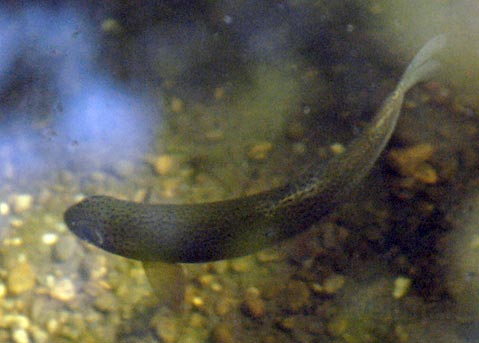 The Environmental Defense Center (EDC) has filed an endangered species act lawsuit against the Bureau of Reclamation on behalf of California Trout Inc., charging that remedial steps taken by the federal agency to prevent further accidental deaths of steelhead trout along Hilton Creek — which feeds into the Santa Ynez River — are insufficient.
Since March 2013, 393 steelhead have died because of 11 malfunctions of the pumps operated by the bureau to feed water into Hilton Creek. Steelhead trout were declared endangered in 1997 and such "takings" — accidental or otherwise — clearly violates the bureau's permits, which regulate how many steelhead bureau employees can "observe or harass," and how many can be "unintentionally killed." The permit language states that 50 adults and 400 juveniles can be observed and harassed annually, but only one adult and four juveniles are allowed to meet with "unintentional mortalities."
The fish killings have emerged as a major bone of contention between the Bureau of Reclamation, which owns the dam and is charged with pump operation and maintenance, and the Cachuma Operation and Maintenance Board (COMB), which is legally responsible for efforts to preserve and restore the once-abundant steelhead runs along the Santa Ynez River. Since 2005, COMB has been releasing an average of 10 acre-feet of water a day down a relatively short stretch of Hilton Creek designated as critical habitat for the endangered fish. Such efforts have maintained the steelhead on a state of life support, but even that proved questionable once the pumps began failing last year.
For a while, neither of the two pumps operated by the bureau (one for backup) could be counted on, and COMB employees found themselves risking "life and limb" — in the words of COMB chief Randall Ward — performing late-night emergency fish rescue operations, scooping up juveniles and some adults stranded in the muck and the mud. In recent months, the bureau has installed temporary pumps that have functioned without incident, and on September 3 it awarded a contract to install an emergency system.
Nicole Di Camillo, an attorney with the EDC, claimed that the permanent system needed to supply the fish with adequate water is still two years away. "That's not good enough," she said. "The Endangered Species Act isn't about keeping the steelhead on life support," she said. "It's about restoring them to the point they're no longer endangered." The point of her lawsuit, she said, was to accelerate the development of a permanent, fail-safe pumping system.
As the historic drought now gripping California intensifies, such steelhead relief efforts have engendered some increased skepticism and backlash. This Tuesday, for example, Santa Barbara City Councilmember Randy Rowse pointedly questioned how low Lake Cachuma must get before dispensations for the steelhead can cease. It turns out that the reservoir just dipped below that point. What happens now is not entirely clear; two federal agencies have initiated discussions on this matter, but no Santa Barbara stakeholders have a seat at the table.
In the meantime, water releases for the steelhead are supposed to drop from 10 acre-feet a day to just one.