News
Santa Barbara Votes: 2014 General Election
[UPDATE, Tuesday, 11:55 p.m.]: Capps defeats Mitchum by slim margin; Measure P and Measure S both soundly defeated
It's the 2014 General Election, and in the biannual independent.com tradition, we'll be using this page to deliver results, reactions, and reports from the various Election Night parties happening throughout Santa Barbara County.
Reporters Lyz Hoffman and Kelsey Brugger, along with photographer Paul Wellman, will be out and about to get the scoop while news editor Tyler Hayden holds down the fort at Indy headquarters and writes these updates, which typically run into the wee hours.
If you're wondering who's winning, who's losing, and what they're saying, stay on this page. Send feedback and your own reactions to tips@independent.com, and follow us on Facebook and Twitter.
[Results last updated Tuesday, 11:55 p.m.]
U.S. Representative, 24th District
[100% of precincts reporting]
Lois Capps: 75,307 (51.6%)
Chris Mitchum: 70,673 (48.4%)
Measure P (Oil Drilling Ban)
[100% of precincts reporting]
Yes: 30,732 (37.35%)
No: 51,547 (62.65%)
Measure S (SBCC Bond Measure)
[100% of precincts reporting]
Yes: 22,048 (48.89%)
No: 23,046 (51.11%)
(A 55% approval vote was needed for Measure S to pass.)
–
For all other Santa Barbara County election results, go here.
For all other state results, go here.
–
[8:10 p.m.]: The first tally of mail-in ballots has been released and shows Democratic Rep. Lois Capps with a slight lead over her challenger, Republican Chris Mitchum. Capps supporters had predicted that she would actually trail Mitchum in the early results as initial mail-in ballots are historically filed by conservative voters. The Capps camp is stationed at SOhO Restaurant and Music Club while Mitchum and his crew are watching the numbers trickle in from their base at the Fess Parker Doubletree Hotel.
County numbers show Measure P, the proposed ban on new high-intensity oil drilling, trailing substantially. Measure S, the Santa Barbara City College $288 million bond measure, is similarly behind at the moment.
[8:35 p.m.]: Reporter Kelsey Brugger is at the Doubletree with Mitchum and his team and says there are approximately two dozen supporters, many of them wearing red, milling around two big campaign signs and anxiously awaiting more polling results. Eating French fries, egg rolls, and potato chips, and keeping an eye on a nearby computer, they said the race was so far too close to call. Santa Barbara City Councilmember Dale Francisco is among the small crowd.
Mitchum said he worked for three years to get to where he is now, and that he has no idea how close the outcome will be, reports Brugger. He said he'll be happy if he wins by one vote, noting it took two weeks to finalize the results of this year's open primary election. If he doesn't come out ahead, Mitchum went on, he'll go back to writing his novel, a murder mystery. Of his opponent, Mitchum said he wishes Capps "would have had the courage" to debate him.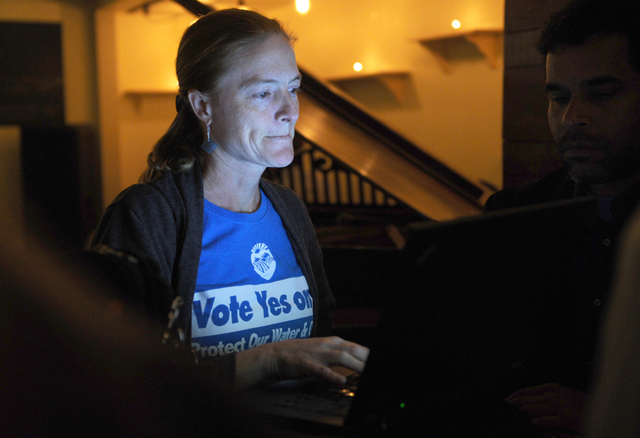 [8:55 p.m.]: At the Piano Gastrolounge is a sizeable "Yes on P" group, which is around 60-70 strong and includes State Senator Hannah-Beth Jackson, Daraka Larimore-Hall with the California Democratic Party, Water Guardian leader Katie Davis, Environmental Defense Center attorneys, city councilmeber Gregg Hart, and a number of campaign volunteers. They're munching on shrimp, flatbread, cheese plates, and hummus, and sipping on beer and wine. The mood is resolute but slightly somber, says reporter Lyz Hoffman, as the crowd wasn't happy to see the initial numbers but is still waiting for the next round of results.
"However tonight turns out, I've been very inspired by a resurgence in the activism of our local environmental movement and how energized they've become," said State Assemblymember and Measure P proponent Das Williams. "Nearly 1,000 people worked hard to awaken people's consciousness about these more dangerous oil extraction techniques." City councilmember Cathy Murillo, perhaps more resigned to a loss, said, "I'm holding my head up high and encourage all of our volunteers to feel proud. We were on the right side of this issue."
At least one person present was feeling especially good about how things are shaping up. Meg West, running for the Goleta Water District, has a slight lead over her three opponents. "I feel optimistic and I'm honored that voters have chosen to put their faith in me since I'm the front-runner," she said.
[9:20 p.m.]: The "No on P" contingent is feeling confident about their momentum so far as campaign spokesperson Jim Byrne just issued the following statement:
"Tonight the 'No on P' campaign is greatly humbled by the election results, and we would like to extend our thanks to the citizens of Santa Barbara County. The citizens of Santa Barbara County have confirmed their support for this industry as an important part of our community, providing thousands of jobs and tens of millions in tax revenues each year for our schools, fire protection, and other vital public services.
"With over 18 federal, state and local regulatory bodies overseeing production, Santa Barbara's onshore oil and gas production operates within regulations that are among the strictest in the world. Onshore oil and gas production has operated safely for over a century in the county and today voters have reaffirmed their desire for safe oil and gas production to continue.
"Voters also have clearly rejected this measure's drastic approach to our energy policy, in favor of a balanced approach that includes producing energy locally and decreasing our dependence on foreign oil."
[9:55 p.m.]: In a speech to the "Yes on P" supporters gathered in the Piano Gastrolounge, Larimore-Hall lamented the "red wave" of election night victories Republicans are currently enjoying. "There's no way to sugarcoat what is happening in this country right now," he said. He chastised a "Congress drunk on obstinance" but said it's lucky California is "essentially Republican-proof." Of the Democratic Party's support of Measure P, he said "It was the right thing to do." Owen Bailey, head of the EDC, also conceded defeat during his address to the restaurant's now-thinning crowd.
[10:10 p.m.]: While a few dozen Capps supporters and staffers remain gathered at SOhO, Capps herself has still not arrived to the party. The latest round of results shows her gaining a slow but steady lead over Mitchum.
[10:40 p.m.]: With another release of polling numbers putting her even further ahead of Mitchum, Capps just took to SOhO's stage with a cohort of family members and campaign staffers. She thanked everyone for helping her secure what's looking like a sure win, but noted, "We're not there yet, but we're on our way." In attendance were State Senator Hannah-Beth Jackson, County Supervisor Salud Carbajal, city councilmembers Gregg Hart and Cathy Murillo, and other Santa Barbara democrats.
After naming a few supporters by name, Capps told the high energy crowd, "We belong to you." She admitted that the Republicans' many General Election wins may be a hard pill to swallow — "This is a tough place to be in America," she said — and that "the challenges are enormous," but she declared that "We have to roll up our sleeves and get to work, not that we haven't been already."
–
Read our final wrap-up report here.