Living
Royalty Among Us
Heather Greenfield Channels Disney Princesses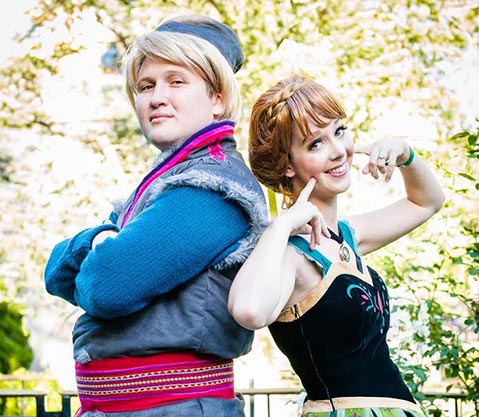 It may be news to Santa Barbarans, but there is a princess in our midst. She may not have royal lineage, but that is no matter for Heather Greenfield, who dons princess gowns each weekend and bewitches kids with her true-to-character portrayals. Greenfield's regal duties come via her job with Tea in Tiaras (teaintiaras.com), a Santa Barbara–based entertainment company run by Karrinne Galle.
So how did Greenfield become a part-time princess? "It actually started out as a hobby," she said. "My husband took me to my first [Comic-Con-like] convention … and I thought 'This is so magical.'" That experience in 2009 led her to engage in cosplay, a word merger of costume play, where folks dress up and "role-play in venues apart from the stage, regardless of the cultural context," according to Wikipedia.
Greenfield's first creation was Rapunzel. "She's my favorite. I had a floating-lantern Rapunzel-themed wedding, too. [My husband and I] are huge fans of Tangled." Next came Belle. Now there are nine princesses in her arsenal, including Snow White, Cinderella, Pink Sleeping Beauty, Blue Sleeping Beauty, Merida, and Ariel, which she expects to have completed this month. Greenfield doesn't make the outfits herself but sources them from different seamstresses on Etsy and eBay. "I do a lot of research because I want everything to be perfect."
She also has gowns of Frozen's Anna (her coronation gown and her winter wear) and Elsa, which she put together before the film had even hit theaters. "I went to [the] D23 conference, the big Disney conference," Greenfield explained. "I was sitting in one of the panels, and they were talking about Frozen before anyone knew what it was. And then Idina Menzel came out and sang "Let it Go." I remember leaving and turning toward my husband, saying, 'We need to do these costumes now.' And I'm so glad we did because it's so popular."
This holiday, Greenfield, who works at Savoy on weekdays, will play Anna when she and her Tea in Tiaras coworkers participate in the annual holiday parade up State Street. The event will be a family affair, too, with her husband Adam as Kristoff and her sister Holly as Elsa. "There is a section where all of the princesses will dance to generic Christmas music; then it feeds off to an instrumental version of 'Let it Go,' and my sister and I will do a routine together," she said. "I hope we put on a good show."
4∙1∙1
See the princess at the Downtown Holiday Parade on Friday, December 5, at 6:30 p.m. For more information, visit downtownsb.org.