Visual Arts
Santa Barbara's Hometown Cartoonist
Daryl Cagle Discusses Editorial Cartoons in the Digital Era
Before becoming one of the most entrepreneurial editorial cartoonists of the 21st century, Daryl Cagle attended 3rd grade at Cold Spring School. His educational track went up the Santa Barbara ladder from there, from S.B. Junior and High schools to S.B. City College to UCSB, and then he wound up in New York City for about 15 years, working in illustration for the likes of Jim Henson.
Cagle's foray into the world of editorial cartoons didn't come until the late 1990s, and while he still draws quite a few new pieces per month, his real impact was on the business side of the industry. He was one of the first to create a syndication service that was available digitally, and his website cagle.com remains today one of the more popular places for newspapers — including The Santa Barbara Independent — to find the day's most insightful drawings.
He's discussing his career and more this Friday, December 5, at his alma mater SBCC. In anticipation, he answered some questions for us about his unique career.
How has political cartooning evolved over the course of your career?
I started my career as a cartoon illustrator, and I worked for Jim Henson's Muppets for about 15 years, so I came to editorial cartooning late, after newspapers started their decline with the growth of the Internet.
The changes in the profession made my career possible. After the Muppets, I became a daily editorial cartoonist for Gannett's Honolulu Advertiser newspaper, which was soon to cease publication. I switched to drawing for Microsoft's Slate.com, then msnbc.com.
I run a small business that syndicates my work, along with the work of about 50 other cartoonists and a dozen columnists, to over 850 subscribing newspapers. I started my syndicate in 2000, when the other syndicates were still delivering cartoons by postal snail mail. I delivered cartoons from a small group of cartoonists by email and a download website, so we had a window of opportunity before the other big players caught up — and we had almost half of America's newspapers as subscribers by the time the competition caught up.
So for most editorial cartoonists, the decline of print and the rise of the web has been terrible — for me, it made my career possible.
Has the Internet made it more of a relevant art, or were these cartoons a bigger part of the print era?
Editorial cartoonists are simply columnists who use pictures instead of words. Cartoonists, columnists, and newsroom journalists have lost their jobs in about the same proportions and tend to make their livings more as freelancers now. Our audiences are bigger, we are more aware of the work of our peers, but our continuing business model remains unclear. So I'll answer yes to both of your questions: Editorial cartoons are both more relevant now and were a bigger part of the print era.
I'm not known for expressing my appreciation to George W. Bush, but I must thank him for "No Child Left Behind," because now editorial cartoons are part of state-mandated testing in social studies in 8th and 11th grade, in all 50 states, and teachers have to teach to the tests. We have a large audience of students who are forced to study our cartoons. The number one email I get is, "Dear Mr. Cagle, please explain the cartoon to me, my paper is due tomorrow." I hate it and I love it, but it helps to keep editorial cartoons relevant.
Have the personal politics of individual cartoonists shifted over the years, or do people keep their personal feelings out of it?
Editorial cartoonists are no different than columnists; no good cartoonist or columnist would keep his personal feelings out of his work. Mainstream journalists keep their personal feelings out of their reporting —cartoonists and columnists express opinions, we don't report the news.
There has been a shift among cartoonists, along with the rest of the media, for opinions on the right and left to be more polarized.
Most large circulation newspapers are in large cities, which tend to be liberal. Most newspapers are not in large cities; they are smaller papers in rural or suburban areas that tend to be conservative. For my little cartoon business, that means the vast majority of editors we deal with are conservative. And most cartoonists we work with are employed by large, liberal newspapers, and tend to be liberal.
The work of the conservative cartoonists gets reprinted more often by the majority of conservative editors. The pressure to conform comes mostly from the conservative editors. We've noticed that conservative editors will pick cartoonists they identify as conservative and then look only at the cartoons from these cartoonists, ignoring the work of the majority of cartoonists.
Liberal editors look at all of the cartoonists. Liberal editors tend to print both sides of issues, often running a cartoon or column from the left and one from the right together. Conservative editors generally avoid presenting both sides of issues, and feed their readers reassuring doses of views they their conservative readers already agree with.
Most cartoons can't be classified as either liberal or conservative. Cartoons are about the weather, holidays, entertainment, fashion, technology, education — most issues in the news defy labels. We find that only about 20 percent of editorial cartoons can be classified as liberal or conservative, and we've started putting actual labels on the cartoons on our newspaper download site — with little red and blue buttons — to encourage the conservative editors to look at cartoonists they usually wouldn't consider.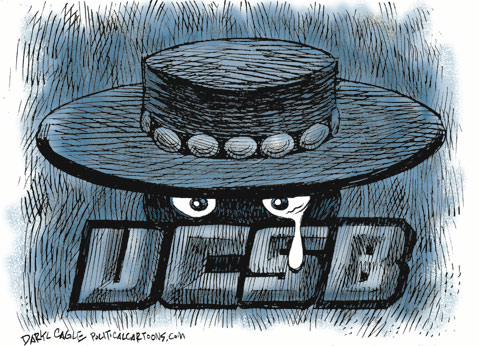 Does the deeply divided nature of American politics make your job easier?
No. There would be plenty to draw about even if Fox News were to disappear and everyone became moderate and agreeable.
Do you see humor about important political issues helping society move forward, or does it more deeply entrench the extremists?
Humor is one tool on my palette. The most powerful cartoons make the reader think or make the reader cry. I think the same is true for columns, but readers will stick a great cartoon on their refrigerator. Nobody sticks columns on their refrigerator.
Editors tend to prefer funny cartoons. The cartoons that timid editors like best are cartoons that are funny, about a topic in the news, but which express no opinion that anyone could disagree with.
I think conservatives are generally humorless. Conservative news media, radio talking heads, and pundits are all about reassurance. Like going to church, their audience likes to hear again and again what they already know to be true.
Liberal media is less reassuring. Top liberal punditry includes Jon Stewart, Stephen Colbert, late-night comics, and early-morning drive-time radio. The left and the right communicate differently.
So, no, I don't think humor moves society forward or entrenches extremists. Humor can make communication more effective if it is used well, with the right audience and the right issue.
And you still call Santa Barbara home?
Santa Barbara is the best place in the world to live (when it is not on fire). Recently my wife took a teaching job at Vanderbilt University in Nashville, Tennessee, and I've been living there half the time. People in Nashville love their town, but they haven't lived in Santa Barbara, where we have better Mexican food and we don't have to suffer so much from country music, church, football, tornados, floods, winter, and everything being cooked in pork fat. Whenever I'm away, I'm reminded of how much nicer it is to be in Santa Barbara.
4•1•1
Daryl Cagle will discuss his work on Friday, December 5, 4 p.m. at SBCC's Fé Bland Forum in a lecture sponsored by the SBCC History Department and the SBCC History Club. The hour-long talk will be followed by an audience Q&A. See cagle.com.