Briefs
Portable Shower Trailer Opens in Isla Vista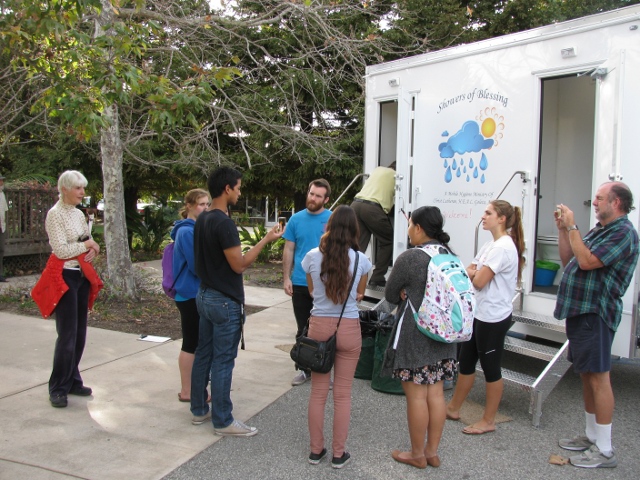 A brand-new, two-unit shower trailer has started to provide hot showers and clean clothes for homeless populations two days a week in Isla Vista. The trailer, the first of its kind on the Central Coast, opens its doors on Mondays and Thursdays — at St. Michael's and St. Mark's church, respectively — from 2:30 to 4:30 p.m. And on the last Monday of the month, the trailer will be outside the Goleta Valley Community Center.
Heading the effort is Reverend Ron Cox, pastor at Christian Lutheran Church, who realized hygiene is a key need in the community after speaking with people on the street. Oftentimes, these vulnerable populations clean themselves in restaurant bathrooms or at cold showers at the beach. "There's lots of myths and stereotypes [about homeless people] that are not correct," said Cox, explaining that many people who live on the streets do not want to be there, but are forced out of homes by the housing shortage. "A lot of homeless in the area are [originally] from here," Cox said. "These are our parents, our children. They are our neighbors."
Operating the effort is HEAL (Health, Empowerment and Love), which is a nondenominational group that works under the Interfaith Initiative of Santa Barbara. UCSB students — some from Street Health Outreach and Circle K — are also pitching in volunteer time. The showers come equipped with soap and fresh towels, and they are cleaned and disinfected after each use. The ability to maintain personal cleanliness is major health concern to the community, Cox went on, and the county's public health department and the Doctors Without Walls organization are very supportive of their efforts.
The showers have been operating for two weeks and Cox has already heard an abundance of positive feedback from the 32 people they've served, including comments such as "What a blessing!" and "I felt human for the first time in months."