Visual Arts
Holidays in Color
Three New Shows That Push the Palette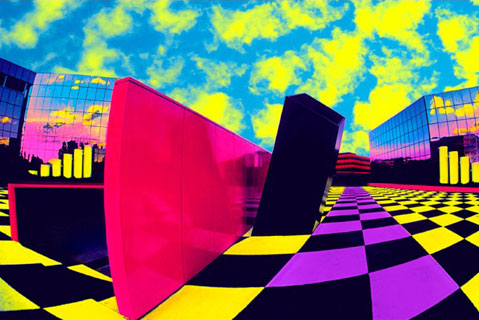 WINDOWS ON THE WORLD: While Santa Barbara may not have the kind of fanciful window displays that New York City's Fifth Avenue department stores are famous for, there is no shortage of ways for art to throw open windows on the world from our blissful vantage point this holiday season. Jane Gottlieb's impressive show Dreamscapes, which was recently installed at UCSB's Gevirtz School of Education and which will remain on view there at least through 2015, is one such set of vistas. Gottlieb's signature style involves the modification of her original photographs through the addition of intense, hyper-saturated color. Think Andy Warhol meets Eugène Atget, or Robert Rauschenberg retouches Walker Evans. In this latest manifestation of her work, the stakes are higher, as Gottlieb has discovered a new process that allows her to print these images onto aluminum panels. The results are jewel-like in their incandescence.
"Checkerboard Square" observes the modernism of an urban courtyard through a fish-eye lens, and "Brancusi Head, Paris" uses the same technique to add zip to a similarly iconic cityscape. Gottlieb's bold way with color is complemented by her equally strong sense of composition in such works as "Versailles Pond" and "Paris Chairs." The overall impact of the exhibit is to enliven the unrelieved whiteness of the building's freshly constructed walls and to suggest, by implication, that education requires both observation and fantasy.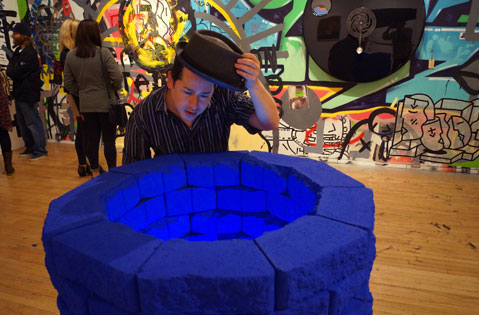 ENTERED INTO EVIDENCE: There's a spirited group show on view now through January at Skye Gwilliam's Gone Gallery (219 Gray Ave.). Curator Marcello Ricci has pulled together an all-star cast of mostly young artists under the rubric Exhibit A, and the show looks great in the Funk Zone's funkiest space. Works by Danny Meza, Rik Stokes, David Cooley, Tajo McBurnie, Joseph Beraldo, Skye Gwilliam, Inga Guzyte, Charles Starr, Martin Diaz, and Chadillac Green populate the room with a mix of styles, all of them very much focused on the present moment and hailing from the skate/street scene. Luis Velasquez's "Seed Pod 7" provides the exterior of the gallery's entrance with an unmistakably avant-garde presence. It's a large sculpture made of raw cotton that hangs from an upside-down chair and connects to a disused door placed flat on the ground. Inside, I especially liked the black-on-black painting "Leopard" by Martin Diaz and Inga Guzyte's broken skateboard assemblage, "Super Nova — Element Sun." Joseph Beraldo's large image "Sport of Destruction" is great, too, as are the witty evidence tags that Beraldo created to identify the works in place of more traditional wall cards. This is definitely a space, and a group, to watch.
HERD INSTINCT: Over at the Arts Fund, gallery director Brad Nack's annual 100% Reindeer Art Show is up and fulfilling its mission of bringing holiday cheer to the masses and little red dots to the walls. Nack, who has been doing this for quite some time now, has arrived at a comfort level with the form that allows no room for an incorrect performance. This particular iteration of Brad's thundering herd is remarkable for the fine art delicacy of the surfaces, which have been fussed over as though they were so many elaborate bûche de Noël. For those who missed the first round, the pack will be refreshed on December 12, and the show will remain on view until January 3.
---
Support the Santa Barbara Independent through a long-term or a single contribution.
---