Living
S.B. Mobile Massage & Spa
Mary Jeanne Ernst Brings Pampering to the People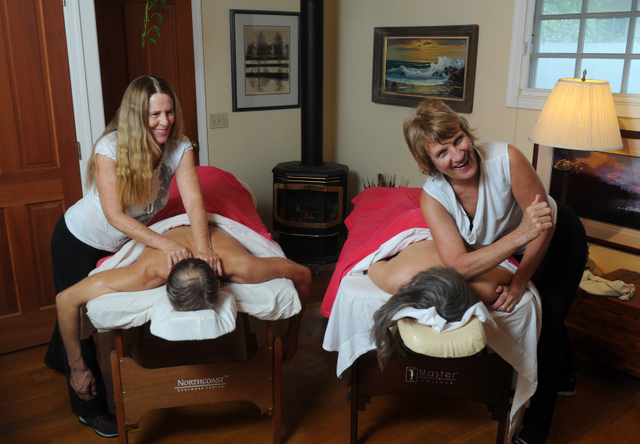 "Through my years of experience, I just felt that Santa Barbara had a real need for this type of service," said Mary Jeanne Ernst as the reason she began Santa Barbara Mobile Massage & Spa — the business she founded in June 2013 after participating in the Women's Economic Ventures' spring session — which brings pampering to you.
Ernst's passion for bodywork began in high school. After 30 years working in beauty salons and chiropractic offices and teaching massage at UCSB, she decided it was time to branch out on her own. The licensed masseuse and esthetician now brings the whole spa package — soothing music, oils, hot towels, hot stones, myriad massage and facial treatments, etc. — to wherever the client desires.
"What makes my company unique is the experience," Ernst said. "A lot of places include the prep work in their hour-long massage, making it realistically more of a 50-minute massage. We do the full 60 minutes." With a team of experienced staff, Ernst also takes care to match the masseuse to the needs of the client — or clients, as the case may be. "It can be hard to get a couples massage in Santa Barbara and make it a special experience," she explained. "When you go to a spa, you are split into separate rooms and then join together again after the massage. With our couples massages, you are right next to each other, free to talk and bond over the experience."
The S.B. Mobile Massage team is also available for special events such as bachelorette or group parties and will come to folks' workplaces and give (fully clothed) chair massages to knead out knotted muscles. "We also offer gift bags specially made for each occasion," Ernst added. For example, a couples massage gift bag includes champagne, chocolate, and tea candles; bachelorette parties get Essence of Rose bath soap, a bath scrub, and chocolate. Recently added to the offerings is a sports and health gift bag that includes an organic energy snack and Sombra, a pain relieving gel.
"I really enjoy seeing people happy after their massage," Ernst said. And, as the testimonials on her website attest, happiness is exactly what she brings.
See sbmobilemassage.com or call (805) 284-9244.