Living
Balance Board for the Work Station
Fluidstance Says, "Step Away From the Chair" — Joel Heath's New enterprise.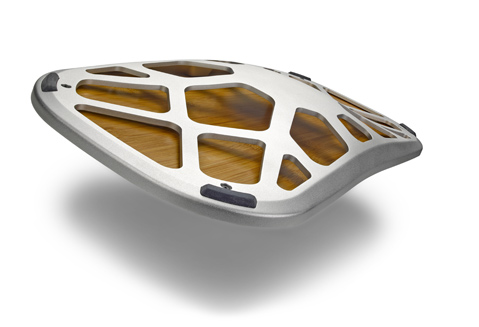 Santa Barbara entrepreneur Joel Heath has unveiled his next step in a line of forward-thinking foot accessories: The Level. Actually a deck, as in skateboard, with a convex bottom that balances on a central point, The Level is intended to alleviate the ails of prolonged sitting by requiring constant, subtle movement akin to walking — a benefit not provided by simply standing at a counter-height, or standing, desk.
"The body should move while we work, not just stand up," said Heath. "At work, in classrooms and even at home we chain our bodies down into a sedentary state in the hopes of focus."
The former head of the Teva footwear brand at Deckers, Heath formed a new company called Fluidstance to develop The Level and works out of a Funk Zone studio. He and designer David Malina, and what they call "an army of mechanical engineers," spent 18 months researching and developing The Level, and are now seeking a patent. The new product is but one of several Heath creations — he also founded the hugely successful [GoPro] Mountain Games and cofounded First Descents, a free outdoor adventure program for young adults diagnosed with cancer.
Heath's invention follows a string of standing desk products meant to alleviate problems recently linked to excessive sitting, but offers more movement underfoot. He states the workplace balancing board offers a range of motion 20 times greater than just standing at a desk, and delivers a 15 percent increase in heart rate compared to simply sitting. Dr. Geoffrey Gray of third-party tester Heeluxe Lab praised the additional podiatric benefits. "The Level allows for optimal amounts of 3D motion in the sagittal, transverse, and coronal planes. The amount of lower leg motion provided by The Level is similar to what you would experience while walking," he said in a statement.
Prices for The Level will run from $289 to $389. The company says its first installment of Levels sold out, and Heath's current Indiegogo campaign to help foot the bill for a second run has raised $107,443 to date, almost three times the initial $40,000 goal.