Living
Top Products from Makes 3 Bodycare
Allergic Kid Inspires Couple to Move to Santa Barbara, Start Organic Skincare Company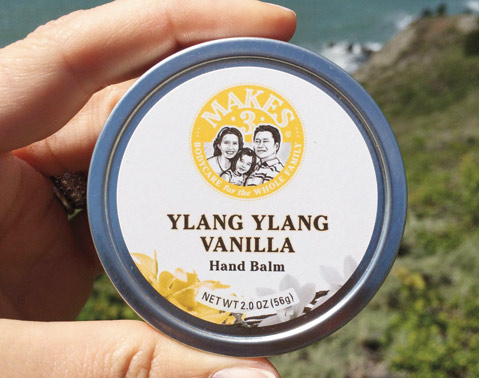 Kristine and Dan Sperling knew they had to make a change when their daughter was hit by asthma and eczema before turning five years old. Little Alice's health issues forced the Sperlings to take a closer look at what exactly they were putting on their bodies, and what they found out was unsettling.
Despite purchasing from organically-minded stores, many of the ingredients inside their preferred soaps, shampoos, and lotions were, in fact, harmful; so the Sperlings moved from Chicago to Santa Barbara to start Makes 3 Bodycare, which sells scented, moisturizing products made completely by hand with organic ingredients, with no synthetic fragrances or lather-enhancing chemicals.
For now, Makes 3 sells to Tri-County Produce, CorePower Yoga, and online, but the Sperlings want to offer their alternative skin products to the masses. "My goal is that everyone can have access to our products, which is also why we keep our prices as low as possible," Kristine said. "We really want to help people change their lifestyle and change the way they're buying products because what we're putting on our skin is impacting our health."
Here are four of Makes 3's top products:
Lavender Cheek-to-Cheek Body Balm: This body balm is by far the most popular product, and they have a hard time making enough. The balm blends virgin coconut oil, Shea butter, and other organic ingredients to moisturize dry skin and soften rough patches or rashes all over the body. $7.77.
Orange Vanilla Lip Balm: The sudden sweet aroma that comes sealed in this small circular case makes this product their most demanded lip balm. The scent of orange, natural vanilla, and a tinge of chocolate provides the perfect combination for a lip balm that protects and moisturizes. $5.25.
Lavender Vanilla Soap Bar: All the lather and moisturizing effectiveness you want from a soap but besides cleansing your skin, the bar's natural oils provide aromatherapy benefits, as well. The right balance of aroma, health benefits, and low-cost makes this the most sought-out soap bar on the Makes 3 shelf. $4.87.
Lavender Orange Liquid Soap: Finding truly organic liquid soap on the market is tough, but each squeeze from this foaming pump produces an organic liquid that's made with no petroleum or dangerous preservatives added. The soap contains natural oils that leave people's hands with a lovely scent and added softness. $7.87.
See makes3.com.