Voices
Yesterday's Candidate, Today's Prophet
The Right Wing in America Is Alive and Well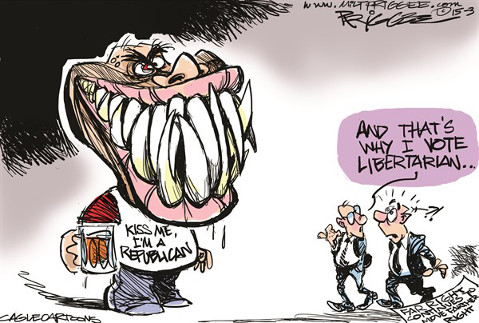 Marco Rubio, in announcing his candidacy last month, did his best to focus on himself and why he should be the next leader of the free world. Yet compulsion, like that last potato chip that just has to be eaten, got the best of him. Rubio exclaimed, "Yesterday a candidate from yesterday announced she was running for president. But yesterday's gone"
Is yesterday gone? Or is it back to the future?
In a 1998 Today show interview, Matt Laurer asked then-First Lady Hillary Rodham Clinton: "You have said, I understand, to some close friends, that this is the last great battle, and that one side or the other is going down here."
Hillary responded: "Well, I don't know if I've been that dramatic. That would sound like a good line from a movie. But I do believe that this is a battle. I mean, look at the very people who are involved in this — they have popped up in other settings. This is — the great story here for anybody willing to find it and write about it and explain it is this vast right-wing conspiracy that has been conspiring against my husband since the day he announced for president."
In 2015, the right wing in America is alive and well and has far surpassed its influence from what Hillary Clinton could have imagined when she gave her answer in her 1998 interview. Seventeen years ago, the dedicated television network that works as hard to bring the news as it does to insinuate half truths and misinformation was in its infancy. In Clinton's time as First Lady, Rush Limbaugh was more of an anomaly; today, right-wing radio is spearheaded by a host of commentators who filter the news to their audience while communicating shibboleths to people eager to remain in their own echo chamber.
The Tea Party political movement, with enough dollars and ignorance, helped the right wing successfully co-opt one of the two major political parties. The Clintons experienced a Congress willing to shut down the government, but they did not face the notion of closing the federal government over one issue, as President Obama did in 2013 with the Affordable Care Act. Congress did this knowing the full faith and credit for the United States was at stake. A government shutdown became not an idle threat by the GOP, moreover, but a strategy that would be threatened over and over again.
John Boehner, the Speaker of the House since 2010, may go down in history as less of a speaker and more of a listener to a Tea Party wing of his party that would not fall in line with its own majority leader.
Among those who align with the right wing — from evangelical Christians to large industrial conglomerates owned by the Koch brothers, who adhere to capitalism as fervently as any believer in Christianity — two similarities exist: a zealous hatred for the current president and a strong belief to, in their words, "take our country back." For evangelicals and large corporations, their desire is to turn back the clock or simply rewire it. They want to change the definition of the separation of church and state and to allow religion to dictate government legislation on gay rights or freedom of choice for women in their personal reproductive decisions.
Earlier this month, three states tried to pass freedom of religion acts in a veiled attempt to discriminate against the LGBT (lesbian, gay, bisexual, transgender) community. And since 2010, at the height of the Great Recession, Republican state legislatures began working tirelessly to roll back Roe v. Wade in their individual states while hardly working on adding jobs, an issue they had campaigned on to win elections. Large corporations interested in dismantling unions support presidential candidates like Wisconsin Governor Scott Walker, who made unions and collective bargaining his opening salvo once elected. And oil and gas companies continue to fly in the face of ubiquitous climate change by influencing right-wing politicians to discount scientific consensus on the threat of global warming, despite the fact that 93 percent of scientists agree it is accelerating to the point of no return.
Right-wing politics seen as an outlier at the time of the John Birch Society in the 1960s are now a cornerstone in our country's political landscape. Nobel Prize-winning economist Paul Krugman in one of his writings referred to the right wing as the network of institutions that "provide obedient politicians with the resources to win elections, safe havens in the event of defeat, and lucrative career opportunities after they leave office. They guarantee favorable news coverage to politicians who follow the party line, while harassing and undermining opponents."
Hillary Clinton will in the next 18 months (assuming she is her party's nominee for president) face an uncompromising, right-wing foe that is sure to produce a vitriolic and accusatory strategy to win at any cost at Clinton's expense or, more importantly, the American people's.
Clinton, a seasoned politician, will respond by raising perhaps the largest war chest ever gathered by one candidate for president to defend against the numerous allegations of "scandals" (Hillary Clinton's words in 1998 may indeed be prophetic) as she runs in 2016. The fight brings for this country yet another long and arduous race, grotesque personal attacks, and a battle plan by the right to fashion confusion rather than clarity at this critical juncture in our history.