News
Students Stage Sit-In at Cheadle Hall
Present Chancellor Yang with List of Requests to Reform UCSB's Response to Sexual Assaults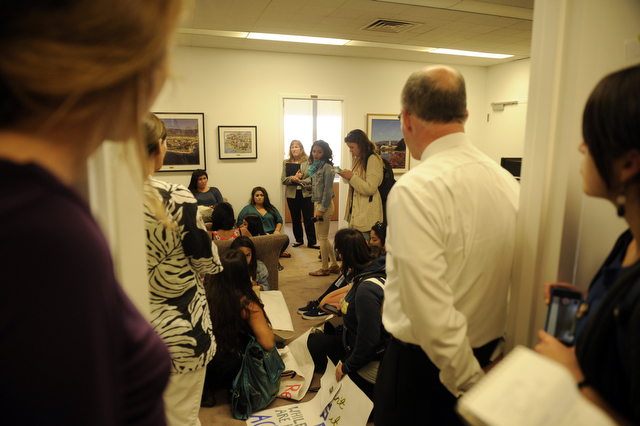 Seeking to cause a stir within UCSB administration and advance sexual assault reform on campus, dozens of students camped out in Chancellor Henry Yang's office for 13 hours on Wednesday and into the early morning hours on Thursday. Showing up to Yang's office on the fifth floor of Cheadle Hall in the early afternoon, protesters told admin staff they would not leave until they could talk to Yang. That they did.
Just before the sit-in, the group, led by Melissa Vasquez, Alejandra Melgoza, and Alexa Weyrick, rallied near the Arbor on UCSB's campus. Over a loudspeaker, Vasquez and Melgoza told a growing crowd of passersby personal stories of their assaults last year. They charged that the school's Judicial Affairs department had no teeth in pursuing these cases and that ineffective bureaucracy prolonged their struggle. "UCSB has failed me," said Melgoza, who led a daylong rally last month and plans to organize a trip to the UC Regents meeting on May 21-22.
Isla Vista's Reverend Frank Schaefer, who was defrocked and later refrocked in United Methodist Church after he officiated his son's gay marriage in 2007, jumped into the mix of speakers and encouraged the students to fight against the grain.
The group marched to Cheadle Hall, where they sat for hours drafting demands, eating pizza, and posting on Twitter, until Yang arrived at about 10 p.m. (He had been in Pasadena all day, the activists were told.) They all filed into a conference room. There, the students presented Yang with 13 requests, including immediate suspension for perpetrators of sexual violence for at least four quarters, removal of assailants from university housing, creation of a survivor fund, more female Foot Patrol deputies, accountability of Judicial Affairs for past problems, and more diversity in college staff, among others.
"It was amazing," said sociology PhD student Marisa Salinas of the hours-long meeting. Earlier in the day, activists stated that they were prepared to go to jail, and police officers had been nearby during much of the sit-in. Yang, who is sometimes spotted taking pictures with UCSB students in Isla Vista, ultimately promised to enact the 13 demands, Salinas said. Students posted the hashtag "nowUCsb" on social media to garner support.
UCSB spokesperson Andrea Estrada said in a statement that Yang appreciated the opportunity to meet with the students for several hours in order to hear and respond to their concerns. Administrators are arranging a follow-up meeting, Estrada said.