News
Pedaling with Velo Wings
Women Cyclists Honored for Bike Inspiration
I've been writing about Santa Barbara's Velo Wings Awards since the first group of women cyclists was honored. Each year the Santa Barbara Bicycle Coalition recognizes three inspirational women. This year the awards ceremony will take place on June 4 at the Paseo Nuevo mall as part of the CycleMAYnia Talent Show and Awards.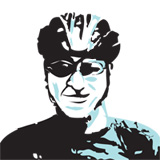 As an early childhood educator, I frequently used the quote, "There are only two lasting bequests we can hope to give our children. One of these is roots, the other, wings."
Eva Inbar, Doris Phinney, and Dru van Hengel are working every day to provide cyclists with the roots that make cycling safer and more accessible in our communities. They are helping Santa Barbara residents discover the joys of biking, and their wings.
Eva Inbar is passionate about biking and walking. She is proud to be with the Coalition for Sustainable Transportation (COAST), which promotes walking and biking for all everyday needs. You will often see her riding a bike around town. Eva was 5 years old when she learned to ride on her mom's bike. She had to ride it standing up since she was too little to reach the saddle.
Eva believes that Santa Barbara's roads should be safe for biking and walking, and the real test is where do women feel comfortable riding with their children. Bike lanes and paths have made our local roads safer, but there are still streets and intersections that Eva won't ride. Her top three roads to avoid are Mission Street, the Carrillo/101 underpass, and the Milpas roundabout.
When I was young, most children walked or biked to neighborhood schools. Today, almost 75 percent of children arrive for school by car. Many families say they don't believe their child's route to school is safe. Eva became active in the Safe Routes to School movement when she found that her own children were not safe biking or walking to their schools. She is proud of COAST's Safe Routes to School program. Because of safety classes and road improvements, more and more children are biking and walking to neighborhood schools instead of being driven by their parents. The health and fitness benefits for children are obvious. Equally important is the sense of independence that riding a bike or walking gives to children. Eva and the COAST team give velo wings to children and families as they work to make our streets safer for commuting to school or work.
Doris Phinney exemplifies H.G. Wells's words about cycling: "Every time I see an adult on a bicycle, I no longer despair for the future of the human race." Doris loves cycling and as the president of the Goleta Valley Cycling Club wants to share her enthusiasm and encourage others to bicycle more. She also recognizes that at the age of 72, cycling is great way to keep fit and healthy.
Doris says, "I have an annual cycling goal of 8,000 miles, and I've completed those miles and more for the last eight years by using my bike instead of my car to shop and keep appointments. I even ride my bike to my hairdresser, who soon got over the fact that I was going to put a helmet on her efforts." Like me, Doris puts more miles on her bicycles each year than on her car.
Doris remembers her most challenging ride, the Davis Double — 200 miles in 16 hours.
Her most memorable ride was a trip across the U.S.A. from Manhattan Beach to Boston, 3,421 miles in 48 days. The bike ride was to celebrate her retirement from UCSB. Doris, her husband, Owen Patmor, and over 60 cyclists averaged 80 miles per day for 43 days.
Volunteering with Safe Routes to School gives Doris a chance to teach young children how to ride safely. She was recently at a COAST Bike Rodeo at Hollister School. With her support a cautious young girl learned how to ride her mountain bike for the first time. In less than an hour Doris gave that young fourth grader wings and confidence. Doris always rides her bike with velo wings and is a model for cyclists of all ages.
Dru van Hengel now lives in and works in Portland, Oregon, but her vision and planning is part of every Santa Barbara cyclist's daily riding experience. During her years working for the City of Santa Barbara, Dru led teams that resulted in the Shoreline Drive Park Extension, the Jake Boysel Multi-Purpose Path, the 1998 Bike Master Plan, Safe Routes to School (with Eva Inbar!), Bike to Work Week, and much more. Dru has worked to make cycling, public transit, walking, and lingering in the right-of-way safe and reasonable options for people to enjoy as part of everyday life.
Currently, Dru leads the Active Transportation group for Nelson/Nygaard, a transport planning company. Her time in Santa Barbara helps her relate to cities across the country as they collaborate with advocates, agency staff, parents, and policymakers. Dru understands that each city "needs a unique blend of projects, programs and people to make transportation investment choices that not only address safety and connectivity for all modes, but also serve to reduce health and wealth disparities."
Dru loves biking because it makes her feel more fully connected with her community. She and her 10-year-old son, Riley, (who puts 100 miles a month on his bike) enjoy how this speed of life provides the opportunity to stop on a dime and say hello to friends, study evolving bike facilities, and see flowers popping up between cracks of asphalt. Dru is the go-to parent for a kid's first ride to get ice cream.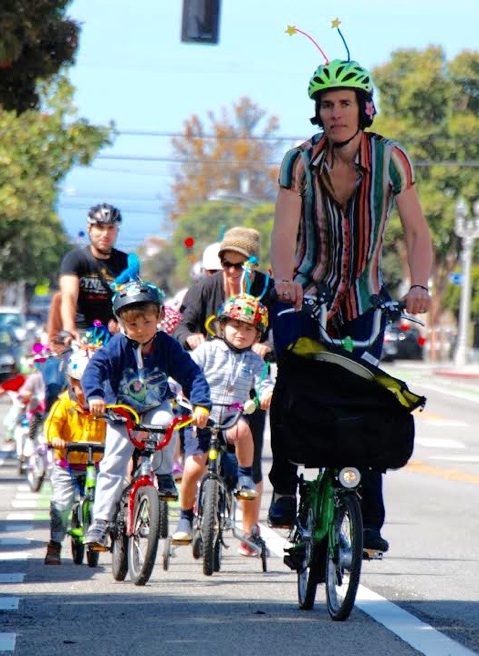 Dru remembers riding across Portland's Hawthorne Bridge with Riley, who said, "If all bike lanes were protected like this, I'd be comfortable riding on busy streets … Is this what you do?!" Dru has velo wings and is making sure that future generations have transportation choices in their communities.
Cyclists need both roots and wings. Every day, Doris, Eva, and Dru are riding their bikes and working to make cycling a reasonable choice for men, women, and children in Santa Barbara.