Food & Drink
Goleta Company Grows the Roots of Future Farming
Sustained Harvest Farms Takes the Best of Hydroponics and Aquaculture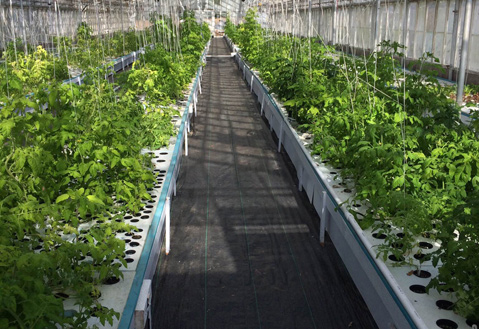 We all face a grim outcome when our bodies are deprived of water. At first, your muscles cramp. Some short time later, you'll begin to hallucinate. Death comes a bit later. Of course, at any point you can simply drink water and avoid this all together. But for California farmers — who lost an estimated $2.7 billion as a result of the drought and dismal crop yields in 2014, according to a UC Davis study — decisions for the future must be made with available resources in mind, said Linda Gassaway. With her husband, Miles, she owns and operates Sustained Harvest Farms, a 12,000-square-foot aquaponics farm in Goleta.
After years of below average rainfall and record temperature highs, California's heat stress has caused symptoms that show it has become weakened by extreme water loss. Rekindled wildfire hotspots, dry wells, and dust storms are just a few of the effects. One of the factors associated with California's dry condition is that an estimated 80 percent of state water supplies go to industrial-style agriculture. Since many of the state's farms are located in arid climates, much of that water can be lost to evaporation before it even soaks into the ground. Still, California is able to produce a vast amount of farmed goods; it leads the nation is agricultural output. The only problem is, it all hinges on an exhausted supply of water.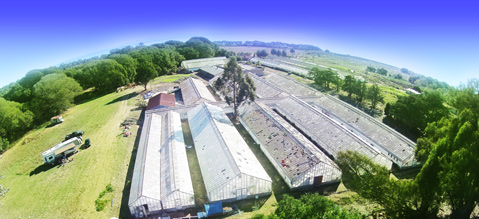 While state lawmakers continue to grapple with the complex relation between our economy, agriculture, and drought, The Gassaways have stepped up to the challenge, leading the way in developing a for-profit model of aquaponic farming, a method of agriculture that is sustainable, and safe for the environment. Aquaponics gets its name from combing aquaculture (raising fish) with hydroponics (raising plants in water). This closed-looped system recycles water between a system of fish tanks, piping, and beds of vegetables suspended in nutrient rich water.
"We know farmers who work hard," Linda said, "but the water is running out." Sustainable Harvest Farm's organically certified system produces herbs and greens, such as basil, lettuce, and watercress, in two large greenhouses rented just north of Goleta. The area was originally part of the Dos Pueblos Orchid Company that dates back 1946. Using organic practices was the only option they had, according to Miles. Any added chemicals would ultimately kill the premium koi, Comets, and Blue Channel catfish that provide nutrients to the system. Sustained Harvest Farms attempted to grow tomatoes when they began, but they found the tomato roots impeded water flow and decided tomatoes were not a good candidate for the system. They did, however, keep one out of sentiment. Miles explained that they had kept the plant from they when lived in Ventura and didn't have the heart to remove it. While there are a number of vegetables grown at their farm, Linda said what they grow is based on what is possible, market demand, and competition from high production farms.
Using animals to provide nutrients to water-based plants is nothing new. In 1,000 AD, the Aztec used a system of lakes and canals to feed their lands with nutrient-rich water. Civilizations in Asia used similar waterways to grow paddies of rice. What was known and practiced then, but not directly utilized now, is that animal waste is nutrient rich and is naturally recycled by the earth to fertilize plants. By allowing animal waste to enter the water, then placing the plants' roots in it, nitrates essential to plant growth become immediately available to the plants. These nitrates are a natural byproduct of bacteria that are found throughout the closed system. In short, a myriad of bacteria break down ammonia found in fish waste into nitrites, then eventually into nitrates. All this is done through natural processes and requires minimal input from the farmer. In comparison, modern, synthetic fertilizers generally require a large amount of natural gas to be produced in a method known as the Haber-Bosch process, named for its inventors. Aquaponic systems "have been set up on a smaller scale all over the country and the world," said Miles. Despite the benefits, aquaponic systems have yet to be developed into larger scale, commercialized processes.
Linda and Miles Gassaway described their choice to develop their farm as a "no brainer," pointing out the economic benefits and the growing severity of a prolonged drought. Formerly employees of the oil industry, the Gassaways said their son, John Edwards, helped influence their decision to invest in an organic farm. "It wasn't a huge moral thing," said Linda. Instead, they were focused on a sustainable living, big end recycling, and developing a profitable business. After attending school in San Francisco, Edwards had developed an interest in sustainable ways of living. And in 2014 he helped found Sustainable Harvest Farms along with his parents. As part of their company's philosophy, they aim to sell their produce within 100 miles of their farm and regularly donate a portion to local food banks.
Sustained Harvest Farms has demonstrated that a streamlined aquaponics process is an economically sound decision. Catering to high-end restaurants in Santa Barbara and Ventura counties, the family plans to expand and add additional farms throughout the area. Don't let the scale and price tag discourage you from having your own organic aquaponics farm, however, said Miles. Sustainable Harvest Farms offers to install much smaller systems that could be bought and used by multiple families.
---