Living
Treebeard's Photographic Gifts from the Santa Barbara Backcountry
Marc Kummel Explores the Los Padres National Forest and Shares Discoveries With Us All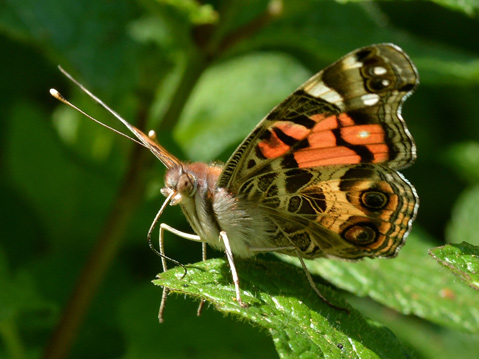 Marc Kummel, often known as Treebeard, is a man with a mission, quietly immersed in an ongoing labor of love throughout the Santa Barbara backcountry. A naturalist, musician, and general Renaissance man, Treebeard led groups at the Outdoor School near Lake Cachuma 40 years before teaching at Dunn Middle School in Los Olivos, where his science classes involved fire and philosophy in equal parts. My favorite lesson demonstrated that the probability of everything happening exactly as it is in any given moment is one over infinity, i.e. zero. "Absolutely impossible," he said. "Yet here we are."
Treebeard retired a few years back, but his genuine curiosity endured, and he's become a chronicler of wonder, diligently documenting the remarkable things he beholds. Venturing daily into the chaparral, oak woodland, and riparian forests of the Los Padres National Forest, he zooms into an often unseen universe of insects and plants, recording these for posterity in an extraordinary online archive of photographs and narrative. Scrolling through a few images at random, one sees butterflies, a multitude of mushrooms, myriad forms of life both weird and gorgeous. There's the transparent shed skin of a spider, a katydid nymph, a shiny new oak apple gall, the tiny sporangia of slime molds growing on a fallen branch of coast live oak. There's a sara orangetip on bitter gooseberry, a mating pair of western boxelder bugs, and the pale-blue flowers of native greenbark ceanothus.
"Beautifully intricate," Treebeard writes of the latter, "like little origami boxes."
That's the poet in him. The images are beautiful, but each comes with a caption that's explanatory and often lovely. He presents the scientific and common names, fascinating facts and observations, and journal-like comments about the day, all shared with eloquence and clarity. A wasp perches for a moment on a mint leaf in the garden, a tiny green aphid resembles stained glass against the backlit banner of a sweet pea flower, a spider snuggles into the fold of an old native wild blackberry plant.
Worrisome changes loom, globally and locally. Around here, it's been too dry, eerily warm, seasons askew, repercussions yet unknown. But there's so much life happening, so many miraculous things unfolding, and while some folks look up at the heavens and ponder distant galaxies, Treebeard explores a different infinity. He peers into the microcosmos — observing, recording, and sharing — bearing witness to the natural world, mysterious, endangered, and striving to continue.
"For all we know, some of this may be happening for the last time," he mused, hoping that's not true, "but I'm documenting as much as I can."