News
Gibraltar Skateboarder Survives Car Collision
CHP Trying to Ban Downhill Skateboarders on Gibraltar, Painted Cave, San Marcos Pass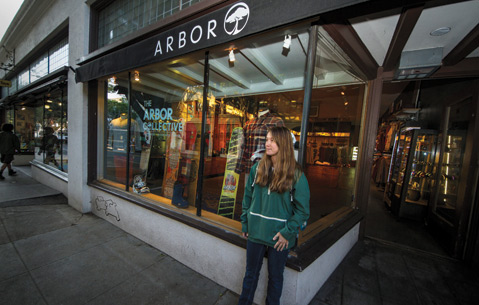 The repaved surface of Gibraltar Road proved almost fatally perfect for downhill skateboarder Tara Tate, who crashed into the path of an oncoming motorist while taking a downhill plunge late Sunday evening. Despite the motorist's report of hair and bone on the underbelly of his vehicle, Tate appeared astonishingly unscathed in hospital room selfies posted online, her face unscratched, her teeth intact, and sense of humor likewise. Tate credited the full-face helmet she was wearing for saving her bacon, and her life.
Her accident comes just two weeks after Gilbraltar Road — famous for its steep inclines, blind curves, and pock-marked surface — was opened to traffic, following total reconstruction of six miles of it. Tate had slid out of her lane when her board collided with an oncoming motorist about a mile south of Flores Flats. She was so low to the ground at the moment of impact, the driver reported, he thought he'd hit a rock. Since the roadwork, he noted, the number of skaters, bikers, and motorcyclists taking advantage of Gibraltar's face-lift has skyrocketed; so, too, he said, have the speeds they travel.
Tate is part of a small but growing cadre of especially adventurous skateboarders who hosted this year's Santa Gnarbara race down Camino Cielo. That contest ​— ​conducted with full cooperation of multiple government agencies ​— ​ drew 100 racers. Though Tate's friends say she is expected to recover, her collision is likely to have a deep impact on the future of her sport in Santa Barbara. The California Highway Patrol was already preparing to introduce an ordinance at the County Board of Supervisors next Tuesday banning skateboarders altogether from San Marcos Pass, Gibraltar, and Painted Cave roads. This will only intensify their efforts.
CHP spokesperson Jonathan Gutierrez said downhill skaters tend to hog the entire road, not because they're thoughtless, but because they need to for speed control. That, he said, makes them inherently unsafe. Tom Flinchbaugh, a friend of Tate's and longtime downhill skater, insisted downhill skaters typically take great pains to avoid such collisions, often assigning friends equipped with radios as lookouts. The action videos posted on YouTube, he said, fail to show the precautions taken to ensure safety. Flinchbaugh said he and other more experienced riders will be hosting workshops to inculcate in younger athletes an intense appreciation for the rules of road safety. The county supervisors are expected to deliberate the proposed ordinance July 7.