S.B. Questionnaire
The S.B. Questionnaire: Lynda Millner
Chatting Parties and Life with the Longtime Society Columnist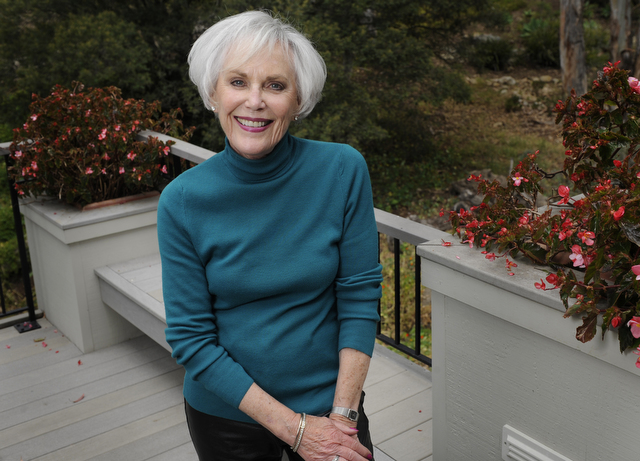 I first met Lynda Millner 15 years ago when I ran my café in Summerland. She was the alluring, self-assured lady who would show up early in the morning, already dressed up, to order a cappuccino and linger in the front porch with her dog and handsome husband, Don Seth. She always seems to be enjoying life, and doing so with elegance.
Lynda has been covering Santa Barbara's social scene for the Montecito Journal since 1996, and this dame is indefatigable. At every event I attend, she's always there first with pen, pad, and camera in hand — a 21st century answer to Hedda Hopper, with silver hair, high heels, and lots and lots of confidence. A former model, she also conducts makeover seminars on cruise ships and for corporate groups.
She took time away from her glamourous life to answer the Proust Questionnaire.
Who do you most admire?
My Sunday School teacher Mrs. Dingle when I was nine. She had silver hair and wore high heels and red lipstick — not granny shoes and buns. She wanted me to be in her sorority when I grew up. She was definitely my mentor and why I have silver hair and wear high heels.
Which historical figure do you most identify with?
Jackie Kennedy who had a great sense of style and history — refurbishing the White House with historical furniture and paintings.
What is your greatest extravagance?
Having my hair done every week and buying shoes. As Cinderella said, "Having the right shoes can make a difference."
What is it you like most about your job?
I get to go to parties and meet talented, interesting people. I also love seeing all the event venues, especially the private estates, and keeping up with local events.
What is the most difficult assignment you've ever had?
Covering the Santa Barbara International Film Festival.
What is your idea of perfect happiness?
A walk on the beach with my dog (when I had Mandy) and my husband, Don. Sitting down at the end of the day with a glass of wine and conversation.
What is your greatest fear?
Losing my husband.
What is your current state of mine?
Sane, I hope. I'm not a moody person.
What is the quality that you most like in people?
A sense of humor and a positive attitude.
What is the quality you most dislike in people?
A glass half-empty and people who are late.
What do you most value in friends?
Trust and their sense of humor.
What is your most marked characteristic?
My glass is half-full and I have energy.
Which words or phrases do you most overuse?
"Thanks a bunch." And I call people, "Babe."
Which talent would you most like to have?
Easy! A Broadway singer.
If you could change one thing about yourself, what would it be?
To have more patience, especially regarding electronics, computers, and emails.
What do you consider your greatest achievement?
Raising two productive and "normal" children. Teaching Magic Makeover classes and having students say (even today), "You changed my life!" I also liked being valedictorian, modeling for 30 years, acting for 20, and writing for 25.
Where would you most like to live?
Right here. It's the best climate in the world.
What is your most treasured possession?
My wedding ring that I lost in the Arlington and found again.
Who makes you laugh the most?
My former husband and now my daughter.
What is your motto?
You don't grow old, senior, or middle-aged. You grow classic.
On what occasion do you lie?
I lie if the truth would hurt someone's feelings.