Living
Arcadia Studio Plants Enthusiasm for Drought-Friendly Design
How Santa Barbara Firm of Landscape Architects Can Brighten Your Backyard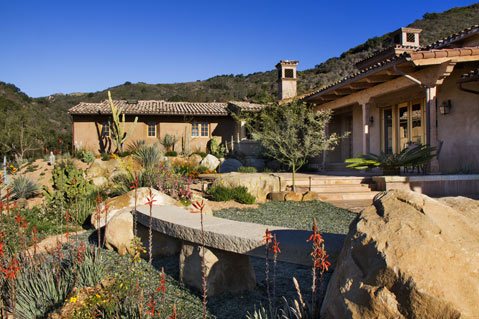 In these days of drought, Arcadia Studio's landscape architects are working hard to water-wise clients' exterior spaces without sacrificing the enjoyment of backyard living.
The firm's Derrik Eichelberger assured that even in dehydrated conditions, there are plenty of decadent design options. "I like to design using texture and plant color, but not necessarily flowers," he said. "We are steering people away from flower gardens and focus more on the individual plant color and structure."
Succulents fit well into this niche. "Succulents have that exotic color, texture, and form," said Arcadia's Laurie Romano. "It's easy to use them because they are very bold. It turns into a focal point in your garden."
But the creativity doesn't stop with cactus. "If it's a traditional home and they want an English tea garden, we can make that with drought-tolerant things," said Romano. "We can still do that; we just have to pick the right plants."
Lawns are still popular for play and relaxation, but people are wanting less of it. Eichelberger often starts by replacing traditional grass with one of several varieties of turf grasses that have a similar shaggy appearance but that consume less water. "There's a whole gamut of lawn alternatives," he said. "Our job is how to fill that other area that used to have lawn."
Romano often incorporates non-plant matter to achieve her designs. "It helps to have other elements in your garden, like stones and boulders to give height," she said. "If it's perfectly flat, you want to create some change in elevation — something to make your eye look at different things."
Another trick is to design outdoor seating areas with permanent furniture, fire pits, and carefully designed walls and planters to provide clients with customized outdoor entertainment spaces. Even small changes like adding gravel and stepping stones can boost the design's effect, said Eichelberger, while reducing the overall lawn area.
But phasing out lawns completely is also gaining momentum. "We do lots of native gardens," said Eichelberger. "I just did a garden in Montecito that had a big oak woodland, with no woodland. We did the whole thing into a native garden, and they are just loving it!"
See arcadiastudio.com.